Introduction
hristiana Jane Herringham (née Powell) was born in Blackheath Park, Kent, the eldest of five daughters of Thomas Wilde Powell, a city stockbroker, art collector and philanthropist. In 1880, she married the physician Wilmot Parker Herringham (1855–1936; he would be knighted in 1914). The ceremony took place at St Nicholas, Guildford, and the couple settled in Artington, near Guildford, where Richard Norman Shaw designed a new house for them. They had two sons: their first-born died in childhood, and their second son was killed in World War I.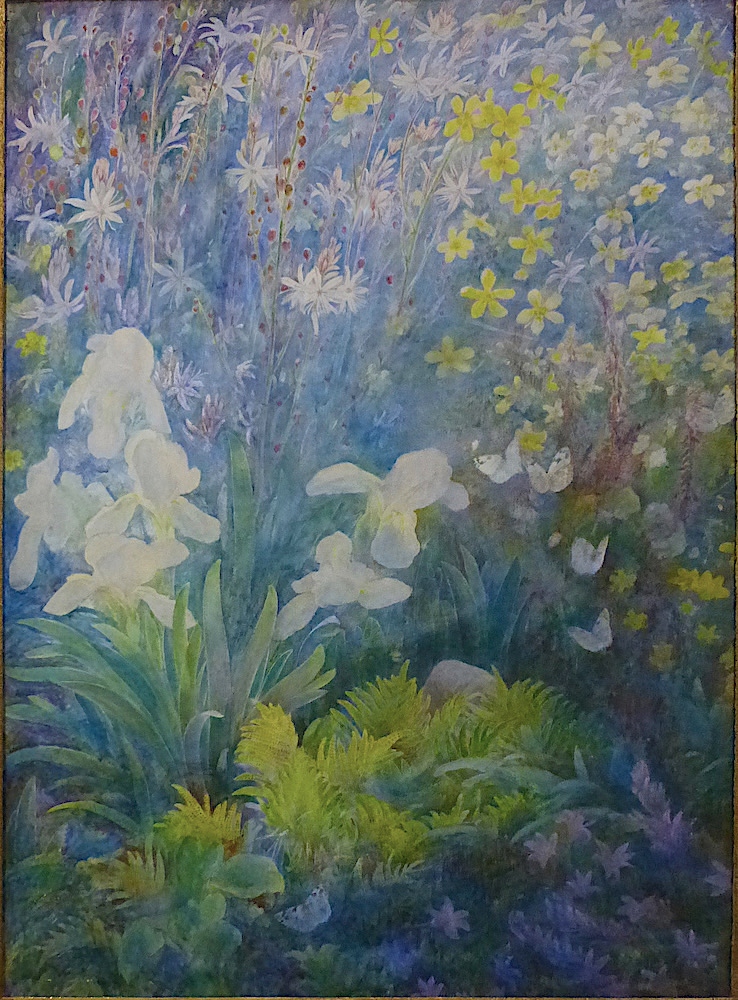 Iris and Asphodel, c.1900. Click on the image to enlarge it, and for more information aboout it.
Christiana was more fortunate in one respect: both her father and her husband encouraged her in her artistic endeavours. She trained as an artist, and produced some wonderfully accomplished paintings, especially of flowers. These were distinguished by their scale and Pre-Raphaelite detail, and also by her use of tempera, in which she developed an early, deep and abiding interest. Fascinated by traditional Italian tempera techniques, she became a highly talented copyist, and in 1889 produced a new translation of Cennino Cennini's fourteenth-century treatise on tempera and fresco painting, Il libro dell'arte, with her own introduction, and additional forays into the subject — "Chemical Behaviour of Egg-Vehicles," for instance. She also set out to demonstrate the true quality of those tempera paintings in the National Gallery that had become discoloured, and co-founded, together with Joseph Southall (1861–1944) and Marianne Stokes (1855–1927), the Society of Painters in Tempera. This gave a huge boost to the popularity of the technique, especially among the members of the Arts and Crafts Movement, and its adherents in Birmingham, notably Southall himself (see Lago on Herringham as artist and copyist).
As well as exercising and refining her own artistic skills, Herringham initially financed, and co-founded, the Art Fund, the charity which does so much to support museums and galleries, enabling them to make new their acquisitions, put on exhibitions and reach out to the community. This last was essential when it came to helping galleries keep important works in the country. The first such appeal was for Whistler's Nocturne in Blue and Gold (Old Battersea Bridge), in 1905. Soon afterwards Velázquez's Toilet of Venus (the celebrated Rokeby Venus) was acquired for the National Gallery through the fund's efforts. Mary Lago sees this as the "watershed" in the Art Fund's history, "a landmark struggle over stsndards of taste and methods of acquisition" ("Christiana Herringham and the National Art Collections," 210). A fine critic, Herringham also wrote for The Burlington Magazine in its early days. In 1907, along with Annie Swynnerton, May Morris and others, she was a founding member of the Women's Guild of Arts. More generally, she supported women's education and suffrage, donating money for scholarships for women, and for housing for "educated working women." She also campaigned for suffrage alongside her good friend, Millicent Fawcett.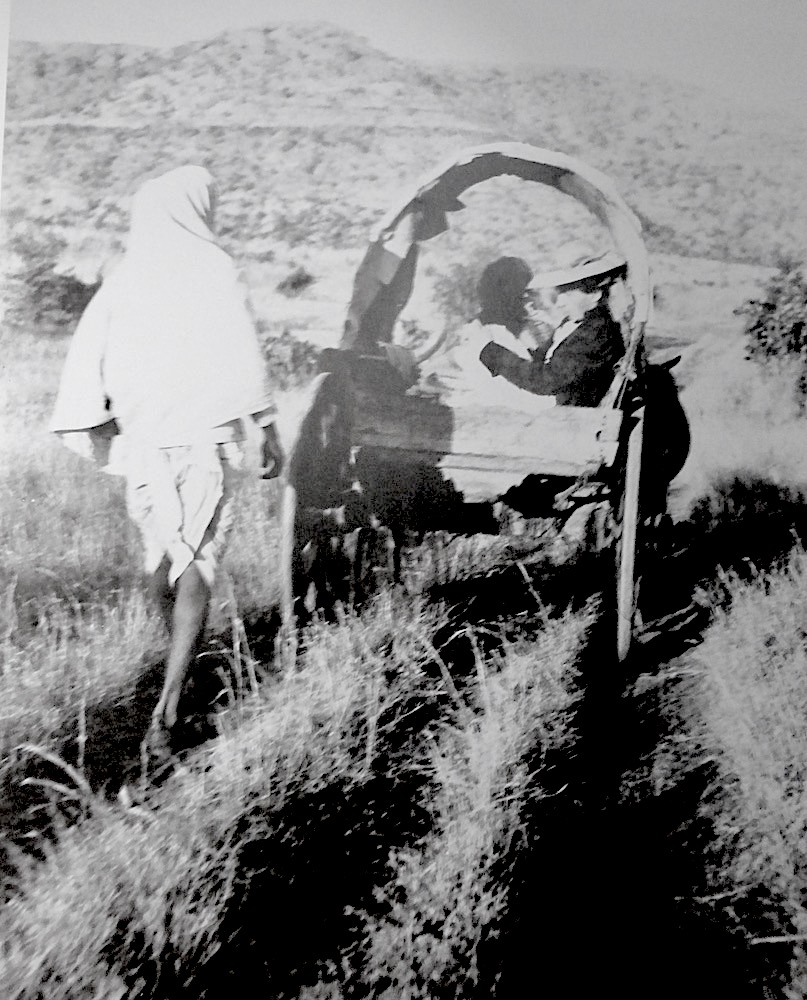 Herrington travelling by bullock-cart in India, c.1906-11 (RHC AR 130/1 Archives, Royal Holloway, University of London, by kind permission).
All this was important and remarkable enough, but her outstanding and most unusual achievement was in connection with her visits to India, during the winters of 1906-07, 1909-10 and 1910-11. With the help of her assistant, the young textile designer Dorothy Larcher (1884-1952), and several students from the Calcutta School of Art, she succeeded in copying the Buddhist paintings on the walls of the Ajanta Caves. As her Times obituary put it, "The paintings were often difficult to see, and still more difficult, even dangerous, to reach," making it "an heroic and an extremely exacting task." The copies were displayed at the Festival of Empire exhibition at the Crystal Place in Sydenham, in 1912. This was, as the obituarist continues, a "contribution to the history and knowledge of Oriental art" — and a major one at that.
Unfortunately, the strain told on her: she became anxious that the precious copies might be destroyed by fire, the fate that had befallen earlier attempts to record these works (see Lago, Christiana Herringham, 220). Her copies survived, and are now in India, where an appeal was made last year for their preservation. However, she did not regain her stability, beset by guilt about her "sacrilegious intrusion" into the the caves, and paranoia about its repercussions. She of all people had no need to feel conscience-stricken; but she did. It is sad and touching to find her writing to her husband, "If we behaved better to them [the Indian people] they might accept our protection till better times come — till nationality is respected and war dies out" (Lago, Christiana Herringham, 241). She spent the last fifteen years of her life in what some sources call retreats or private nursing homes, but which she herself did not hesitate to call asylums.
That seems like a very tragic end to a quite astonishing story. But in 1918 her husband presented many of her paintings to Bedford College, London. This was amalgamated with Royal Holloway College in Egham, Surrey, in 1885. Royal Holloway (now more properly known as Royal Holloway, University of London), with its fine Picture Gallery and curatorial team, was an ideal place for them, and Herringham finally had her own exhibition there, "Christiana Herringham: Artist, Campaigner, Collector," from 14 January–8 March 2019. As Maria Alambritis says, the exhibition stressed not only the global reach of her interests, but also "[t]he importance of female networks ... traced through a range of contemporary ephemera and portrait sketches that link Herringham with other women of her circle who worked across the interwoven circles of the Arts and Crafts Movement, suffragette campaigns, and the tempera revival." It was an eye-opening and inspiring introduction to her life and achievements. After this, it seems unlikely that Herringham will be forgotten again. A selection of works from the exhibition, as well as two which hang at one entrance to the Picture Gallery, appear on our website by kind permission of the curators.
Related Material
Bibliography
Alambritis, Maria. [Review of] "Christiana Herringham: Artist, Campaigner, Collector" at Royal Holloway (14 January–8 March 2019). Interdisciplinary Studies in the Long Nineteenth-Century 3 June 2019. Web. 7 November 2019.
"The Art Fund: Our History." Web. 7 November 2019.
Herringham, Christiana J. The Book of the Art of Cennino Cennini: A Contemporary Practical Treatise on Quattrocento Painting, Translated from the Italian, with Notes on Mediaeval Art Methods. 1899. London: George Allen & Unwin, 2nd impression 1922. Internet Archive. Contributed by Brigham Young University. Web. 7 November 2019.
Herringham, Lady. Ajanta Frescoes. 1914-15. New Delhi: Aryan Books International, 1998. Internet Archive. Contributed by the Central Archaeological Library, New Delhi. Web. 7 November 2019.
"Lady Herringham." Times. 28 February 1929: 19. The Times Digital Archive. Web. 7 November 2019.
Lago, Mary. "Christiana Herringham and the National Art Collections Fund." The Burlington Magazine. 135, no. 1080 (1993): 202-11.
_____. "Herringham [née Powell], Christiana Jane, Lady Herringham (1852–1929), artist and copyist." Oxford Dictionary of National Biography. Online ed. Web. 7 Nov. 2019.
---
Created 7 November 2019