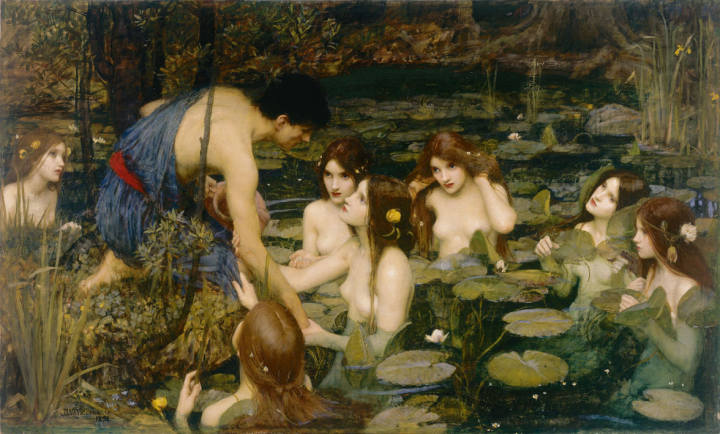 Hylas and the Nymphs by John William Waterhouse. Oil on canvas, 1896. Oil on canvas. 98.2 x 163.3 cm. Manchester City Galleries. Purchased 1896. Thanks to Emily Doran of the RA, who provided this image as part of the pubicity for their 2009 Waterhouse exhibition.
Commentary by Christopher Wood
Waterhouse's greatest classical picture of the 1890s is the now celebrated Hylas and the Nymphs. It has always been Waterhouse's best-known picture, and is deservedly one of the key images of English late nineteenth-century art. The victim in this story was Hylas, squire to Heracles, one of the Argonauts. When their ship stopped at the island of Cios, Hylas was sent to fetch water. The water nymphs of the spring lured him to a watery death, and he was never seen again. Waterhouse shows us Hylas, once again the helpless male victim, kneeling by a pool of lilies, from which emerge seven beautiful nymphs. Some contemporary critics complained that the girls all looked the same. Certainly, they all have an unmistakably "Waterhouse" look, but this in no way detracts from the mysterious and poetic atmosphere of the picture, which is totally convincing. More advanced critics, in particular, the Studio and the Magazine of Art hailed it as a supreme example of the Waterhouse magic. The Magazine of Art thought it equalled "the highest qualities of Sir Edward Burne-Jones at his most delightful period. The colour is not so robust as usual, but it is subtler; the drawing is, perhaps, daintier than ever." [p. 234]
Related Material
Bibliography
Hobson, Anthony. The Art and Life of J. W. Waterhouse, RA, 1849-1917.. London: Studo Vista/Christie's, 1980
Newall, Christopher. A Celebration of British and European Painting of the 19th and 20th Centuries. London: Peter Nahum, nd [1999?]. Pp. 46-47.
Trippi, Peter. J. W. Waterhouse. London: Phaidon, 2002.
Trumble, Angus. Love and Death in the Age of Queen Victoria. Adelaide: Art Gallery of South Australia. 2002.
Wood, Christopher. Olympian Dreamers: Victorian Classical Painters. London: Constable, 1983. 224-44.
---
Last modified 19 August 2016