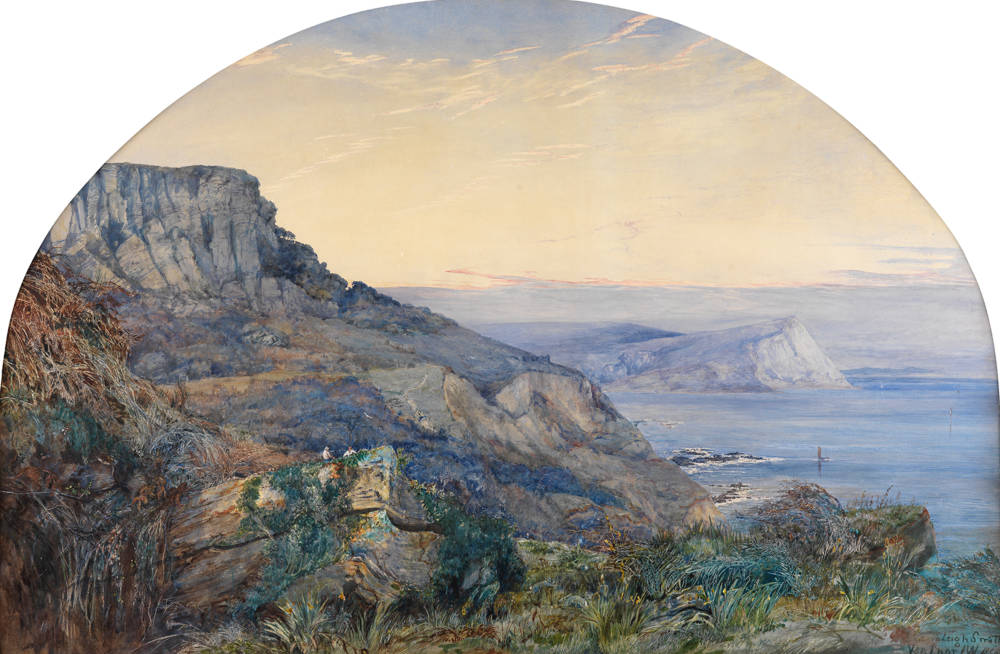 Ventnor, Isle of Wight. Miss Barbara Bodichon, née Leigh Smith (1827-1891). Watercolour and bodycolour with scratching out, 28 x 42.5 inches; signed, inscribed and dated 1856. Provenance: Christopher Wood, London Exhibited: Royal Academy, 1956, no. 913; Manchester City Art Gallery, November 1997: 'Pre-Raphaelite Women Artists.' [Click on image to enlarge it.]
Details and related material
Commentary by the Maas Gallery
In 1856 the artist, then Barbara Leigh-Smith (she married the next year), stayed with her friend Anna Mary Howitt, also an artist, on the Isle of Wight and painted this picture. Howitt had attended Henry Sass' art academy in 1846 with Holman Hunt and Rossetti, and the Pre-Raphaelites were regular visitors to her house in Highgate. Barbara Leigh-Smith was the illegitimate daughter of the radical Whig politician Ben Leigh Smith and Anne Longden, a milliner from Alfreton. Her first cousin was Florence Nightingale. Well educated, intelligent and forceful, Leigh-Smith became with Howitt one of 'The Ladies of Langham Place' that met regularly in London to discuss women's rights. In 1854, she published her Brief Summary of the Laws of England Concerning Women, which was later used to promote the passage of the Married Women's Property Act 1882. In 1858, she set up the English Women's Journal, concerning employment and equality issues for women. In 1866, with Emily Davies, she came up with a scheme to extend university education to women. The first small experiment in this at Hitchin developed into Girton College, Cambridge, to which Mrs Bodichon gave liberally of her time and money.
The picture was well received at the Royal Academy; W M Rossetti described it as a 'capital coast scene, full of real pre-Raphaelitism'.
Robin McInnes has identified the viewpoint to near Luccombe, just to the east of Ventnor, looking northeast across Shanklin Bay to Culver Cliff in the far distance, and suggested that the headland in the middle distance (which has been placed where it should not be) is Woody Point to the west of Ventnor, transposed for artistic effect.
The Maas Gallery, 15a Clifford Street, London W1S 4JZ has most generously given its permission to use in the Victorian Web information, images, and text from its catalogues, and this generosity has led to the creation of many valuable documents on painting and drawing. The copyright on text and images from their catalogues remains, of course, with the Gallery. Readers should consult their website to obtain information about recent exhibitions and to order their catalogues. [GPL]
Bibliography
Marsh, Jan, and Pamela Gerrish Nunn. Pre-Raphaelite Women Artists. 1997, catalogue no. 3, ill. p. 23.
---
Last modified 19 May 2018