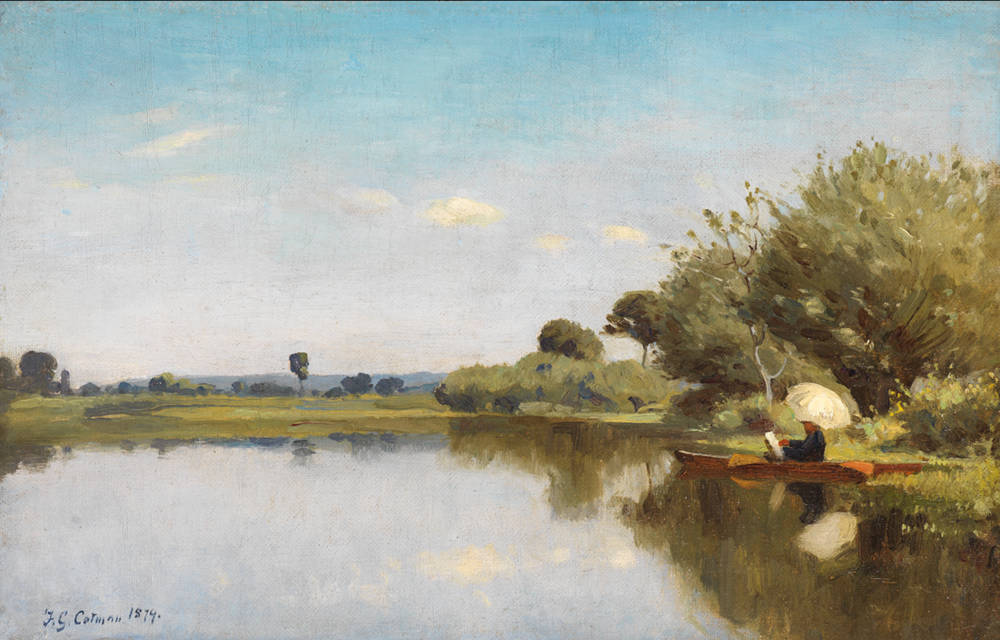 Summer's Day. Frederick George Cotman (1850-1920). Signed and dated 1874. Oil on canvas, 7.75 x 12 inches. [Detail: the artist in his boat.] Click on image to enlarge it.
As the Maas Gallery site points out, "Like his uncle John Sell Cotman, the Norwich School watercolourist, Frederick's work has a strong 'sense of place' about it. Although his large compositions can be awkward, his early plein air pictures of the countryside surrounding his native Ipswich possess a confident harmony. An artist sits in a punt under a parasol, painting the scene."
Related material
The Maas Gallery, London has most generously given its permission to use in the Victorian Web information, images, and text from its catalogues. The copyright on text and images from their catalogues remains, of course, with the Maas Gallery.
Readers should consult the gallery website (link) to obtain information about recent exhibitions and to order their catalogues. [GPL]
---
Created 8 February 2015