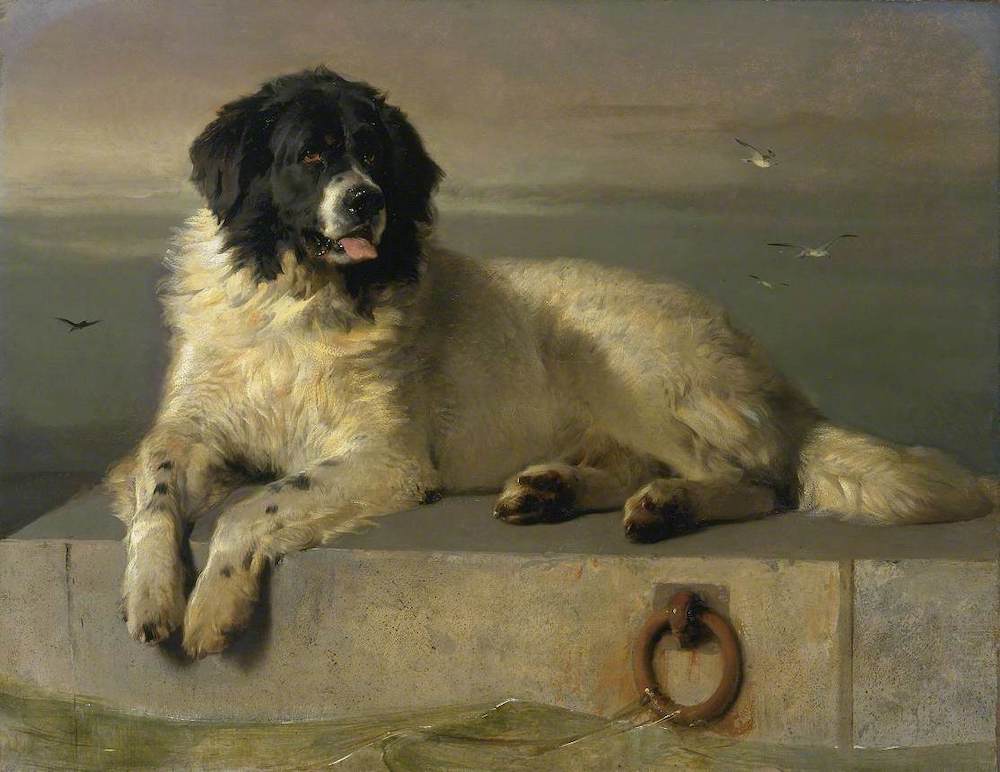 A Distinguished Member of the Humane Society. Sir Edwin Landseer, R.A. Exhibited 1838. Oil on canvas. H 111.8 x W 143.5 cm. © Tate. Accession number N01226; acquisition method: bequeathed by Newman Smith in 1887. Kindly released by the Tate on a Creative Commons CC-BY-NC-ND (3.0 Unported) licence. Click on this image to enlarge it.
According to Michael Worboys and his co-authors, the painting shows a Newfoundland dog called "Paul Pry, a dog that represented Bob, a well-known character on the Thames in London, who had allegedly saved 23 people from drowning in the previous fourteen years" and had been given the Royal Humane Society's medal for "his ability in water and his benevolent service to Londoners" (4). Hence his title here. The colouring of the dog's coat, mainly white with a black head, was perfectly normal for a Newfoundland dog at that time, and improvements to the breed in England had been targeted at its temperament rather than its appearance. But appearance began to matter more in the Victorian period, and by 1870 a black coat and a more evenly muscular frame had become preferable. The kind of dog shown above was now called a "Landseer Newfoundland" and, in pedigree specifications, took second place to an all-black Newfoundland. A heavier and flatter head, and a more elegant tail, began to seem desirable, too. — Jacqueline Banerjee
Related Material
Bibliography
Worboys, Michael, Julie-Marie Strange and Neil Pemberton. The Invention of the Modern Dog: Breed and Blood in Victorian Britain. Baltimore: Johns Hopkins University Press, 2018.
---
Created 20 September 2020