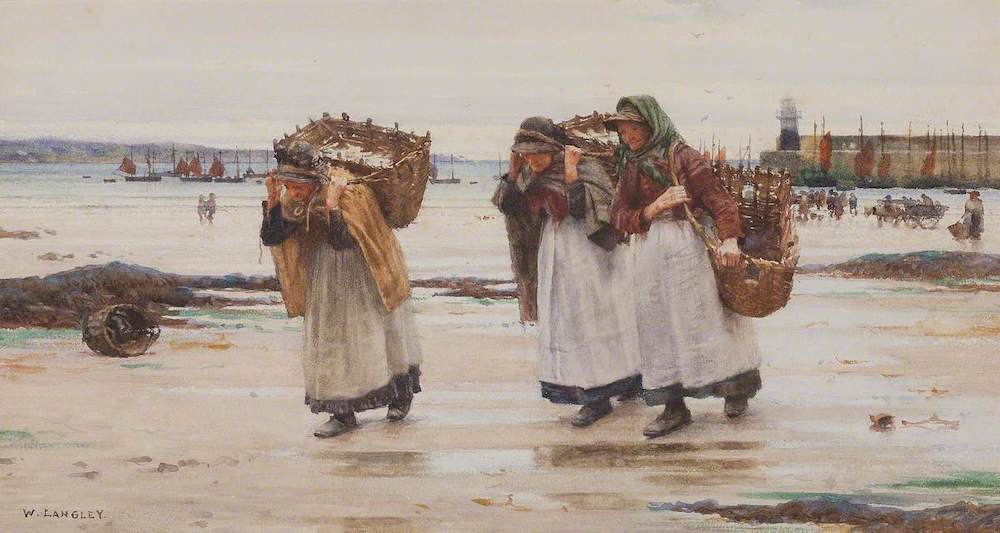 The Breadwinners (Newlyn Fishwives), by Walter Langley (1852-1922). c. 1896. Watercolour on paper. H 47 x W 62 cm. Penlee House Gallery & Museum; accession no. PEZPH: 1989.83. Kindly made available via Art UK on the Creative Commons Attribution-No Derivatives licence (CC BY-ND).
The Penlee House "identification" of the work explains: "The fishwives are carrying cowals or cauls full of fish to sell in the village. The baskets were worn with a strap around the forehead." It is true that the threat of shipwreck, and the life and death situations faced by the fishermen, inspired the artists of this period in such places (see Lambourne 344), but the hard lives and sorrows of the womenfolk also touched them deeply. From the title of the work we learn that these elderly women must keep on with their drudgery in order to feed their families. They almost blend in with their surroundings, just as the sea mingles with the sand, and the colours of both merge in the wide expanse of sky. But the artist sees and recognises their back-breaking toil, and pays a memorable tribute to them.
It is no surprise tp learn that Langley was a liberal, who later became a good friend of the radical Charles Bradlaugh, and that he "had a particular sensitivity towards women and the gender inequality and hardship that they endured; a plight often expressed in his artworks." The Breadwinners seems to have been a particularly important work for Langley: in 1896 he exhibited a large oil of the same composition at the Royal Academy. It's success continues: a study for the right hand side of the painting was auctioned by Christie's in 2000, for above the estimated price (for £37,600, to be precise). — Jacqueline Banerjee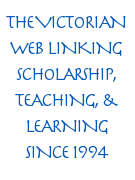 Bibliography
The Breadwinners (Newlyn Fishwives. Penlee House Gallery & Museum. Web. 12 March 2021.
Lambourne, Lionel. Victorian Painting. London and New York: Phaidon, 1999.
"Walter Langley." Cornish Masters. Web. 12 March 2021.
"Walter Langley, RI (1852-1922). Study for Breadwinners." Christie's. Web. 12 March 2021.
---
Created 12 March 2021