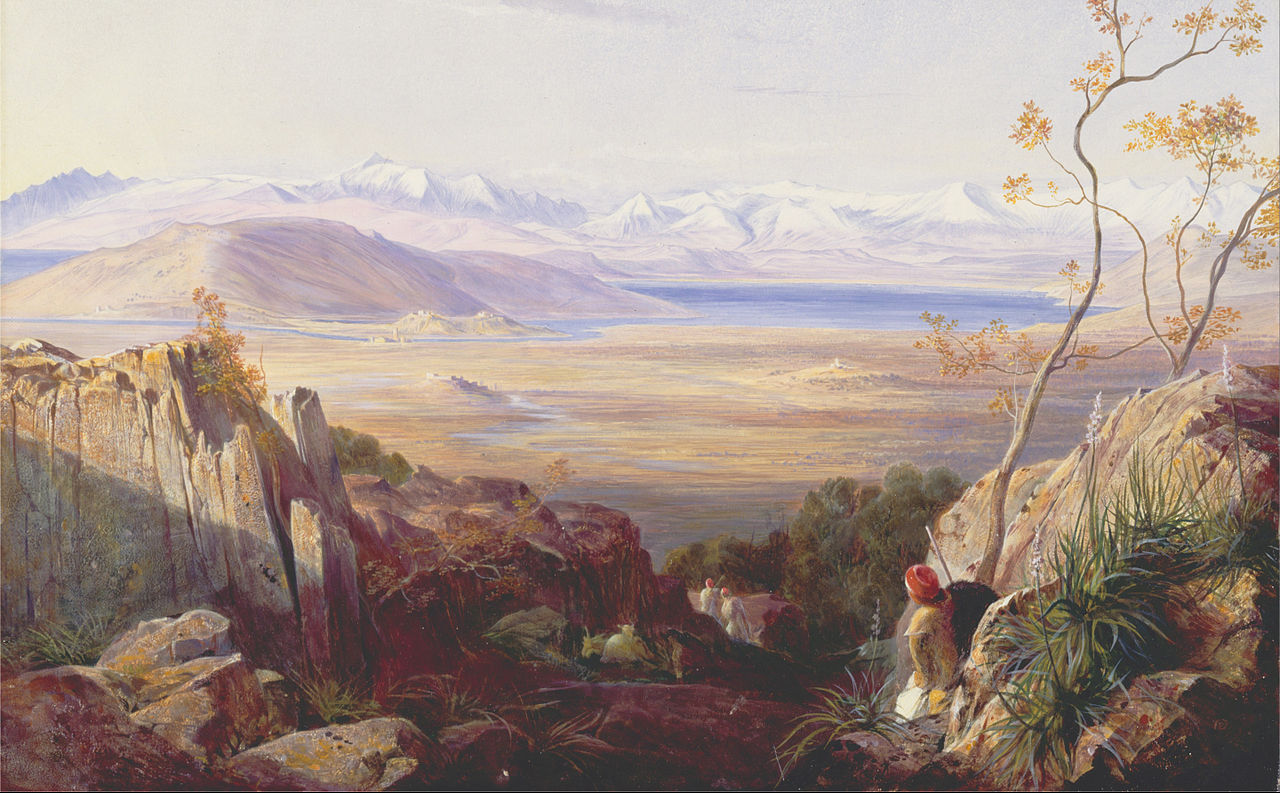 Butrinto, Albania by Edward Lear, 1812-1888. 1861. Oil on canvas. 34.3 cm (13.5") x 54.6 cm (21.5"). Collection: Yale Centre for British Art; Gift of Donald C. Gallup, Yale BA 1934, PhD, 1939. Accession no. B1997.7.6. According to the chronology in the Appendix of his letters to Lord Chichester, where it is numbered 192, this was for Dowager Viscountess Downe (see p. 316).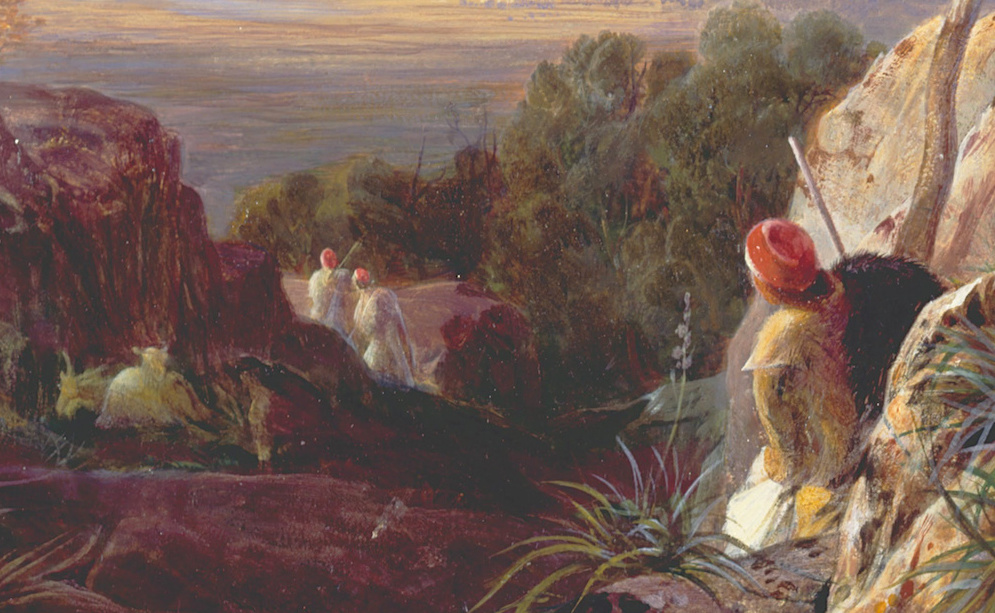 Detail showing the men and animals in the painting.
Compared to Greece, Albania at this time was "a more truly remote, hazardous and thus unvisited region" (Riding 55). Lear's journal about an earlier visit to the region had come out in early 1851, and had had "extremely good reviews" (Levi 132). Here he captures its expansiveness, its variety (the rocky outcrops in the foreground, the lush greenery of the descent to the plain, the lake, and the long snowy mountain range in the distance) brilliantly. Yet the atmosphere of mystery and the exotic "difference" of the scene is balanced by the people and animals that he depicts, living out their daily lives there as elsewhere, and taking their surroundings more or less for granted.
The image is available on the Yale Centre's site, see below, identified as being in the public domain. Image download, text and formatting by Jacqueline Banerjee. [Click on the images to enlarge them.]
Bibliography
Lear, Edward. Letters of Edward Lear to Chichester Fortescue, Lord Carlingford, and Frances Countess Waldegrave. Ed. Lady Strachey. Internet Archive. London: T. Fisher Unwin, 1909. Contributed by University of California Libraries. Web. 8 January 2020.
Levi, Peter. Edward Lear: A Life. London and New York: Tauris Parke Paperbacks, 2013 [Review].
Riding, Christine. "Travellers and Sitters: The Orientalist Portrait." The Lure of the East: British Orientalist Painting. Ed. Nicholas Tromans. London: Tate, 2008 [Review/report]. 48-61.
Yale Centre for British Art. Web. 8 January 2020.
---
Created 8 January 2020