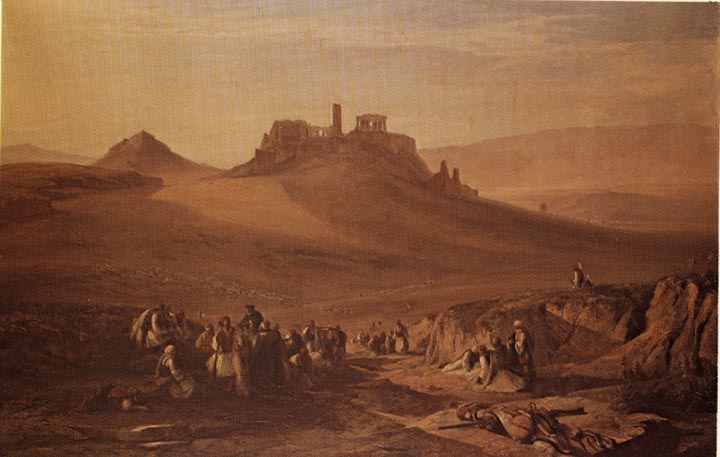 The Acropolis of Athens, Sunrise, Peasants assembling on the Road to Piraeus by Edward Lear, 1812-1888. Signed with monogram. Oil on canvas, 47 1/2 x 72 1/2 inches. Exhibited at the British Institution 1852. Lent to the Fine Art Society Exhibition by The Museum of the City of Athens, Greece, donated by the late S.Harokopos.
In 1832 Lear was engaged by the 13th Earl of Derby to make drawings of the birds at his private menagerie at Knowsley: he was to benefit from the patronage in turn of the 13th, 14th, and 15th Earls of Derby. Lear arrived in Athens on 2 June 1848. He spent five weeks there and in 1849 he stayed for a further week during April. He made numerous drawings of the city with the Acropolis in the distance. [The Rediscovery of Greece]
References
The Rediscovery of Greece: Travellers and Romantics in the 19th centuryr. London: The Fine Art Society, 1979. No. 123.
The Fine Art Society, London, has most generously given its permission to use information, images, and text from its catalogues in the Victorian Web. This generosity has led to the creation of hundreds and hundreds of the site's most valuable documents on painting, drawing, sculpture, furniture, textiles, ceramics, glass, metalwork, and the people who created them. The copyright on text and images from their catalogues remains, of course, with the Fine Art Society. [GPL]
---
Last modified 1 August 2001