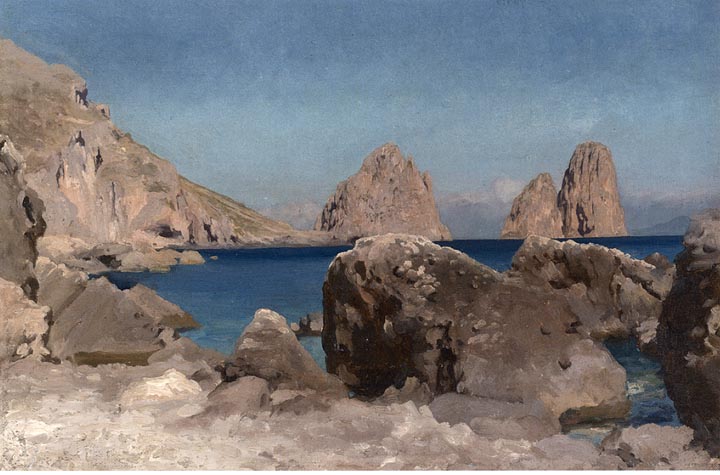 Rocks of the Sirens, Capri. Frederic Lord Leighton, P. R. A. (1830-1896). 1878. Oil on canvas laid down on board, 10 x 15 1/2 inches.
Commentary by Rupert Maas
These are the distinctive rocks of the Sirens, at Faraglioni, both on the Isle of Capri. Two oil studies by Leighton, both entitled Rocks of the Sirens, Capri were included in his studio sale, held after his death at Christie's in 1896; lot 55 was bought by Palmer for £52.10s and lot 243 by Charles Fairfax Murray for the same amount. According to a label verso, the oil was owned by the dealer Stephen Gooden of Pall Mall. Fairfax Murray, an intimate of the Pre-Raphaelite circle, was also a picture dealer and owned a number of works later acquired by Gooden, including two Rossetti watercolours, Hesterna Rosa of 1865 and Return of Tibullus to Delia of 1868. It is possible that this picture was the one purchased by Murray and then subsequently owned by Gooden.
Leighton first visited Capri in 1859, when he spent five weeks on the island. From the thicker brushwork, the present work would appear to date from one of his later visits during the 1860s. Stylistically it relates to his studies made in 1866 whilst visiting Spain. [p. 83]
Bibliography
The Maas Gallery. Exhibition catalogue. London, 2007. Catalogue no. 85.
The Maas Gallery, London has most generously given its permission to use in the Victorian Web information, images, and text from its catalogues. The copyright on text and images from their catalogues remains, of course, with the Maas Gallery. Readers should consult the gallery website to obtain information about recent exhibitions and to order their catalogues. [GPL]
---
Last modified 22 June 2007