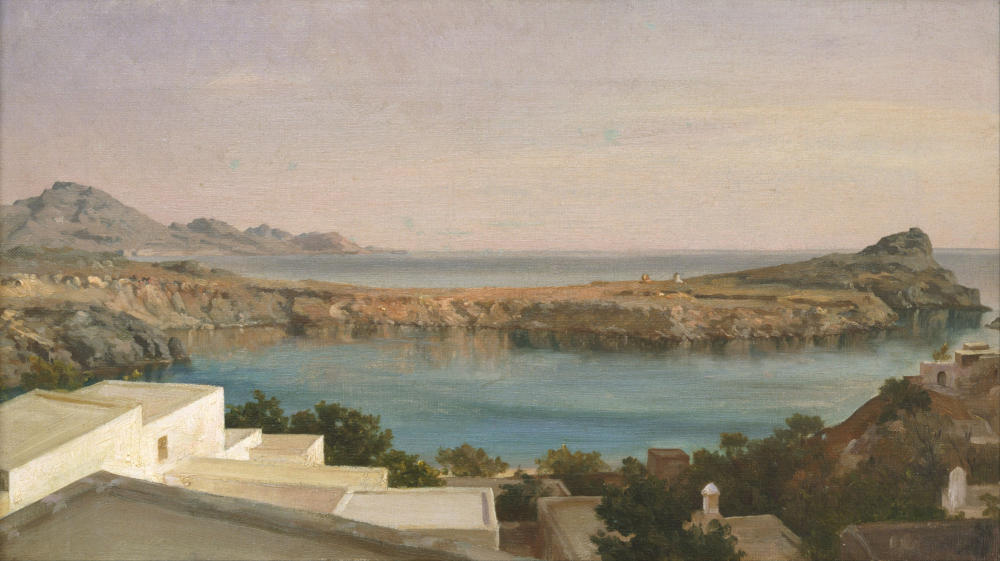 Lindos, Rhodes, c.1867. Oil on canvas, 101/8 x 177/8 inches (25.7 x 45.4 cm). Collection of the Art Gallery of New South Wales, accession no. 1305.1990. Click on image to enlarge it
Leighton travelled to Asia Minor in 1867 and on his return journey via Greece he made a visit to the island of Rhodes. Lindos is an ancient coastal village whose acropolis in ancient times was dominated by the massive temple of Athena Lindia. In the medieval period the temple precinct fell into disuse and were partly overlaid by a massive fortress constructed on the acropolis by the Knights of St. John to protect the island from attack by the Ottomans. Leighton has chosen to paint his landscape sketch looking down from the acropolis and focusing on a barren rocky promontory stretching into the Aegean Sea. White stone buildings are in the foreground while mountains, also to the left, are seen in a hazy atmosphere in the background. Leighton later used this sketch as the basis for the background in his major painting Winding the Skein from c.1878
In a letter of November 28, 1867 to his father Leighton described his visit to Lindos: "I told you, I believe, in my last how much I enjoyed and, as I hope, profited by my stay in Rhodes and Lindos…The weather, which was very beautiful at the beginning – indeed during the greater part of my stay on the Island – was not faithful to me to the end; it broke up a few days before my departure, and, to my very great regret, prevented my painting certain studies which I was very anxious to take home: on the other hand, I had opportunities of studying effects of a different nature, so that I can hardly call myself much the loser as far as my work in Rhodes was concerned" (Barrington, 129-30). In fact his time in Rhodes appears to have been exceedingly productive. The Ormonds list at least eleven small oil sketches made during his time on the island.
Bibliography
Barrington, Emilie. The Life. Letters and Work of Frederic Leighton. London: George Allen, Ruskin House, Vol. II, 1906.
Ormond, Leonée and Richard Ormond. Lord Leighton. New Haven and London: Yale University Press, 1975, cat. nos. 134-144, 157-58.
---
Created 18 December 2022