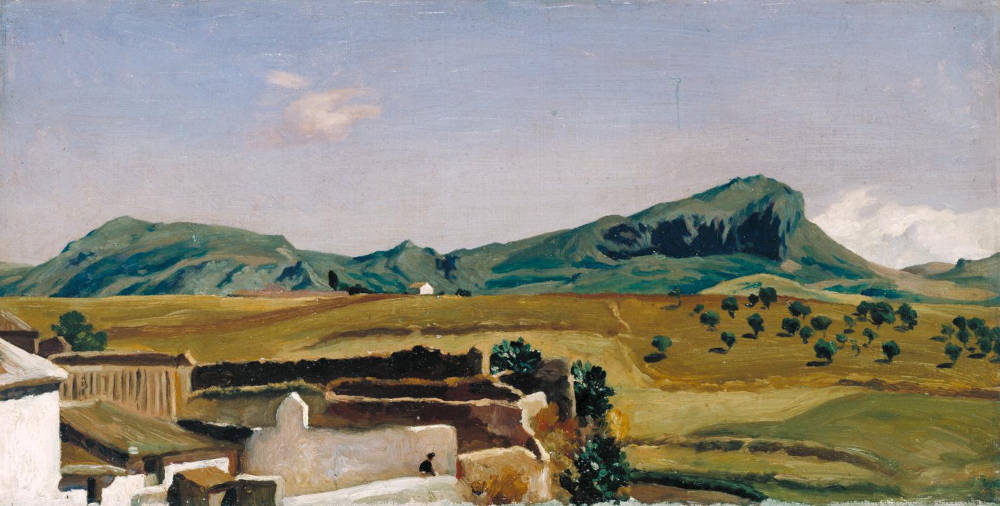 Puerta de los Vientos, near Ronda, Spain, 1886-89. Oil on canvas, 83/8 x 161/2 inches (21.3 x 41.9 cm). Collection of Tate Britain, Reference no. NO4006. Click on image to enlarge it
Leighton, who visited Spain in 1866, 1877, 1887 and 1889, found the country very interesting and became very fond of it. He found the air there to be "magnificent." This oil sketch was made during one of his later trips and it is amazing how abstract it is, much more resembling a work from the twentieth century than the nineteenth. It is treated in a typical Etruscan format and with a limited range of browns and greens predominating in the palette. The work was painted under the clarity of the brilliant midday light of Spain, unlike the early morning or twilight periods often preferred by the Etruscans. The architecture, landscape, and mountains are treated as simplified, almost geometrical, forms.
Christopher Newall has explained how Leighton's landscapes differed from those of his English contemporaries
Leighton's studies of landscape and buildings reveal his links with a European tradition of painting, as well as his remoteness from the main stream of English landscape painting in the 1860s, which was principally concerned with the observation of detail. Through his friendship with the Italian landscape painter Costa, and later, as a result of his study of Corot's plein air landscape style, he learned to express natural forms and light effects in oil sketches which are vividly handled impressions of abstract forms rather than meticulous records of geographical data; the brevity and directness of these studies demonstrate his dexterity and feel for the quality of paint. Leighton's landscape painting was for his own satisfaction and serve the education of his eye. [64]
Bibliography
Newall, Christopher. The Art of Lord Leighton. Oxford: Phaidon Press Ltd., 1990.
---
Created 21 December 2022