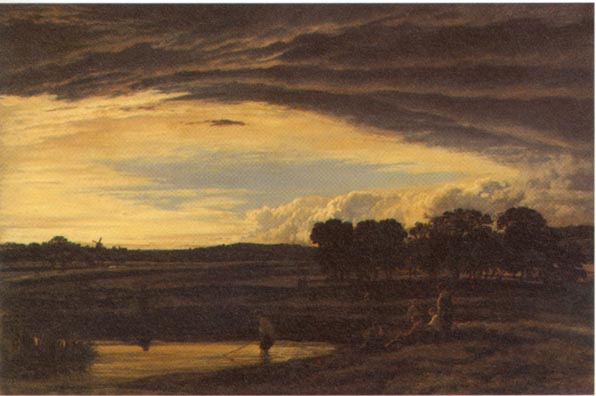 Evening, Storm Clearing Off by John Linnell, 1792-1882. Oil on paper; 15 x 22 1/2 inches. Provenance: The artist; Mr Charles Hall, of Southampton, (see sketchbook inscription); from 1827; Mr Gibbons, 1846 (see inscription); Gibbons's Sale, Christie's, lot 38, 26 May, 1894, sold for £178/10/0.
Commentary by Christopher Newall
The picture
Evening, Storm Clearing Off
is referred to twice in Linnell's journals (now in the possession of a descendant of the artist), on 1 May 1818, presumably when it was begun; and on March 1819, when Linnell was still working on it.
A drawn replica of Evening, Storm Clearing Off appears on p. 27 under the year 1819 of Linnell's sketchbook entitled 'Landscapes & Other Pictures -- not Portraits -- Painted by John Linnell Sen. from 1807. The first exhibited. - ' Evening, Storm Clearing Off is inscribed in the sketchbook: 'To Mr Hall of Southampton in Exchange for the Picture of Itchen Ferry' painted for him,', and '(In 1846 in the possession of Mr Gibbon).
A letter from Charles Hall, dated 17 May 1827, proposes the exchange of Itchen Ferry for Evening, Storm Clearing Off (Martyn Gregory Gallery, London) The text of the letter is as follows:
Charles Hall of Southampton, to John Linnell
Dear Sir
Elm Field Lodge
Southampton
l7th May 1827
I have lately made acquisition of one or two New Pictures by Rubens & Vandyke & have just made an alteration in the hanging of all the Pictures and Drawings in my Room. I have a vacant space for a moderate sized & rather square frame. I remember a twylight effect of yours done some years since which I think would suit my purpose. The Picture I mean hangs in your Drawing Room on the left hand immediately on entering the Door & "the subject of it is very simple -- a boy standing near some water in the front & poking with a stick & very dark cloud at top." You have several times wished me to lend you the Picture you last painted for me of Itchen Ferry. Now having made a centre of your former long Picture I cannot hang the Itchen Ferry satisfactorily, and I would propose to make an exchange of it for the small twylight above named. I should wish to receive your Picture with the frame'in which it now is (& if I mistake not is a tolerably handsome carved one) & I shall send the other in its frame also as an equivalent. To describe this I can only say that I had it made here-partly carved & that it cost f4-4. However you are acquainted with the one you procured for me for the other picture intended as its companion & if you should prefer it I could easily substitute the one for the other.
I conclude that you can have no hesitation in acceding to my proposal & I therefore wish that you will directly send off the Twylight Picture in the case which you have by you (it having been returned) that brought the first Picture in its carved frame from you to Southampton & by this arrangement I can then immediately return the other in the same which will be a saving of unnecessary Expense and loss of time.
It had better come by Collyn's Coach from the Belle Sauvage Ludgate Hill which is not only more expeditious but even less expensive than the Waggon.
I expect to hear from you without delay.
Dr. Sir
Your's truly
Chas Hall
J. Linnel Esq.re
In this relatively early landscape by Linnell the balanced proportions of the landscape contrast with the spectacular and beautifully painted lights in the sky to create a fusion of classical and romantic landscape elements.
The picture was catalogued by Christie's in 1894 as: "Sunset, cloudy sky, view over a heath, with a pond and figures in the foreground; a clump of trees in the middle distance; windmill seen on' the horizon -- said by Linnell to be a view over what is now Regent's Park."
Note: The text of Charles Hall's letter has been most kindly provided tp Mr. Newall by Mrs. Joan Linnell Burton.
References
Newall, Christopher. A Celebration of British and European Painting of the 19th and 20th Centuries. London: Peter Nahum, nd.
Story, Alfred T. The Life of John Linnell. London, 1892.
Peter Nahum Ltd, London has most generously given its permission to use in the Victorian Web information, images, and text from its catalogues, and this generosity has led to the creation of hundreds of the site's most valuable documents on painting, drawing, and sculpture. The copyright on text and images from their catalogues remains, of course, with Peter Nahum Ltd.
Readers should consult the website of Peter Nahum at the Leicester Galleries to obtain information about recent exhibitions and to order their catalogues. [GPL]
---
Last modified 1 August 2001