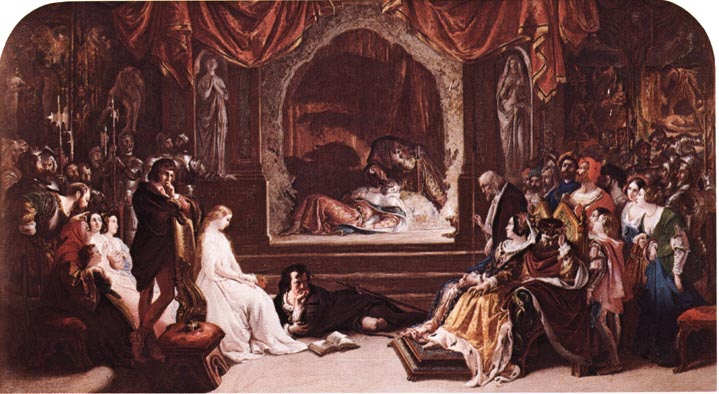 The Play Scene in Hamlet by Daniel Maclise (1806-70). Watercolor, body color, and varnish on paper. 14 1/4 x 25 1/2 inches. Forbes Magazine Collection. Detail: Hamlet and Ophelia.
Commentary by Christopher Forbes
This watercolor is an exact replica of The Play Scene in Hamlet (Tate Gallery), which Maclise exhibited at the Royal Academy in 1842. The large picture (60 x 108 inches) and the equally large and melodramatic Banquet Scene in Macbeth (Guildhall Art Gallery, London), which had preceded it by two years, established Maclise's reputation as the foremost historical painter of the Victorian period. Throughout his career The Play Scene remained one of his most popular pictures. The critic for the Art Union categorized it as "in all respects, a chef- d'oeuvre of the British school" (1842, p. 120), while the critic for The Times was no less enthusiastic when he called it "the lion of the gallery" (May 3, 1842, p. 5). Charles Dickens, who was a close friend of the artist, raved: "A tremendous production. There are things in it, which in their powerful thought exceed anything I have ever beheld in painting" (Letters, None- such edition, 1938, Vol. I, p. 469). William Makepeace Thackeray went so far as to call it "one of the most startling, wonderful pictures that the English schools has every produced" (reprinted in The Paris Sketchbook and Art Criticisms, The Oxford Thackeray, Vol. II, p. 576). On the other hand, Ruskin sounded a sour note when he described the figure of Hamlet as an "Irish ruffian" and dismissed the picture as a "grinning and glittering fantasy" (Works, Vol. Ill, p. 619n). . . .
The composition depends on the Outlines to Shakespeare by the German artist, Moritz Retzsch (1779-1857). It is also close to a plate in the album of lithographs by Eugene Deveria (1805-1865) and Louis Boulanger (1806-1867), based on performances of Charles Kemble's company in Paris in 1827. The tapestries to the left and right of the stage in the composition depict The Temptation in the Garden of Eden, The Expulsion, The Sacrifice of Abel, and, lastly, Cain Murdering Abel. In a niche above Ophelia, to the left of the stage, is a statue of Prayer; on the other side, above the tormented king, is a figure of Justice. [p. 102]
One may add that the biblical episodes that Forbes identifies shows Maclise clearly anticipating the Pre-Raphaelite use of images of scriptural events within a picture to comment upon the main action in a secular narrative, something we see in both Hunt's Awakening Conscience and Collins's Berengaria's Alarm. — George P. Landow
References
Forbes, Chrisopher. The Royal Academy Revisited, 1837-1901. New York: Forbes Magazine, 1975. No. 43.
---
Last modified 6 June 2007