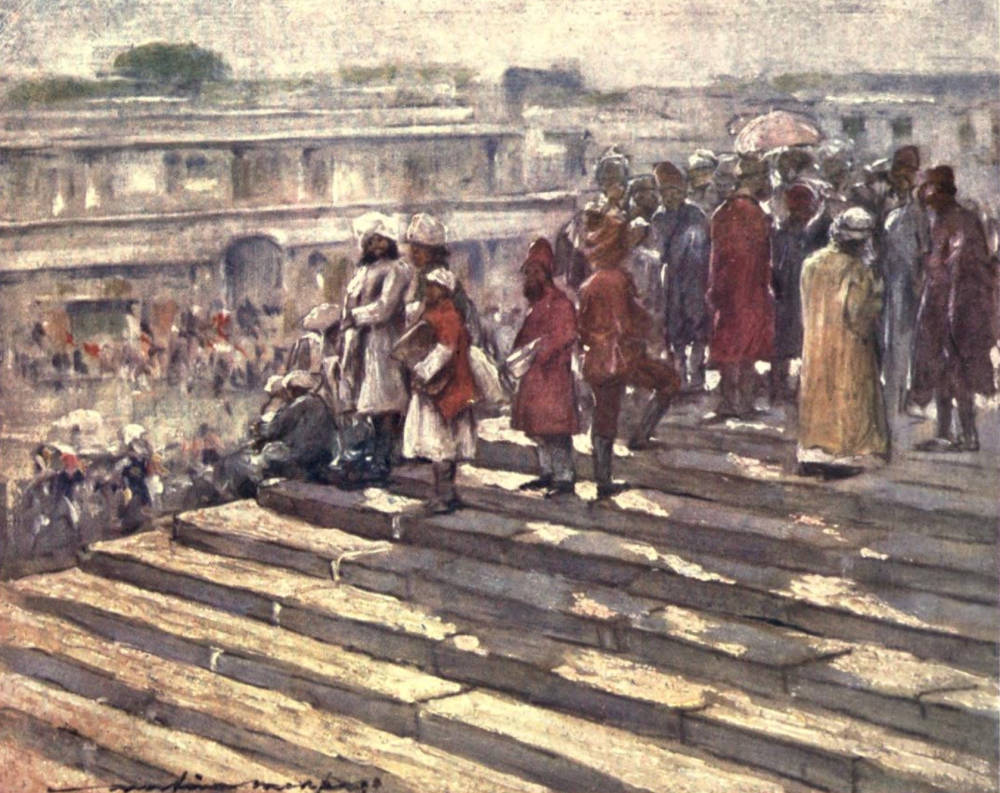 On the Steps of the Jumma Masjid by Mortimer Menpes. 1903. Watercolor. "Tens of thousands listening for a signal — the Royal Salute — to say that the Viceroy had entered the Imperial City." Source: The Durbar, facing p. 30. Click on image to enlarge it.
The artist's first reaction to the Jumma Masjid
I shall never forget my first sight of the Jumma Masjid. It was worth coming from the ends of the earth to see. What was it like ? What can I compare it with? Anything that we in England have ever seen? I think not. Perhaps a garden is nearest to it not a Surrey garden planted with stocks and mignonette, but an ideal garden such as we have all dreamed of, with banks studded with gorgeous, flaming tropical flowers. No : that will not do: it must be a garden of jewels, a garden set with jewels, with pearls, sapphires, rubies, and diamonds. How impossible this scene is to paint impossible to imagine, im- possible to describe! The streets, the houses, the roofs, the steps, and the benches massed about the Jumma Masjid teemed and vibrated with colour; the flower-beds stretched far as eye could see; it was a garden for a fairy princess. Poor painters, poor palettes ! How futile your efforts must be!
We felt like beetles, dull-coloured beetles, and terribly Saxon as we forced our way among these living flower-beds and mounted up to the terrace reserved for Lord Curzon's guests. The temple was already filled with people, a brilliant throng, the women in their gayest dress, and all the men in uniform. [36-37]
Here was I standing before a scene which no artist save Turner should ever have attempted to paint, calmly unfolding a stupid little paint-box and squeezing out tubes of Reeves's water-colour, pigment which, compared with the glowing tones around me, looked like mud. Still, I shut my teeth firmly and went on doggedly, scarce knowing what I was doing, but trying to brazen it out: I too am an Anglo-Saxon. Presently I plucked up courage; for there, a few yards off, was another of my craft working away with pencil and note-book. [39]
[You may use this image without prior permission for any scholarly or educational purpose as long as you (1) credit the University of California and the Internet Archive and (2) link your document to this URL in a web document or cite it in a print one. — George P. Landow]
Bibliography
Menpes, Mortimer. The Durbar. Text by Dorothy Menpes. London: Adam & Charles Black, 1903. Internet Archive version of a copy in the University of California at Los Angeles Library. Web. 27 May 2017.
---
Last modified 2 June 2017