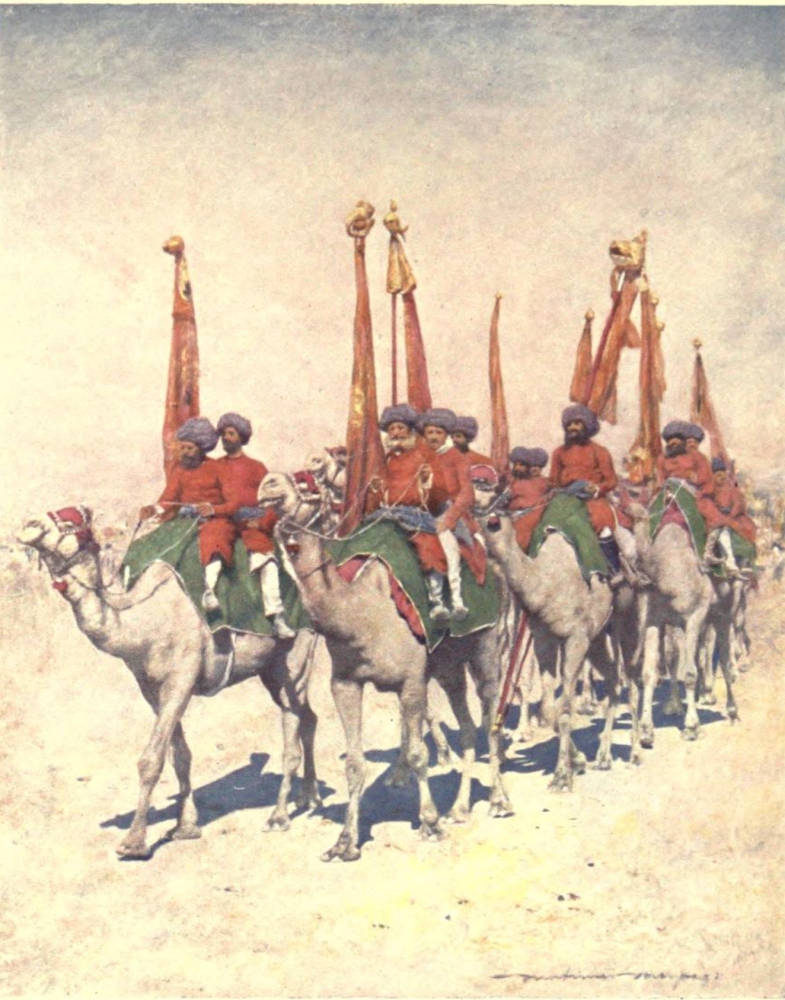 Emblem-Bearers of Cutch
Mortimer Menpes
1903
Watercolor
Source: The Durbar, facing p. 76
[Click on image to enlarge it.]
[You may use this image without prior permission for any scholarly or educational purpose as long as you (1) credit the University of California and the Internet Archive and (2) link your document to this URL in a web document or cite it in a print one. — George P. Landow]
We sat among the Punjaub chiefs to watch the procession. Young Patiala [link] was just in front of us, and a gorgeous person in salmon and gold sat next. I didn't know who he was, and I did not dare display my ignorance by asking; but he was a very affable gentleman, and undertook of his own accord to describe the different States as they passed. "Look!" he cried, as a surge of red, violet, and glittering gold came into sight. "Here comes Cutch." I could well understand his enthusiasm as the groups drew nearer. Cutch was almost all gold solid burnished gold. There were great blazing triangular-shaped fans of cloth of gold with colour breaking through them, sometimes salmon, sometimes emerald-green, and sometimes peacock-blue. Men on camels dressed in vermilion turbans carried salmon-and-gold banners surmounted by golden emblems. These banners and emblems played an important part all through the procession, and added their quota of colour and brilliance. They had been presented by the Mogul Emperors, our friend in salmon informed us, and acted as a stimulus to remind the various States that they formed part of the Mogul Empire. Our friend of the green and vermilion checked saddlecloth had an important position in this Cutch group, and as he sailed past us he blew out his whiskers with a self-conscious air. He seemed to have had an extra brush-up, and he looked so glossy that I almost wished I had waited until now to sketch him.
Roars of laughter shook the audience as some men on rainbow-coloured stilts, their heads on a level with the roof of the arena, passed by. These stilted gentlemen, although they appeared somewhat ridiculous, were of the greatest possible service in actual warfare. Behind each man came a servant with a long red pole. For a brief moment I was confused; then I quickly realised that, of course, the pole was for support. A man twenty feet up in the air on stilts without any chance of rest is in a more or less hopeless condition, and this was simply a resting-pole. These warriors are very bold and brave people : they sometimes have to attack men on elephants and are carefully chosen for the task. [77-78]
Bibliography
Menpes, Mortimer. The Durbar. Text by Dorothy Menpes. London: Adam & Charles Black, 1903. Internet Archive version of a copy in the University of California at Los Angeles Library. Web. 27 May 2017.
---

Victorian
Web

British
India

Artists

Mortimer
Menpes

Water-
colors

Next
Last modified 27 May 2017