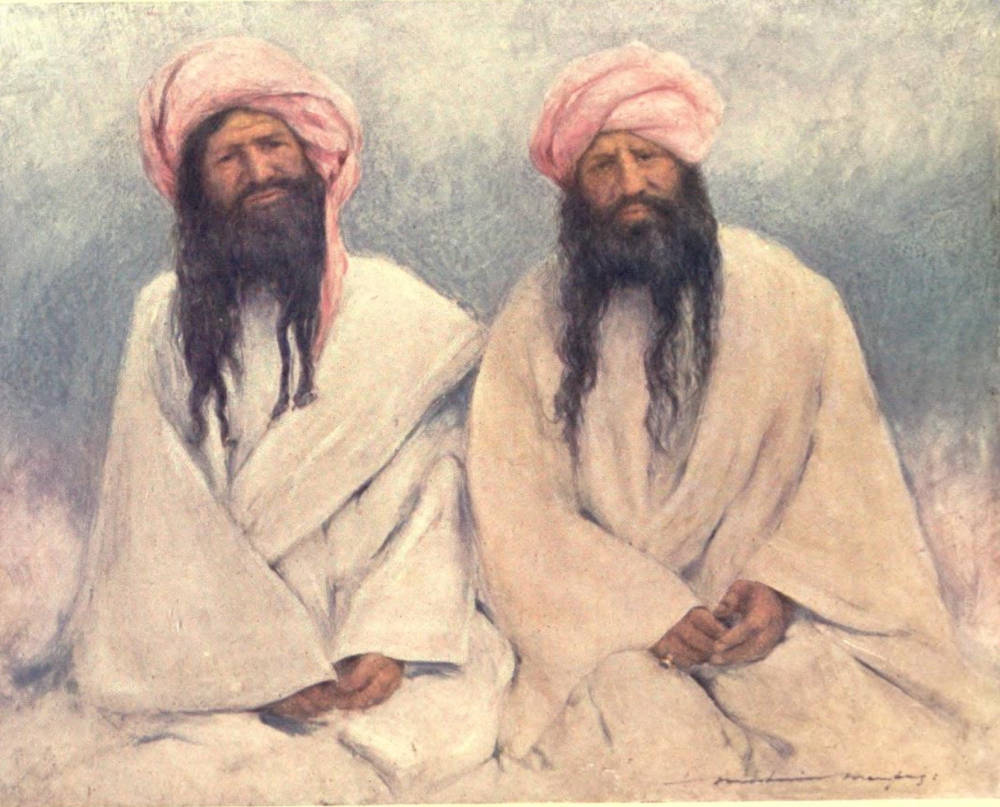 Two Baluch Chiefs by Mortimer Menpes. 1903. Watercolor. "Wild, untamed men, who seem as though they have not even yet subjected themselves to British rule." Source: The Durbar, facing p. 150. [Click on image to enlarge it.]
"On another day, Major Dunlop Smith ordered all the Baluchistan chiefs to be brought round to the Patiala Camp. There were about a hundred of them, all dressed in white morose, severe-looking people. They were the very last to give in to British rule, and they didn't look as though they had quite given in yet, or as though they were likely to, so long as their race existed. They made a magnificent picture with their long jet-black beards, and their dark, extremely hand-some faces. They wore long white flowing robes, and looked almost like biblical figures. I was surprised to find that etiquette was a great point with these men. They were extremely touchy, and stood on their dignity in quite a remarkable way. They would insist on being sketched each in his proper order. I chose one man to sit for me as being the most picturesque, and, to my astonishment, I found all the others turning their backs, and going off muttering, and glowering at me under their bushy eyebrows. However, they came back when I told them that they were necessary for my picture, and smiled and muttered among themselves, much like contented tiger-cats. These fierce hillmen are inordinately proud of their personal appearance.
When we left the Camp they came up to us one at a time and insisted upon shaking hands. Most of them had never shaken hands in their lives before; but the first Chief, a more or less Europeanised person, had done it, and they must all follow suit" (149-51).
Related material
[You may use this image without prior permission for any scholarly or educational purpose as long as you (1) credit the University of California and the Internet Archive and (2) link your document to this URL in a web document or cite it in a print one. — George P. Landow]
Bibliography
Menpes, Mortimer. The Durbar. Text by Dorothy Menpes. London: Adam & Charles Black, 1903. Internet Archive version of a copy in the University of California at Los Angeles Library. Web. 27 May 2017.
---
Last modified 29 May 2017