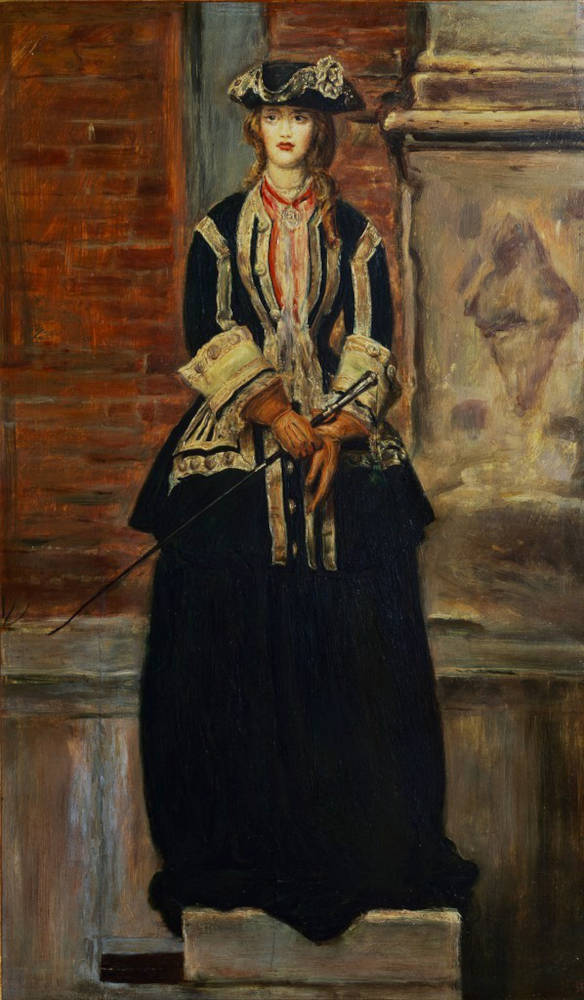 Two versions of Millais's Charlie Is My Darling both painted in 1864: Left: Oil on canvas, 43 x 27 inches (109 x 68.5 cm). Signed with monogram lower left and dated 1864. Private collection. Right: Oil on panel, 16 ⅝ x 9 ⅞ inches (42.3 x 25.3 cm). signed with monogram lower right. Private collection. [Click on images to enlarge them.]
This subject is unique In Millais' oeuvre and must have greatly appealed to the artist because he not only painted a large version in oil but two smaller oil versions as well as a watercolour. The smallest of the oil versions was 9 ¾ x 5 ¾ inches, basically the same size as the watercolour, which was 9 ⅝ x 5 ½ inches. All the pictures appear to have been completed in 1864. The principal version was exhibited at the Royal Academy in 1864, no. 118. Millais appears to have been pleased at least with the larger of his two small oil versions because in a letter to his wife Effie, dated September 16, 1864, he wrote: "I finished the small Charlie beautifully."
The title of this painting is taken from the traditional Scottish folk ballad of the same name that deals with Bonnie Prince Charlie and the Jacobite Rebellion. The young woman is supposedly humming this Jacobite song while waiting for her horse. The white cockade that this young woman wears in her hat was a rosette of ribbon, that in appearance resembled a white rose, that became the official badge of the Jacobite forces. Charlie Is My Darling is is but one of several pictures in which Millais declared his romantic sympathy with the Jacobite cause, including The Order of Release of 1853, The White Cockade of 1862, and the later Diana Vernon of 1880 and An Idyll of 1745 of 1884. Following his marriage to Effie Chalmers Gray, who was born in Perth, Millais seemed very fond of painting Scottish historical subjects and landscapes.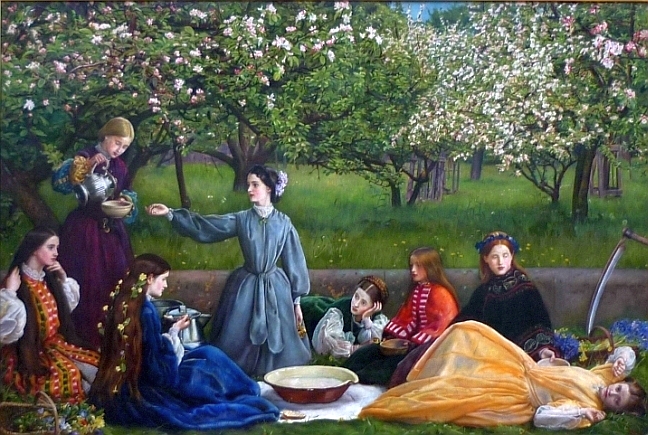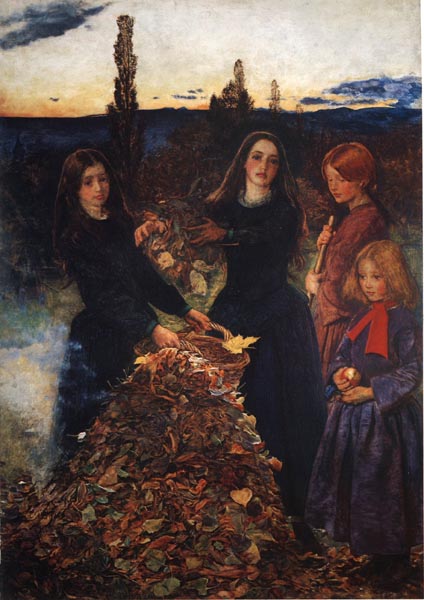 Left: The Order of Release. 1852-53. Oil on canvas, 1029 x 737 mm. Courtesy of Tate Britain N01657. Presented by Sir Henry Tate 1898. Middle: Apple Blossoms or Spring. 1858-59. Oil on canvas. Courtesy of the Lady Lever Art Gallery, Port Sunlight, Wirral. Right: Autumn Leaves. 1855-56. Oil canvas, 41 x 29 inches. City Art Galleries, Manchester.
Charlie Is My Darling is far removed in technique from Millais earlier paintings in a hard-edged "Ruskinian" style of Pre-Raphaelitism that had occupied Millais throughout much of the early to mid-1850s, or even what Allen Staley has described as his non-narrative "mood-pictures" such as his Autumn Leaves of 1856 and Spring (Apple Blossoms) of 1859 where Staley noted a growing breadth or freedom in Millais's manner of painting (3-4). Certainly the background in Charlie is My Darling is treated very broadly indeed, even compared to other works that Millais was painting at that same time, such as Leisure Hours that chronologically immediately preceded this painting. The critic John Ruskin would undoubtedly have been shocked and appalled by the looseness of the handling of the bricks in the background of Charlie is My Darling as compared to how Millais had painted a similar brick wall in A Huguenot on St. Bartholomew's Day in 1851-52. In the earlier painting the bricks, moss, and lichens were treated in a very detailed naturalistic fashion. Millais has lost none of his skill in portraying the outfit of the woman in the painting, however, despite its loose handling. In the 1860s Millais' subject matter shifted away from the religious and literary themes of his Pre-Raphaelite Brotherhood period towards popular taste. As Allen Staley has pointed out: "To cater to popular taste was to join the philistines, a term introduced by Matthew Arnold into English at precisely this period to describe people lacking in culture…Millais was 'in entire accord with the public taste'; that accord brought him membership in and eventually the presidency of the Royal Academy, a baronetcy, and prosperity, but it also cost him the respect of former friends, put him outside the pale of progressive younger artists, and has diminished him in the eyes of posterity" (7-8).
When the principal version of this painting was shown at the Royal Academy in 1864 it garnered faint praise from critics. F. G. Stephens, the reviewer for The Athenaeum, stated: "'Charlie is my Darling,' a Jacobite damsel in a riding-habit, cock-hatted and cockaded, standing on a mountingblock…Another production by Mr. Millais, styled Charlie is my Darling (118), interests us less than the above [My Second Sermon]. Not that it is less well painted, not that the subject was wanting in attraction, if treated effectively, - but because the artist has not completely expressed himself in the fair but somewhat hard looking, bleak-visaged, northern damsel, who, in a habit of green and silver, and prepared to mount, stands upon a horse block placed against the wall of a house. The lady, if it is right to bestow so limited a title on the shrewd and dashing woman before us, seems, at first sight, like a coloured statue placed in a niche that is too large for it. Of course the painting is powerful, but not enough to render the work interesting; the subject of which, when treated in so cold a manner, makes no appeal to our attention" (316). The critic for The Saturday Review was also unimpressed: "We must, however, give Mr. Millais a place here rather on the score of his great former achievements than of anything that he now sends. His single invention – a pert Jacobite damsel perched on a mounting-block, in a green velvet riding-dress, with appropriate symbols of her political creed about her – is enough to convert one to Hanoverianism at once. This, however, is the most completely and delicately coloured of any of his pictures" (657). When the painting was later shown at the Royal Scottish Academy in 1867 the critic for The Art Journal was again less than complimentary: "Mr. Millais has a portrait-picture of a young lady on a stepping-stone, just waiting to mount her horse. She is in riding costume, with a hat of the style of 'Prince Charlie;' hence the title, 'Charlie is my Darling.' It is impossible not to feel that great care has been taken by the artist, and with some good results, but it is equally apparent that more than half its merits are sacrificed to mannerism. The young lady not only seems built into the wall, but the wall itself is bad: the bricks and stone alike are deficient in texture; they do not look as if they belonged to a weathered wall, but rather to a kitchen floor, upon which some energetic Tilly Slowboy has expended all the force of her elbows, and any amounts of dirty water to fill up the pores" (121-22).
The model for the young woman was Hannah Perham, and an interesting story is connected to this painting as Millais' son has related: "Then came Charlie is My Darling, a picture for which Lady Pallisser sat, and to which a little romance is attached. Whilst Millais was at work on this picture, Sir William Pallisser visited the studio, where he was much struck with the face of the lady portrayed. He begged for and obtained an introduction, and afterwards, falling deeply in love with one another, she became Lady Pallisser" (379-80).
Bibliography
"Fine Arts. The Royal Academy." The Athenaeum. (April 30, 1864): 615-17.
Millais, John Guile. The Life and Letters of John Everett Millais, President of the Royal Academy. 2 vols. New York: Frederick A. Stokes, 1899.
"The Royal Academy of 1864." The Saturday Review. 17 (May 28, 1864): 657-58.
"Royal Scottish Academy, The." The Art Journal. 6 (1867): 121-22.
Staley, Allen. "Pre-Raphaelites in the 1860s: III Millais." British Art Journal, 5 (Autumn 2004): 3-14.
---
Last modified 15 September 2021