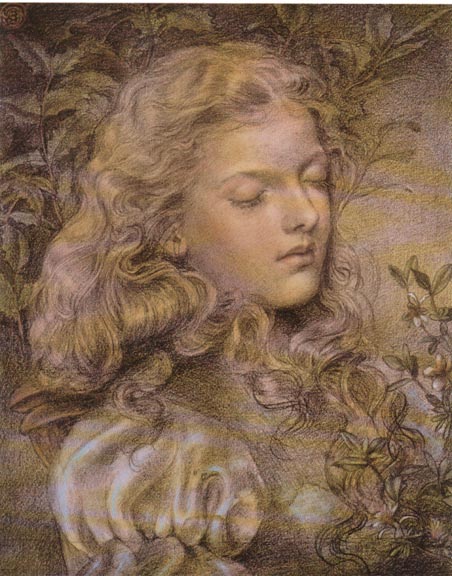 Portrait of a Girl
Emma Sandys, 1843-1877
Coloured chalks on paper watermarked MS
Signed with monogram
15 1/4 X 12 1/8 inches, 38.8 X 30.7 cm.
Commentary by Hilary Morgan
Emma Sandys was the sister of Frederick Sandys, and like him produced bust length portraits of women in an intense and detailed Pre-Raphaelite style. Little is known of her life, despite extensive recent research. Like her brother she was born in Norwich and lived there until 1874 when she moved to London. She exhibited in Norwich and at the Royal Academy, where she showed three female portraits, an 'Enid' and an 'Undine' between 1868 and 1874. It is difficult to reconstruct her oeuvre as her paintings are technically very similar to those ofher brother and until recently have been confused with his.
Related Material
Bibliography
Marsh, Jan, and Pamela Gerrish Nunn. Pre-Raphaelite Women Artists. London: Thames and Hudson, 1998. 119-22.
Marsh, Jan, and Pamela Gerrish Nunn. Women Artists and the Pre-Raphaelite Movement. London: Virago, 1989.
Morgan, Hilary, and Peter Nahum. Burne-Jones, the Pre-Raphaelites, and Their Century. London: Peter Nahum, 1989. Catologue number 138.
---

Victorian
Web

Visual
Arts

Painting

Artists
Last modified 10 November 2002