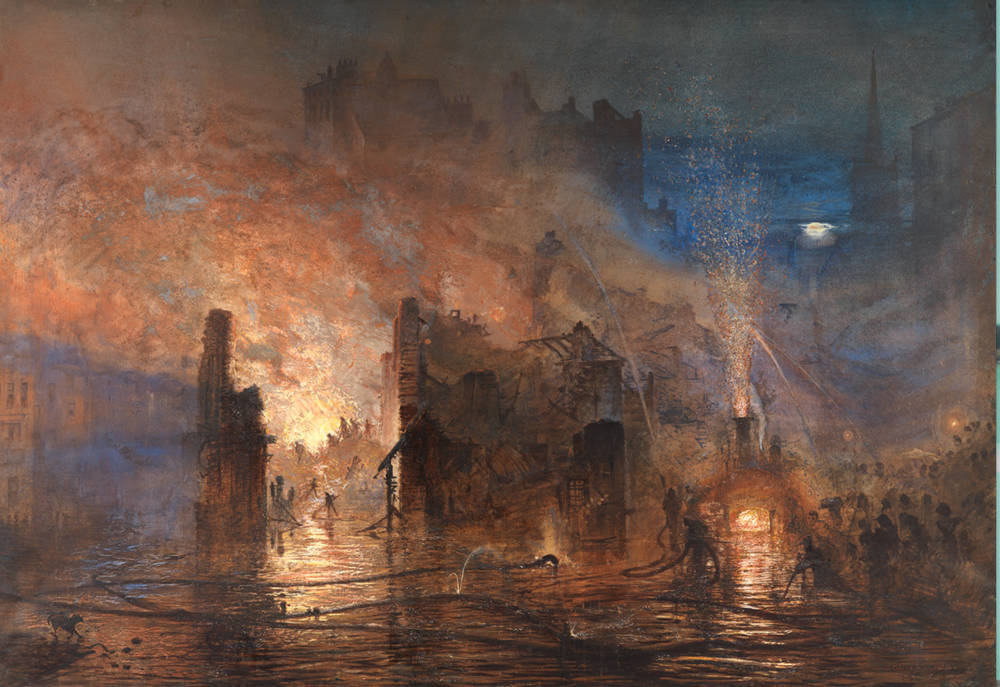 The Fire at Clerkenwell, July 28 1876 by Andrew MacCallum, 1821-1902. Watercolour, 35 x 52 inches; signed, inscribed and dated 1878. Labelled with title and 'Dedicated to the Gallant Captain Shaw and the Brave Fire Brigade'. Provenance: the artist's great-granddaughter. Exhibited: Royal Academy, 1886, no. 1129. Click on image to enlarge it.
Commentary from the Maas Gallery Website
The Great Fire of 1876 started on July 28 at a Clerkenwell printing factory in St John Street, near Farringdon Street Railway Station. The flames 'spread with astounding rapidity, and in a few minutes the whole of the extensive range of buildings was one mass of flame, presenting for upwards of half-an-hour one of the most terribly imposing spectacles of the kind that have been seen in London for some time. The night was comparatively calm, with only a very sight easterly wind blowing, and the flames consequently shot almost perpendicularly upwards in immense cones of fire, pouring out of the roof and from every window on the premises both in front and rear ... The fire-engines were soon on the spot ... Shortly before 12 o'clock the side wall towards the brewery fell with a loud crash, releasing flames that rolled like clouds into the air. From this time partition walls in the interior and floors encumbered by weighty machinery fell continuously, thundering into the great body of flame. At about two o'clock the fire began to exhaust itself, and an hour after that the brigade were playing upon a fantastic ruin that stood out black against the moonlit sky ... The crowds that gathered to the spot were immense' (Lloyd's Weekly Newspaper, 13 August 1876, p 7).
In charge of fighting the fire was the famous Captain Shaw, to whom the picture was dedicated; Shaw was Superintendent of the London Fire Engine Establishment, a reformer, socialite, and friend of Edward VII. He was immortalised by Gilbert and Sullivan when Iolanthe wondered if his 'brigade with cold cascade' could quench her great love.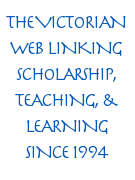 The Maas Gallery, 15a Clifford Street, London W1S 4JZ has most generously given its permission to use in the Victorian Web information, images, and text from its catalogues, and this generosity has led to the creation of many valuable documents on painting and drawing. The copyright on text and images from their catalogues remains, of course, with the Gallery. Readers should consult their website to obtain information about recent exhibitions and to order their catalogues. — George P. Landow
---
Last modified 20 April 2020