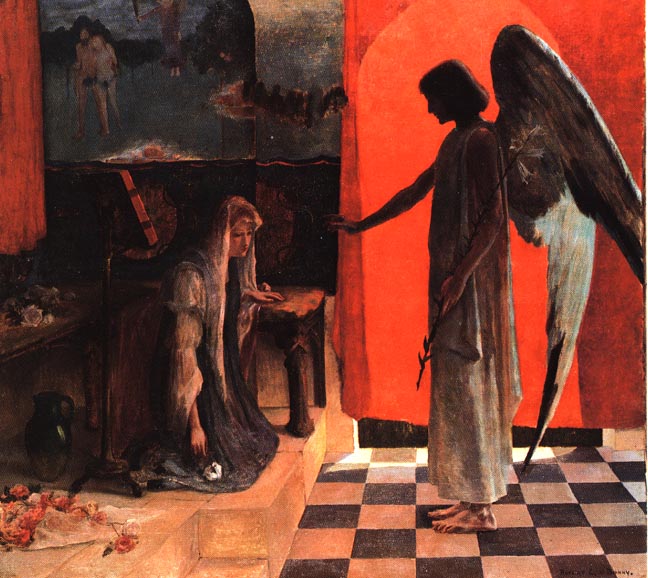 The Annunciation by Rupert Charles Wulsten Bunny, 1864-1947. 1893. Oil on canvas, 100.3 x 109.8 cm. Exhibited: Royal Institute, London, 1893.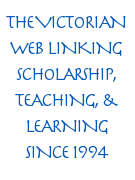 In 1884 Rupert Bunny accompanied his father on a trip to Europe. When his father returned to Australia, Bunny remained in London. The young artist studied, for a while, at Calderon's Art School, in St. John's Wood, until, having made friends with Tuke and Gotch, and been introduced by them to J. P. Laurens, the French History painter, he moved to Paris, spending three years there under Laurens' tuition.
During the 1890's, Bunny exhibited in both London and Paris. Since he was an expatriate, he chose subjects that were not nationalistic in content, but had a more universal interest, basing his ideas on Classical Mythology and the Bible.
'The Annunciation' was one of a series of paintings with a Biblical theme, all of which revealed a choice of subject-matter confined almost exclusively to women, for example 'Les Roses de St. Dorothee', 1892; 'Descending Angels', 1897 and The Descent from the Cross', 1898.
It has been suggested that Bunny was, during the 1890's, strongly influenced by the ideals of the late Victorian Pre-Raphaelites, such as Ford Maddox Brown and E. Burne-Jones. The 'Annunciation' is also reminiscient of Rossetti's painting of the same subject, for although the colouring is quite different, the composition, with the idea of dividing the picture into two halves and presenting the Angel in profile, is similar to that in Rossetti's painting.
Thomas suggests that Bunny's early work also indicates an awareness of the frescoes of Pompeli and Herculaneum, the first ordered excavations of which had been carried out some thirty years before. The deep red colouring of 'The Annunciation' and the architectural style of the interior would seem to indicate this influence. — Caroline Simon.
References
Simon, Caroline. Peintures de l'ame. Exhibition catalogue. London: Whitford and Hughes, 1984. No. 5.
---
Last modified 16 October 2006