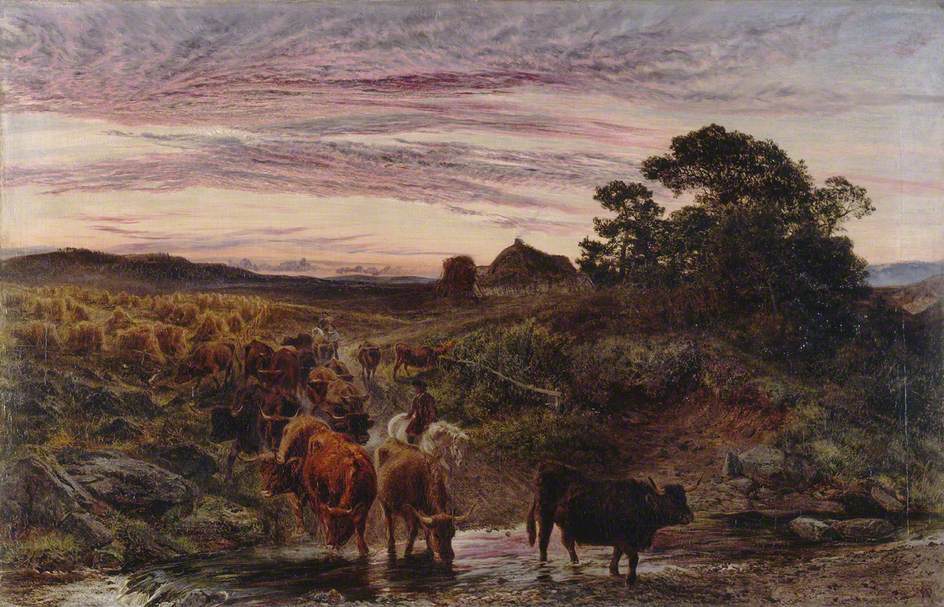 Cattle Fording a Stream, by Henry Moore (1831-1895). 1862. Oil on canvas. 71.5 x 111.8 cm. Accession number 1918.419. Collection: Manchester Art Gallery. Kindly released by the gallery on the CC BY-NC-ND (Creative Commons Attribution-NonCommercial-NoDerivatives licence), so that it can be reused and attributed, unmodified in any way, for non-commercial purposes. Click on the image to enlarge it.
Because Moore is popular for his sea paintings, we tend to forget that he painted landscapes as well, "having by 1860 established himself as a successful landscape painter" (Dodgson and Pottle). Here, under an evening sky rippling with cloud and streaked with sunset, but still glowing with the memory of day, farmhands drive a herd of hefty highland cattle across a ford. Progress seems leisurely: two of the cattle are pausing to drink. The farmhand on the bank stands out, because he rides a white horse; he is glancing back at the one bringing up the rear, distantly seen in the twilight. The dog just glimpsed on the left, keeping one of the herd from moving out of line, provides the only lively spot. Rows of hay stooks in the field in the upper left, below the farm building, and behind the dog, indicate the reason for this tranquil mood: it is autumn in this idyllic moorland, farmland scene. The tints of the sky are subtly reflected in the stream, reminding us of how gifted Moore was when it came to painting light variations on water. — Jacqueline Banerjee
Bibliography
Dodgson, C., revised by Mark Pottle. "Moore, Henry (1831–1895), marine painter." Oxford Dictionary of National Biography. Online ed. Web. 28 July 2018.
---
Created 27 July 2018