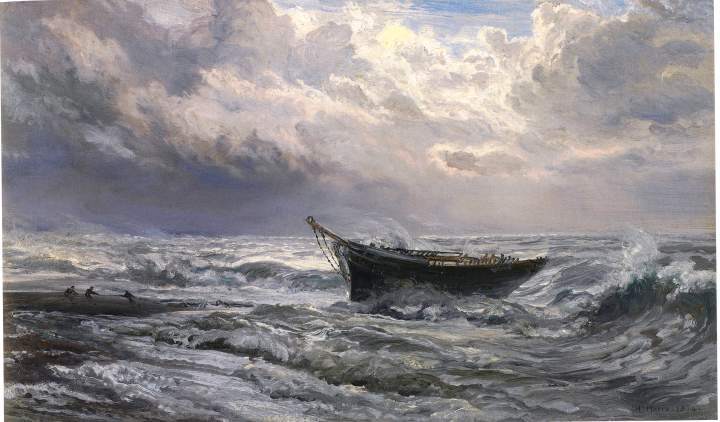 Stormy Seas by Henry Moore RA RWS, 1831-1895. Signed and dated 1874. Oil on canvas, 12 x 19 3/4 inches.
Moore exhibited several scenes of boats in distress in stormy weather at the Royal Academy in the mid 1870s, including Rough Weather on the Coast: Cumberland, and The Life Boat. This painting is related to another of these, Outside the Harbour of 1875, which Moore's biographer described as: '... tumultous surf; the white and varying grey of the water reflecting a sombre, rain-laden sky. As a piece of wave drawing, movement and big handling [see detail] the canvas shows a dexterity which the painter had acquired by this time, and it is not lacking in the pictorial incident which so many people, rightly or wrongly, missed in his later work'. — Rupert Maas, p. 21
Moore here provides an example of one of the stages of shipwreck, an enormously popular subject in nineteenth-century painting and literature whose significance ranged from mere reporting or sensationalism to emblems of divine punishment (e.g., Turner's Salve Ship) to man's helplessness. See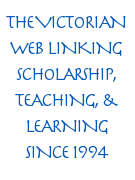 References
Auden, W. H. The Enchafed Flood: Three Critical Essays on the Romantic Spirit. New York: 1957.
Boase, T. S. R. "Shipwrecks in English Romantic Painting." Journal of the Warburg and Courtauld Institutes 22 (1959): 332-46.
Lorenz Eitner, "The Open Window and the Storm-tossed Boat: an Essay in the iconography of Romanticism." Art Bulletin 37 (1959): 281-90.
Landow, George P. Images of Crisis: Literary Iconology, 1750 to the Present. Boston and London: Routledge & Kegan Paul, 1982.
Catalogue [of June 2008 Exhibition]. London: The Maas Gallery, 2008. Catalogue no. 16
The Maas Gallery, 15a Clifford Street, London W1S 4JZ has most generously given its permission to use in the Victorian Web information, images, and text from its catalogues, and this generosity has led to the creation of many valuable documents on painting and drawing. The copyright on text and images from their catalogues remains, of course, with the Gallery. Readers should consult their website to obtain information about recent exhibitions and to order their catalogues. [GPL]
---
Last modified 2000