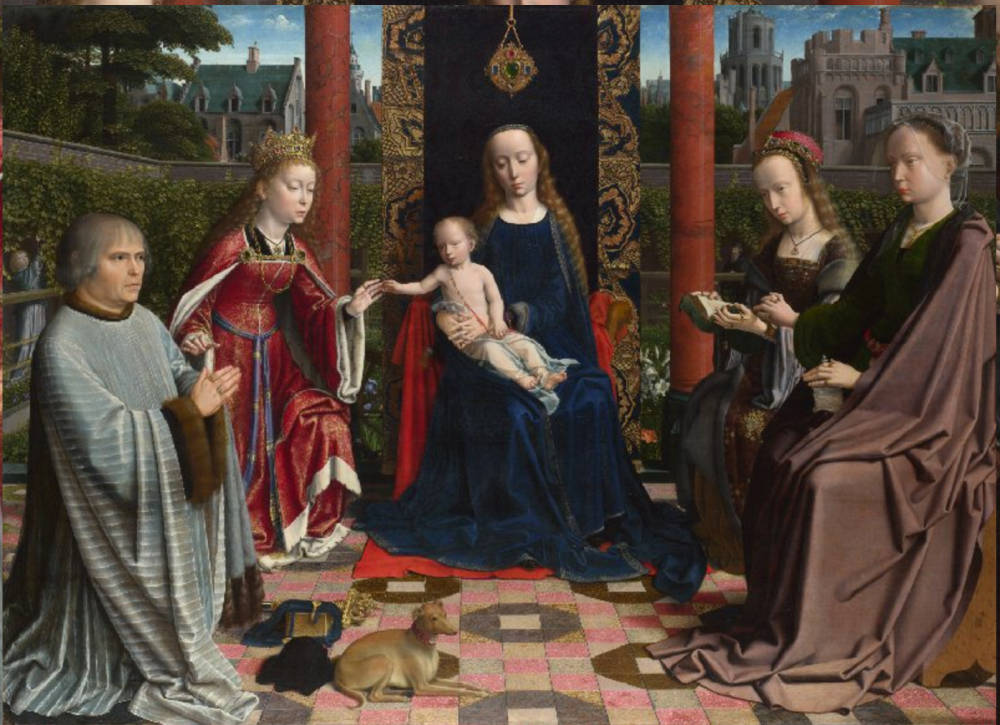 Gerard David (active 1484-1523). The Mystic Marriage of St. Catherine (Virgin and Child with Saints and Donor). c. 1510. Oil on oak panel, 41 x 56 3/4 in. National Gallery, London (NG1432 ). Bequeathed by Mrs Lyne Stephens, 1895. Cløick on image to enlarge it.
Commentary from the National Gallery Online
The Virgin and Child are enthroned in a walled garden, a probable metaphor for her virginity. On the right Saint Barbara reads a book. Mary Magdalene, seated next to her holding on ointment jar, appears to be turning the pages. To the left Saint Catherine receives a ring from the infant Christ (she refused to marry an emperor on the grounds that she was already married to Christ). The everyday world represented beyond the wall was perhaps painted from contemporary Bruges.
David's picture was almost certainly commissioned by the kneeling figure on the left, Richard de Visch van der Capelle, a cantor (senior cleric) of Saint Donatian, Bruges. His identity is recorded in the coat of arms on the greyhound's collar. In 1500 he sought to restore the chapel of Saint Anthony Abbot, who appears in the background behind Saint Barbara. This painting was almost certainly intended for the altar of Saint Catherine there.
References
Cutler, Charles D. Northern Paintingfrom Pucelle to Bruegel: Fourteenth, Fifteenth, and Sixteenth Centuries. New York: Holt, Rhinehart, and Winston, 1973.
Friedländer, Max J. Gerard David and Gerard David. Trans. Heinz Norden New York: Frederick A. Praeger, 1971.
Panofsky, Erwin. Early Netherlandish Painting: Its Origins and Character [1953]. 2 vols. New York: Harper and Row, 1971.
Van Puyvelde, Leo. Flemish Painting from the Van Eycks to Metsys. Trans. Alan Kendall. New York: McGraw-Hill, [1968?]
---
Last modified 14 August 2016