Presentiments by Emily Mary Osborn, 1828-1925. Oil on canvas, 34 1/2 x 45 inches; monogrammed. Exhibited: Royal Academy, 1859, no. 943. Various labels, inscribed on one:
For men must work
And women must weep
And there's little to earn
And many to keep
Though the harbour bar
be moaning — C. Kingsley
The fisherman must go out, despite the storm, to feed his family. The title of the painting warns us that he is not coming back. This, in 1850s Britain, would have been a starkly realistic scene that would have been familiar to many. The poem that inspired it was Charles Kingsley's "The Three Fishers."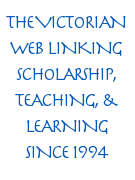 Other works by Osborn
References
Maas, Rupert. British Pictures. London: The Maas Gallery. 2006. Catalogue number 61.
The Maas Gallery, London has most generously given its permission to use in the Victorian Web information, images, and text from its catalogues. The copyright on text and images from their catalogues remains, of course, with the Maas Gallery. Readers should consult the gallery website to obtain information about recent exhibitions and to order their catalogues. [GPL]
---
Last modified 19 February 2010