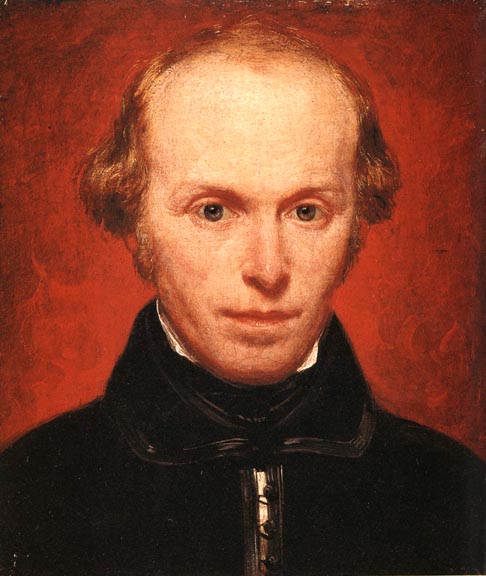 Richard Redgrave (1804-1888) is best known now as a painter of genre pictures and landscapes, but in his own lifetime he was a very influential figure in the art world, particularly in the area of art education. Born in Belgrave Road, Pimlico, he started out as a draughtsman in his father's wire-fencing factory. At some point he also had a spell as a rent-collector (see Lambourne 378), which made him sympathetic towards the struggles of the poor. But his talent for drawing, and his ambition, lifted him out of this background: in 1825 he sent his painting of The River Brent, near Hanwell to the Royal Academy, and in 1826 he was accepted as a student at the Academy. After a few years, he was able to devote himself to art, living on his income as a drawing teacher, and exhibiting his work at the Academy and elsewhere. His breakthrough came with a painting that he showed at the British Institution in 1836, Gulliver Exhibited to the Brobdingnag Farmer, and two years later came another work that captured the public imagination, The Trial of Griselda's Patience, a particularly popular subject in Victorian times. Around this time too, Redgrave became a founder member of the Etching Club.
Now Redgrave went from strength to strength, becoming a royal academician in 1851. An earnest man with a didactic streak, he proved to be a very capable administrator, and became "the driving force behind the reform of art education in Great Britain" (Heleniak): he was already the principal of the Government School of Design, which he himself helped to organise, and it was he who produced the extraordinarily elaborate design for Wellington's funeral carriage in 1852. He rose still further in his administrative role, being one of the few important voices on the selection committee of 1853, for what was to be the Victoria and Albert Museum, and becoming the first Keeper of Paintings there. He received the Legion of Honour for helping to organise the British section of the Paris Exhibition in 1855, and in 1857 became Inspector-General for Art. As Surveyor of The Queen's Pictures, he began in 1858 what would be the "first systematic survey of the condition of the pictures" (see Marsden 45). This was a huge task, considering the number of royal residences he had to cover, and he kept this role until 1880. He was in charge of the art section for the 1862 Exhibition in London, and between 1874 and 1875 he also the directed the art division of the education department.
Despite being a top administrator, and even apart from compiling his mammoth catalogues of the royal collection, Redgrave found time for writing about art and design, and preparing, with his art historian elder brother Samuel, the comprehensive and authoritative A Century of Painters of the English School (1866).
He also continued to exhibit his own work, though less so as the years went by and especially later on, when his eyesight deteriorated. Still, he left a fine body of paintings, including landscapes with a Pre-Raphaelite flavour that he painted near his summer cottage at Abinger, in Surrey. But he had long taken special pleasure in genre paintings that conveyed a message, writing, "It is one of my most gratifying feelings that many of my best efforts in art have aimed at calling attention to the trials and struggles of the poor and the oppressed" (qtd. in Lambourne 378-80). One of his best-known works was first called The Poor Teacher, and later entitled The Governess: She Sees No Kind Domestic Visage Near (1844). It is worth knowing that two of Redgrave's sisters were governesses (Lambourne 378), and that one of them, Jane Redgrave, only lived to be twenty; also, that the two children shown playing just outside the room were added at the request of the buyer — the collector, John Sheepshanks — to offset the young woman's loneliness. In fact, as the governess sits sadly with a black-edged letter in one limp hand, the cheerful girls only highlight her desolation.
Redgrave was not as sentimental as he might seem at first. John Hadfield notes usefully that he "often seemed to concentrate on bleak and unrewarding aspects of contemporary life, not in any polemical or political spirit, but simply in terms of conveying understanding for people who led sad and underprivileged lives" (114). If he was, in fact, catering to the tastes of his audience, as Hadfield does suspect when discussing a painting like The Outcast (1851), he was probably doing so in order to sharpen this understanding.
In 1869 this tremendously energetic and generous-spirited man turned down a knighthood, but he was made a CB on retirement. He died at his London home in Hyde Park Gate, Kensington, on 14 December 1888, and was buried in Brompton cemetery. His wife Rose survived him, as did his son, Gilbert Redgrave, who rose to be Assistant Secretary to the Board of Education, and made his mark as a bibliographer; and two daughters, the elder one of whom, Frances, used his diaries to compile a memoir of him. — Jacqueline Banerjee
Works
Bibliography
Casteras, Susan, and Ronald Parkinson, eds. Richard Redgrave, 1804-1888 (Exhibition Catalogue, with material about Redgrave's life). New Haven and London: Yale University Press, 1988.
"Gilbert Richard Redgrave, 1844-1941." Leeds University Library. Web. 23 June 2016.
Hadfield, John. Every Picture Tells a Story: Images of Victorian Life. London: The Herbert Press, 1985.
Heleniak, Kathryn Moore. "Redgrave, Richard (1804–1888), painter and arts administrator." Oxford Dictionary of National Biography. Online ed. Web. 23 June 2016.
Lambourne, Lionel. Victorian Painting. London and New York: Phaidon, 1999. Print.
Marsden, Jonathan, ed. Victoria & Albert: Art & Love. London: Royal Collection Publications, 2010.
---
Last modified 23 June 2016