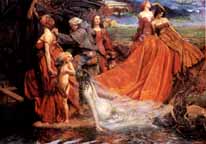 Now is the Pilgrim Year presents an allegorical subject matter, namely the changing seasons and the pilgrimage of a year passed. Byam Shaw was fond of Tennyson, Shakespeare and the Rossettis, and it is likely that the title is a poetic quotation, the source of which is unclear. Shaw depicts Autumn, personified by the lady with the elaborate orange dress, leading the Year, the elderly pilgrim in the grey robe, to the boat of Time. According to Shaw's teacher, Rex Vicat Cole, the ethereal figure emerging from the shallow waters is Mist, who reaches her arm out to touch Love, the winged cupid figure. A lady huntress faces out toward the viewer, with her dog by her side; although she is a quiet figure, clothed in a relatively muted gown, she lies at the central focal point of the canvas.
The other women sitting on the bank most likely represent the fruitful and productive qualities of autumn. One holds a sickle, recalling the annual harvest. The other looks wistfully in the direction of a departing swallow, and holds the last of the roses and Michaelmas daisies (a perennial herb which blooms in autumn) upon her lap. Color plays an essential role in this painting, serving to emphasize the various qualities of each character. Shaw used pure pigments in his work, in order to achieve the most vital hues possible, working in the same vein as PRB's such as Millais and Ford Madox Brown.
Questions
If this is an allegorical painting, should we assume that all of the figures are significant? Who or what might the other robed man represent?
Are there any references to classical mythology in this painting?
The departure of the swallow is used to foretell the coming of Winter. How have birds been used allegorically in the work of other PRB's?
It seems that Shaw has paid more attention to the figures in this painting than to the landscape. It could be that he was simply more adept at handling figures than natural settings. In an allegorical depiction of the changing seasons, should emphasis be placed on the human personifications, or on the landscape? Are they successfully and naturally wedded within this painting?
In what other PRB works has the theme of pilgrimage appeared?
Is there a sense of unity throughout the canvas? Do the highly detailed and naturalistic figures blend well with their setting? It seems to me that the bare branches in the foreground were placed intentionally so that Shaw might show his ability in the observation of nature. How might John Ruskin have felt about this painting?
Why would he include the Mist figure? Is she perhaps yet another symbol for the coming of winter?
---
Last modified 30 November 2004