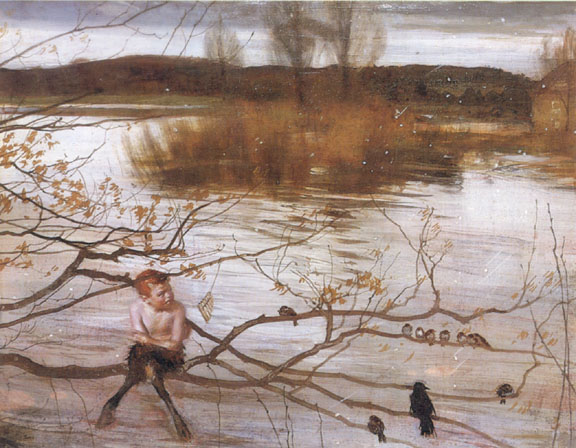 The Beautiful is Fled by Charles Sims RA RWS, 1873-1928. Circa 1900. Oil on panel, signed. 15 3/4 x 20 inches, 40.0 x 50.8 cm.
Commentary by Hilary Morgan
The Beautiful is Fled reflects an unusually lyrical and personal phase in Charles Sims's work. There is a sense of wistful isolation in it, which did not manifest itself fully in his works until the 1920s and is expressed here by the Faun, usually associated with Idyllic classicism, shivering in a bleak English river landscape. Sims was interested in the intrusion of mythical figures into everyday scenes. His Royal Academy exhibit of 1908, 'The Little Faun'(Pall Mall, 1908) shows a similar Faun disrupting an alfresco dinner party. The fascination with the Faun, half human, half beast, seems to have been widespread in the Edwardian era. It brings to mind the apparition of Pan in Kenneth Graham's Wind in the Willows (1908).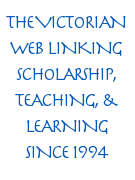 Provenance: The Leicester Galleries; Miss Henderson; Sanders
Exhibited: London, The Leicester Galleries, April-May, 1910, An Exhibition of Works by Charles Sims, number 21; London, Royal Academy, 1933, Winter Exhibition of Works by Late Members
References
Morgan, Hilary and Nahum, Peter. Burne-Jones, The Pre-Raphaelites and Their Century. London: Peter Nahum, 1989. Catalogue number 166.
Number 50, reproduced Pall Mall pictures 1908.
Peter Nahum Ltd, London has most generously given its permission to use in the Victorian Web information, images, and text from its catalogues, and this generosity has led to the creation of hundreds of the site's most valuable documents on painting, drawing, and sculpture. The copyright on text and images from their catalogues remains, of course, with Peter Nahum Ltd.
Readers should consult the website of Peter Nahum at the Leicester Galleries to obtain information about recent exhibitions and to order their catalogues. [GPL]
---
Last modified 11 August 2006