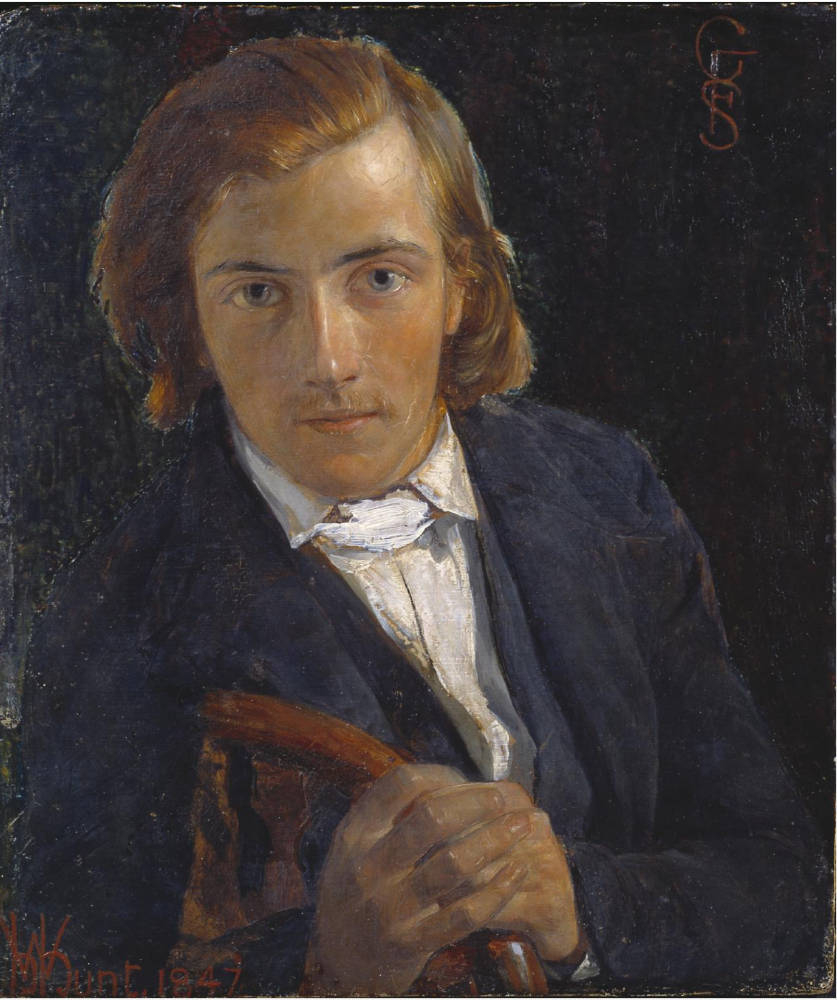 Hunt painted this portrait of Stephens before the formation of the brotherhood and it is much more loosely painted than strictly Pre-Raphaelite works. — Tate Britain
In 1844 Frederic George Stephens (1828-1907), a founding member of the Pre-Raphaelite Brotherhood who modelled for many of their paintings, entered the Royal Academy Schools of Art, where he met William Holman Hunt, John Everett Millais, Dante Gabriel Rossetti, and Ford Madox Brown. Stephens exhibited portraits of his father and mother at the R A annual exhibitions in the early 1850s but soon abandoned a career as a painter for that of an art critic.
A prolific writer who became the regular art critic for the Athenaeum in 1861, Stephens also contributed to The Germ, the Critic, the London Review, Dublin University Review, Macmillan's Magazine, Weldon's Register, the Portfolio, and various American and French periodicals.
Long one of Hunt's closest friends who did all he could to advance his career, Stephens broke with him in the 1880s after the two had become estranged over his part in causing the artist great difficulties with The Triumph of the Innocents. Stephens's books include the anonymous William Holman Hunt and His Work (1860), which he wrote to accompany the exhibition of The Finding of the Saviour in the Temple and a four-volume catalogue of Prints and Drawings in the British Museum (1870-83). — George P. Landow
Paintings
Drawings
Bibliography
A Pre-Raphaelite Friendship: The Correspondence of William Holman Hunt and John Lucas Tupper. Ed. James H, Coombs, George P. Landow, Anne Scott, and Arnold A. Sanders. Ann Arbor: UMI Research Press, 1986.
Casteras, Susan. James Smetham. Artist, Author, Pre-Raphaelite Associate. Aldershot. Hants.: Scolar Press, 1995.
Stephens, Frederic George. Catalogue of Prints and Drawings (Personal and Political Satire) in the British Museum. 4 vols. London: 1870-83.
Stephens, Frederic George. The Early Works of Sir Edwin Landseer. London: 1869.
Stephens, Frederic George. Masterpieces of Mulready. London: 1867.
Stephens, Frederic George. A Memoir of George Cruikshank. London: 1891.
[Stephens, Frederic George]. William Holman Hunt and His Works. London: 1860.
Wilkes, Robert. "The Hidden Pre-Raphaelite: The Art and Writings of Frederic George Stephens from 1848-70." PhD thesis, Oxford Brookes University, 2019, 14 and fig. 7.
---
Last modified 30 November 2021