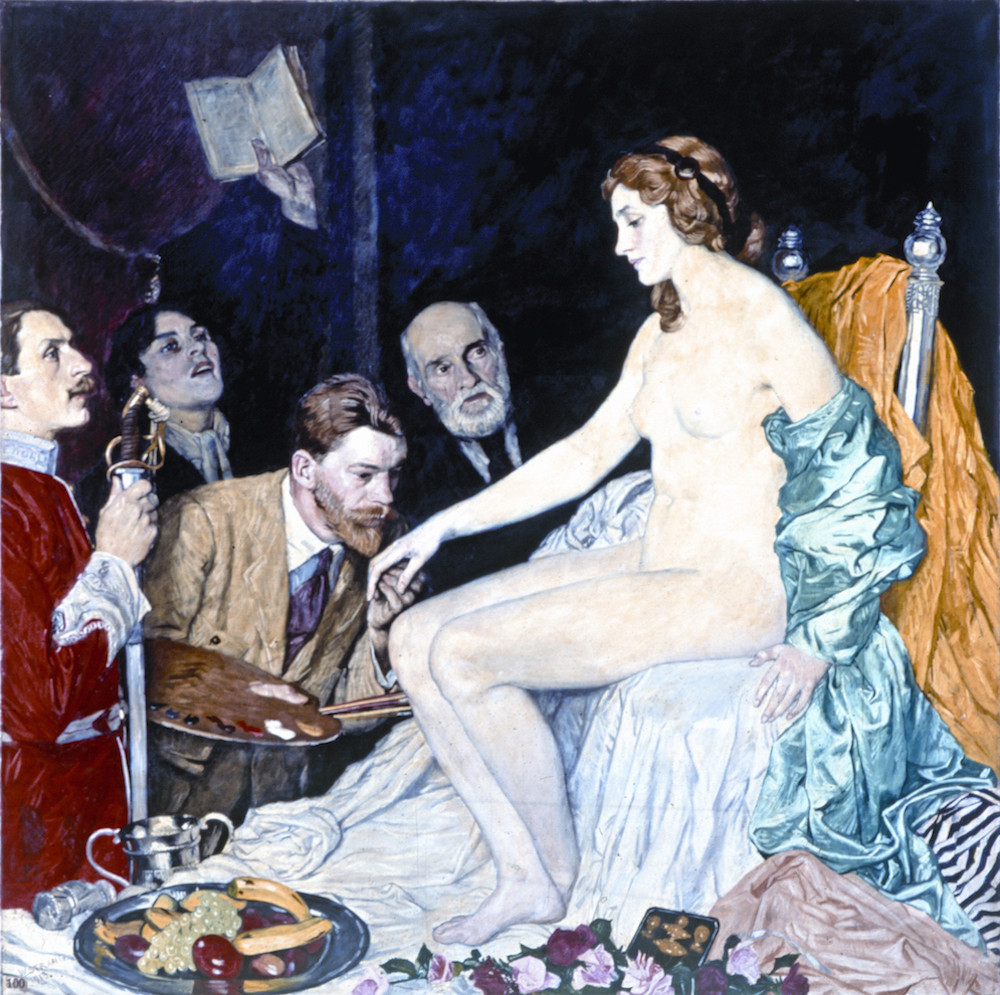 The Worshippers (or Adoration). William Strang (1859-1921). 1913. Oil on canvas. 136 x 136 cm. Collection: Sir Ratan Tata. Accession no. 22.4651. © Trustees, Chhatrapati Shivaji Maharaj Vastu Sangrahalaya, Mumbai (the former Prince of Wales Museum, Bombay). [Click on the image to enlarge it.]
In this allegorical work, those who pay tribute to beauty are (from the left) an adoring soldier or courtier, a poet flourishing (probably) his admiring verses, an artist with his palette, who kisses her hand, and a well-dressed older gentlemen who might be an intellectual or a connoisseur. The gallery note points out the "[r]apid brushwork, bright colours and stark contrast between the figures in the foreground and background." Allegorical scenes like this formed one aspect of Strang's oeuvre, especially in the earlier part of his career.
Image downloaded from the Virtual Collection of Asian Masterpieces, the licence model for which is the Creative Commons Attribution-NonCommercial-ShareAlike License ("The text and images on the VCM website may be viewed and downloaded for general use, enjoyment, education purposes and reuse under the terms of this license"). Image capture, text and formatting by Jacqueline Banerjee
Bibliography
Adoration. Chhatrapati Shivaji Maharaj Vastu Sangrahalaya. Web. 8 August 2020.
---
Created 8 August 2020