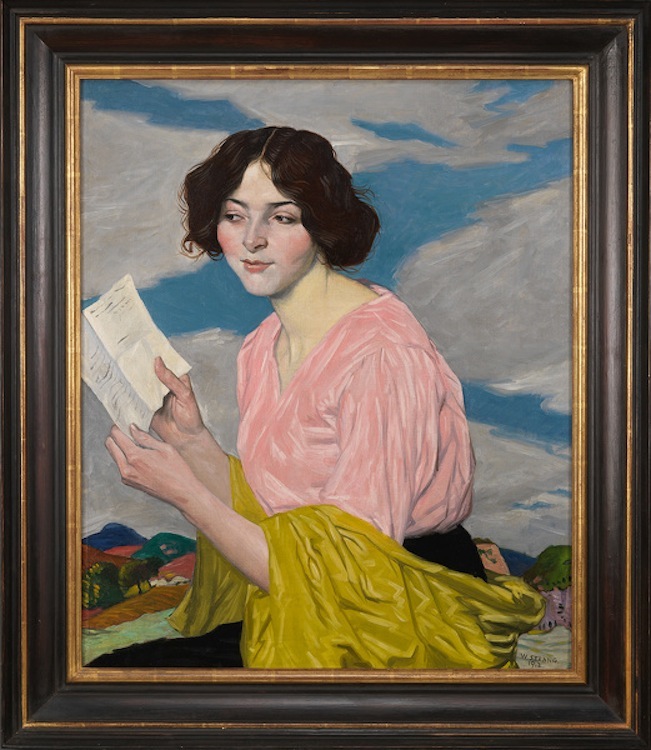 The Love Letter by William Strang, R.A. c. 1912. Oil on canvas. 30 x 25 in. (76 x 63.5 cm).
The young woman in this painting is not beautiful in any conventional way. Yet her heart-shaped face, pink cheeks and lips, smiling expression and sideways glance make her a study in femininity. The soft folds of her pink blouse against her contrasting wrap and dark skirt enhance the impression, while the dynamic sky in the background tells of movement and change, natural forces in which she too is involved. The freshness and vitality of both sitter and composition are compelling.
Reading a love letter would normally be a private experience, but we cannot help being drawn into the scene here. Is she sharing the letter with us, or simply feeling shy about it? Or is there a mixture of both pride and shyness in the way she holds it in view, but only half looks at it herself? Hills and valleys in bold colours remain firmly below her, in the distance; the great blue sky and swathes of cloud form her main backdrop. Does this suggest that she has indeed come away to read her letter alone? Or perhaps, more symbolically, that she has not yet been drawn into domesticity, but that it is now awaiting her?
The art critic Frank Newbolt found two striking qualities in Strang's oil paintings: "The first is simplicity of colour; and the second, the almost indescribable effect of fine composition" (49). Nothing could illustrate these qualities better than The Love Letter.
Image and caption material by kind permission of Liss Llewellyn Fine Arts. Readers may wish to visit their website. Commentary by Jacqueline Banerjee.
Related Material
Reference
Newbolt, Frank. "The Art of William Strang, A.R.A." Art Journal (1910): 47-52.
---
Created 8 March 2015