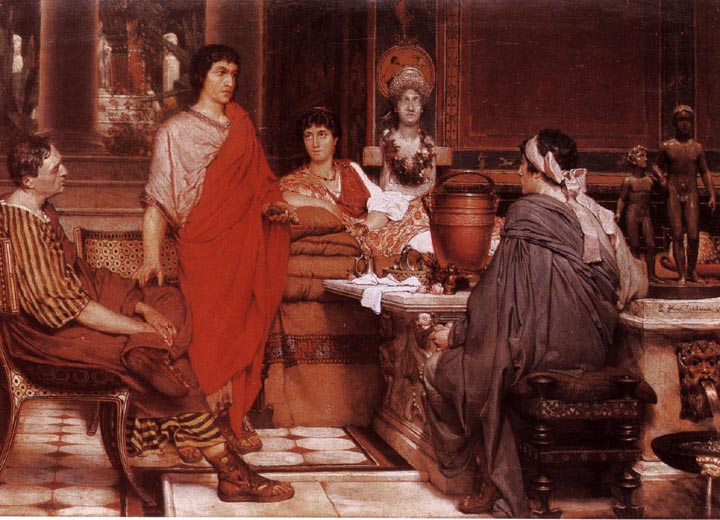 Catullus at Lesbia's by Sir Laurence Alma Tadema OM RA, 1836-1912. 1865. Oil on panel 15 5/8 x 21 1/2 inches. Formerly Allen Funt Collection. Photo: Sotheby's Belgravia.
Related Materials
R.J. Barrow, who describes Catullus at Lesbia's as "the most striking of his first Pompeian pictures," points out that "French paintings such as Thomas Couture's Horace and Lydia (1843) and Charles-François Jalabert's Virgil, Horace and Varius at the House of Maecenas (1844-6), set the example" for what he terms "biographical studies of the Latin poets," and the poet's
personal life, particularly the intriguing question of the identity of his lover, Lesbia, was a topic of intense interest among mid-nineteenth-century scholars. In 1862, a German scholar, Ludwig Schwabe, proposed a Catullan biography which he assumed Lesbia to be Clodia Metelli, the sister of the tribune, Publius Clodius and wife the nobleman, Q. Metellus Celer. . . . Cicero, describes her behaviour as a catalogue of indulgences: "debaauchery, amours, misconduct, trips to Baiae, beach-parties. feasts, revels, concerts, musical parties, pleasure boats." [30]
In contrast to Cicero's view of Cicero's supposed beloved, Alma-Tadema depicts her as "culture, refined, and liberated" (30). The painter based some of the furnishings upon items excavated at Pompeii.
Bibliography
Barrow, R. J. Lawrence Alma-Tadema. London: Phaidon, 2001.
Wood, Christopher. Olympian Dreamers: Victorian Classical Painters. London: Constable, 1983. 106-30.
---
Last modified 5 November 2004