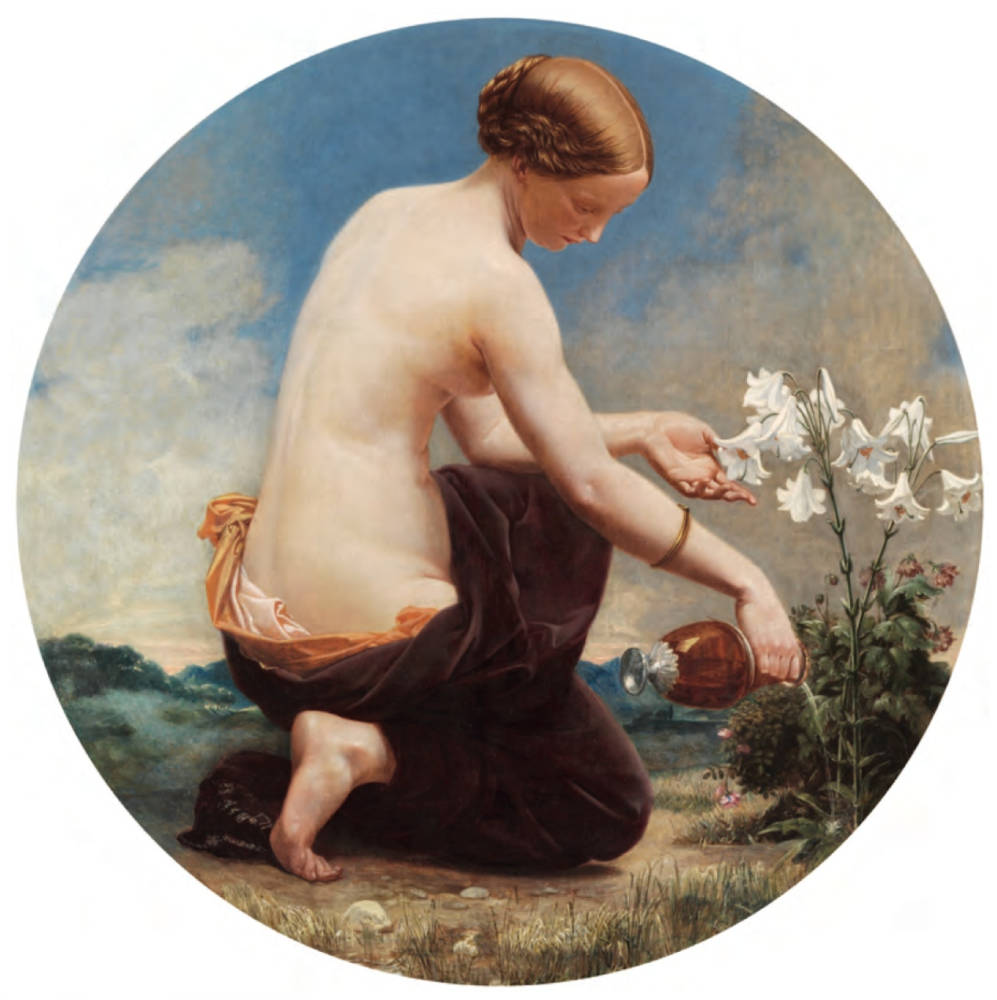 Hope Cherishing the Drooping by William Cave Thomas, 1820-1896. Oil on canvas, 36 x 36 inches. Provenance: Strawberry Hill auction, Ventom, Bull & Cooper, 30th July 1883 (lot 939). Exhibited: Royal Academy, 1851 (no. 737); Belfast Exhibition of Art, 1852 (no. 115). Courtesy of the Maas gallery. Click on image to enlarge it.
Commentary from the Maas Gallery
Thomas was a link, via his friend Ford Madox Brown with whom he shared a studio in 1848, between the Pre-Raphaelites and the monastic group of German painters known as the Nazarenes. Thomas studied in Munich in the early 1840s and adopted the Nazarenes' severe style, hard outline and Christian subject matter. In 1845, three years before the Brotherhood was formed, Brown went to Munich to meet the two most important Nazarenes, Overbeck and Cornelius, probably at Thomas' introduction. Thomas also knew Seddon and Rossetti, and was credited with giving the Pre-Raphaelite periodical The Germ its name.
The subject of this picture's clear message is typical of Thomas' Christian pre-occupations, as demonstrated by the titles of his paintings at the Royal Academy. There, in 1851 – the year Millais and Hunt provoked critics with their bright and bold pictures – Hope Cherishing the Drooping attracted only praise: 'an elegant painting worthy of the best place that could have been given to it on the Academy's walls' (Art Journal, 1851), and 'an excellently designed figure, showing advance in agreeable tone of colour' (Spectator, 14 June 1851).
The picture was bought by Lady Frances Waldegrave, who, by marriages, first to the eldest, and then to the next heir to the Waldegrave family fortune, became a wealthy widow twice over by the age of 25. She lived at Strawberry Hill House at Twickenham. Her companion there, and, in 1862, her fourth husband, Chichester Fortesque, was a sophisticated, cultivated man. We know from his diary that in 1851 they were both reading Ruskin's Stones of Venice, and they then began to buy modern paintings; she owned a version of Holman Hunt's Claudio and Isabella. Hope Cherishing the Drooping was the only oil painting in the dressing room next to her boudoir, when the contents of Strawberry Hill were auctioned off in 1883.
---
Last modified 28 February 2018