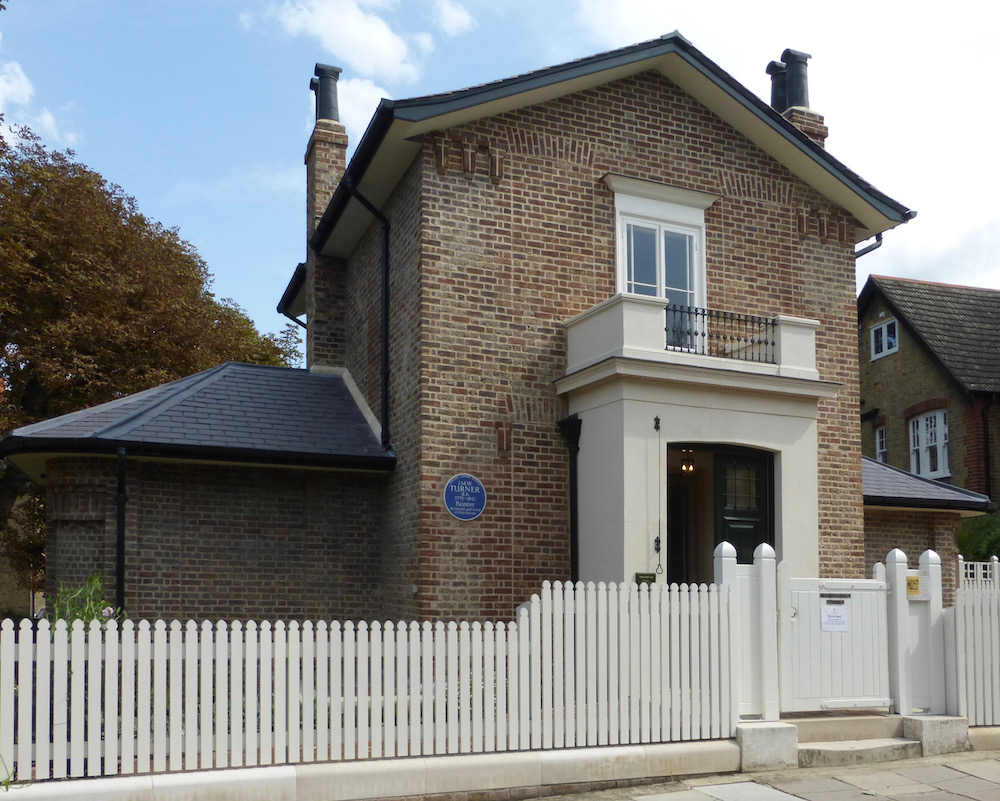 Three-quarter view of Sandycombe Lodge from the front.
Sandycombe Lodge on Sandycombe Road, Twickenham, a small Grade II* listed brick lodge designed by the artist Joseph Mallord William Turner in about 1810, and built by 1813. This was when his name first appeared in the Rate Books here ("Turner's House Twickenham").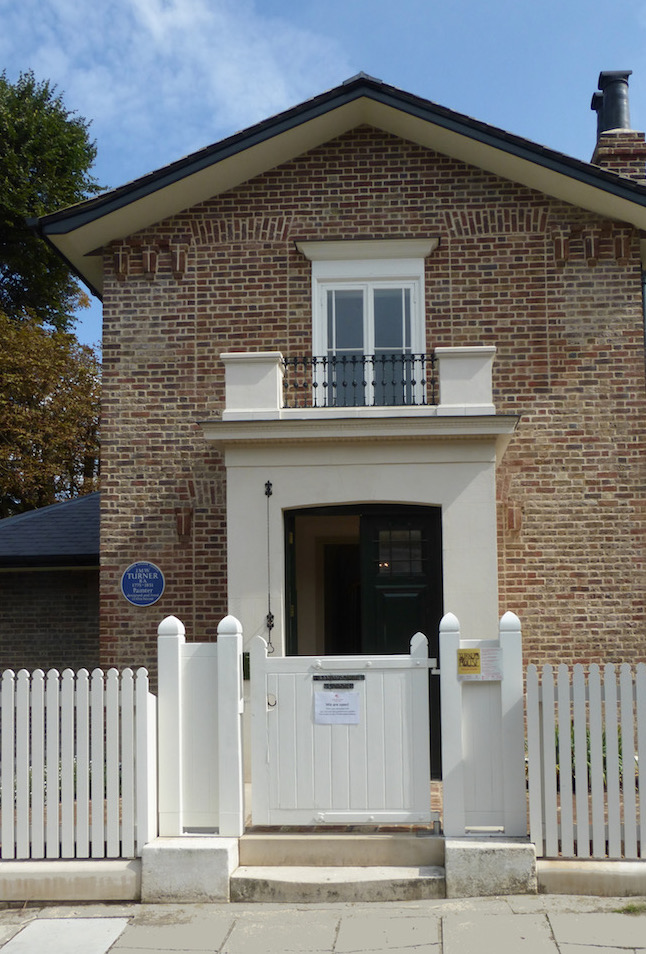 Front view of the entrance.
In 1807, having by now made his reputation as a landscape painter, thirty-two-year old Joseph Mallord William Turner (1775-1851) bought a plot of land for himself in Twickenham, then in the county of Middlesex. There, on sloping land close to the Thames, he designed a small brick lodge for himself and his father, as a retreat from London. According to one of his early biographers, W. M. Wyllie, he only designed the doorway (56); but this must be based on a misunderstanding: it was at his London home, in Queen Anne Street, Marylebone, that he redesigned a front entrance (Hammerton 148). As for the Twickenham house, he had begun to make sketches of the house in about 1810, and it is generally agreed that here (clearly with some inspiration from his friend and angling companion Sir John Soane), he was "fulfilling a long-held wish to be his own architect" ("Turner's House Twickenham"). In some respects, the Historic England listing text is outdated now, but it is accurate in describing the house as "[b]uilt for and to the design of J M W Turner."
The house was built by a builder called Mr Tayler, and first dubbed Solus Lodge, then Sandycombe Lodge. Turner also bought a little field nearby, as grazing for his pony. He needed the pony to take him around in the trap, for sketching and fishing expeditions. The garden itself was much larger then: according to Wyllie, as well as looking after the house for his son, Turner's father used to work in it, digging (Wyllie 56). It had a fish-pond, and, at the bottom, a summerhouse where Turner could paint.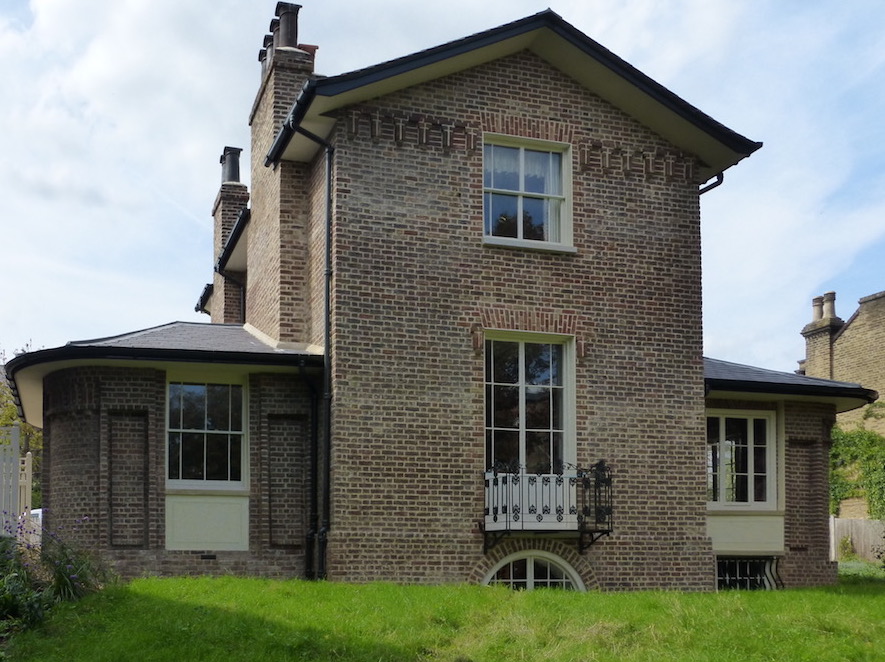 Back view of Sandycombe Lodge, from the garden — which is much smaller now than it was then.
Wyllie has much to say about the time that Turner and his father spent here:
Here they soon got to know the Vicar of Heston, who was very fond of pictures, and even undertook to teach Turner Greek in return for lessons in painting. We hear, however, that the painter floundered sadly in the verbs and never made any real progress. At last, after trying hard for some time, he said: "I fear I must give it up, Trimmer. You get on better with your painting than I do with my Greek." [56]
Also recorded by Wyllie are
the fishing expeditions with Chantrey the sculptor; the boat kept at Richmond, and the large canvases painted in her direct from nature.... Then the gig and the quadruped — Old Crop Ear, a cross between a horse and a pony, which sat for the horses in the Frosty Morning [painted in Yorkshire in 1813]; Turner was very happy in catching the stiff look of the fore legs. There were sketching trips in the gig, and the boys [the Vicar's sons] said that Turner painted faster than he drove, and they remembered walking with him by the river side, under the blaze of the great comet [the "great comet" of 1811, before the house was actually built?]. [57]
Interior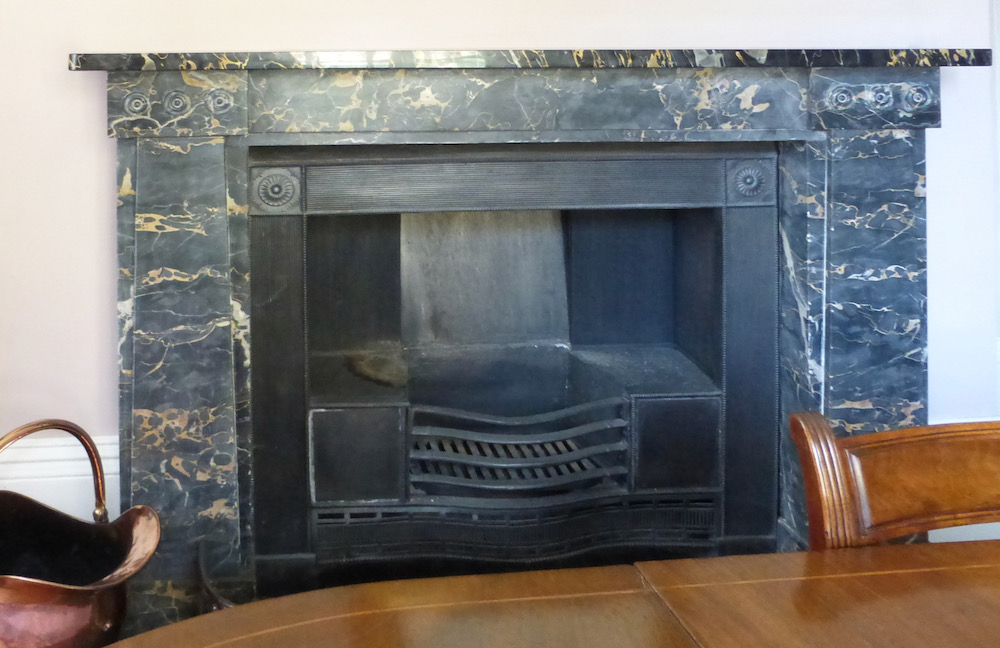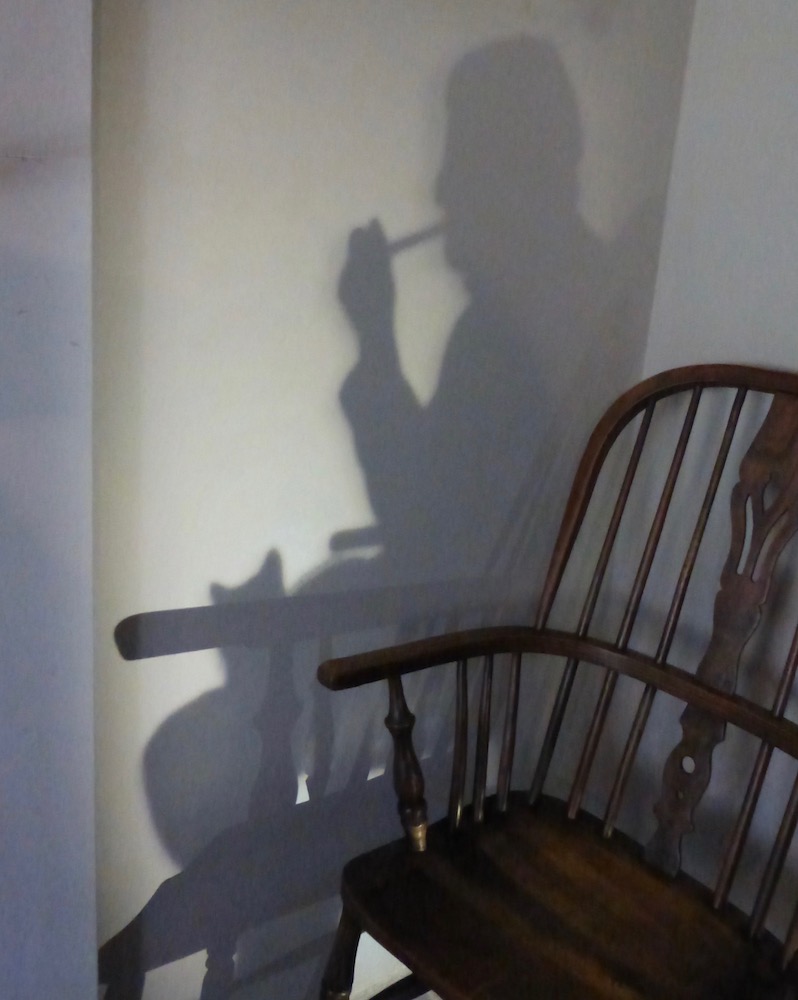 Left: An original fireplace in one of the downstairs rooms. Right: A shadow recreates Turner's father sitting in his chair by the fireplace, with his cat on his lap.
Inside, the house was quite simple. It had a kitchen in the basement, or rather semi-basement — the sloping ground meant that it could have a window at the back. Then, on the ground floor, an entrance hall and passage gave access to a parlour, dining room and sitting room, as well as an attractive spiral staircase leading up to two bedrooms, one of them quite small. There was no studio inside the house. Turner stayed here "intermittently until the 1820s" (Powell 29), finally selling the lodge in 1826.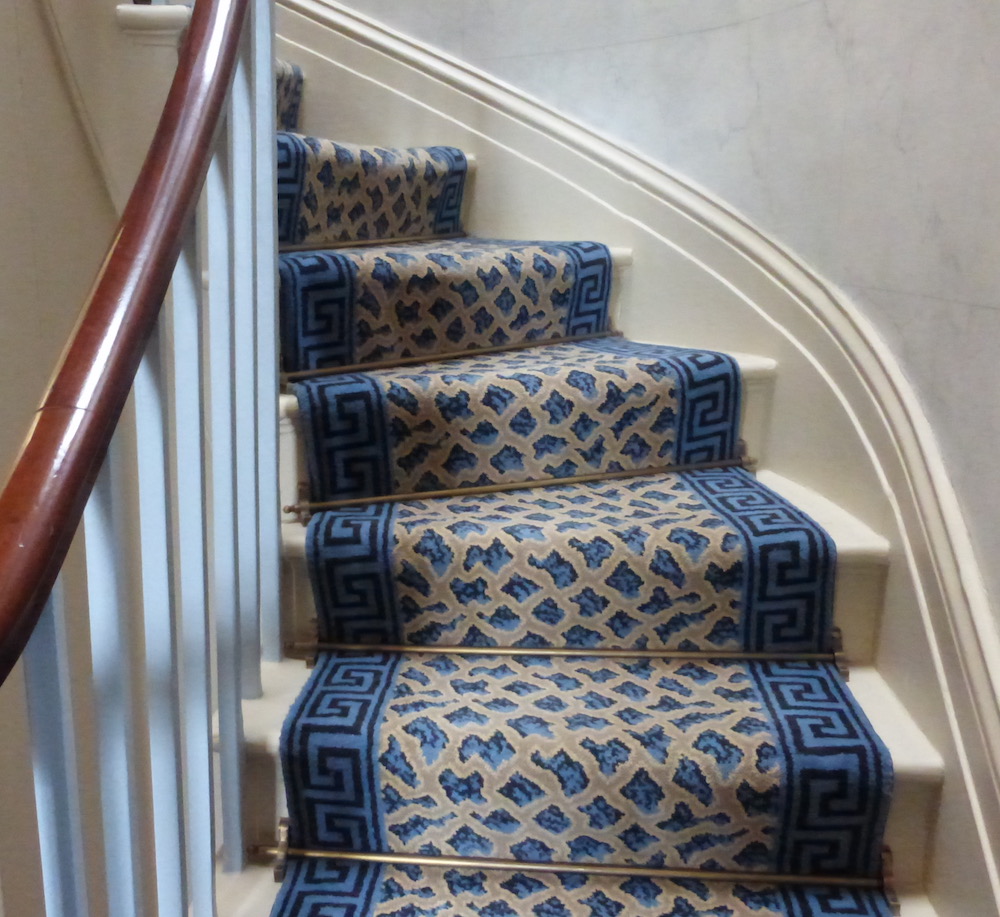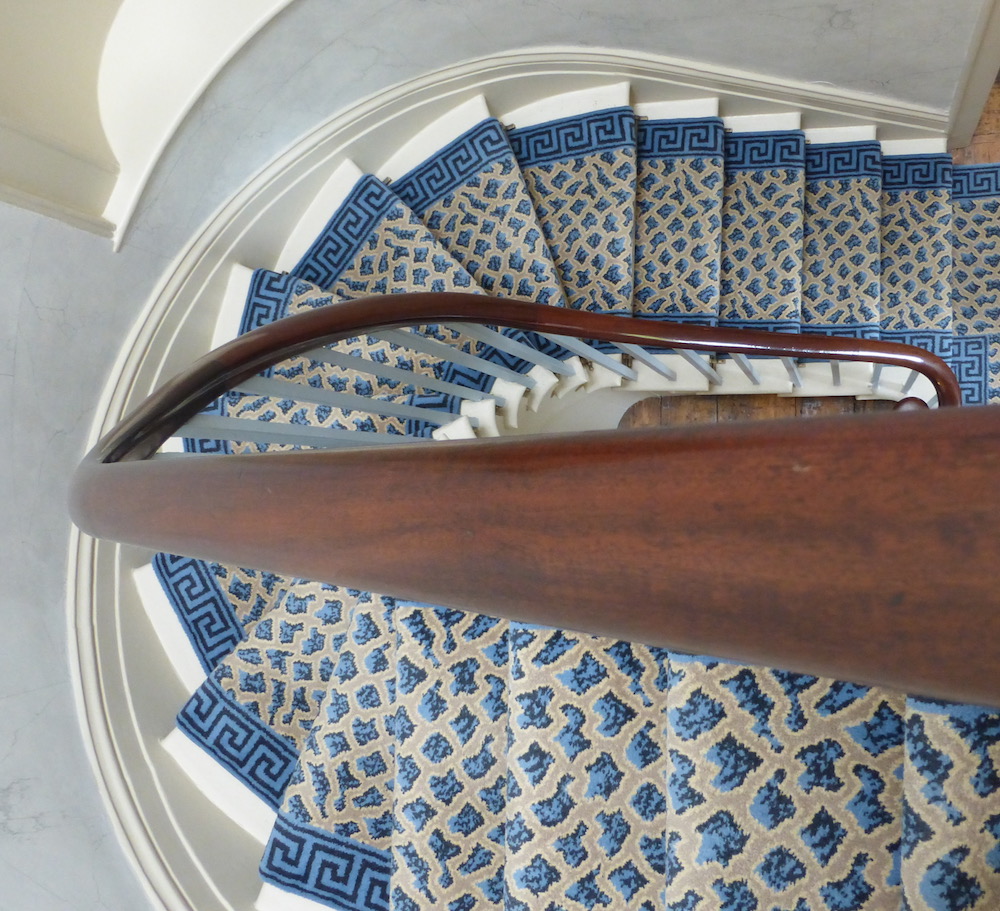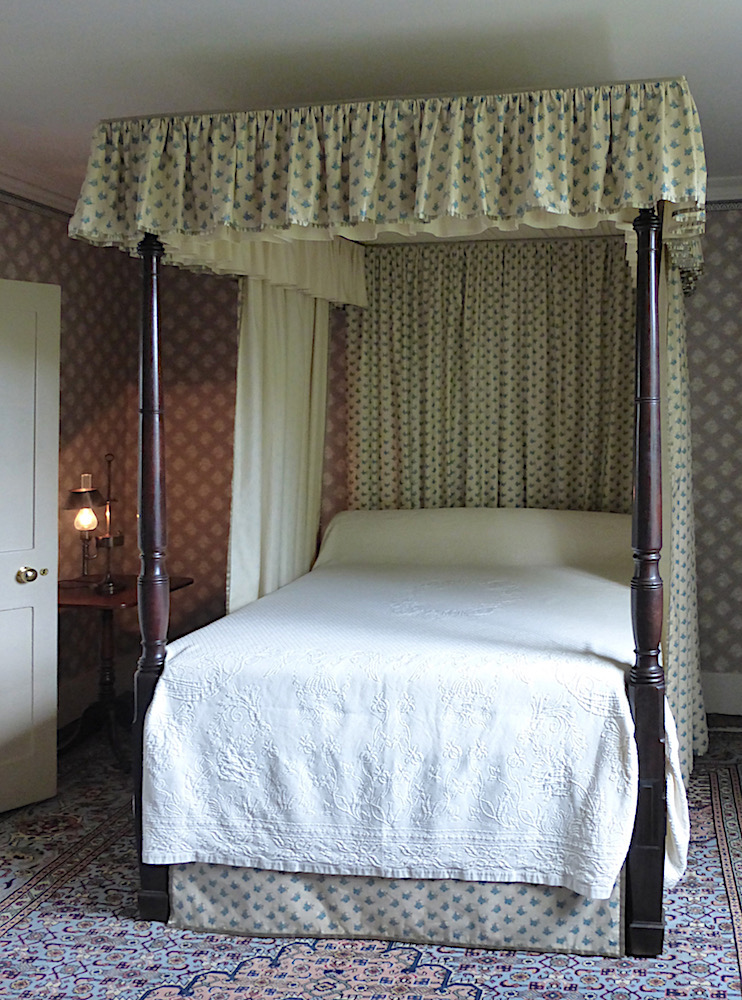 Left two: Views of the spiral staircase, from below and then from above. Right: A four-poster bed dominating the main bedroom.
Turner's time at Sandycombe Lodge had a limited impact on his work.
All the pleasant scenery about Twickenham and Kingston was far less built upon in Turner's time than it is now, and the railways had not yet deprived it of the character of rustic peacefulness; but whatever may have been its charms in those days, they were quite insufficient to bind down Turner for long. He was at the same time one of the most constant of artists, and one of the most various in his affections. A place that he had loved once he loved always, but he never seems to have had any disposition to anchor himself and his art together in some one pleasant haven never to leave it more. The Thames was very well to boat upon, and to be sketched occasionally, and the gig with the old pony might be useful rather frequently in the fine weather; but Turner could no more be kept within the limits of such citizenish excursions than Byron could be bound down to the immediate neighbourhood of Newstead Abbey. A list of his works during the time he had Sandycombe Lodge shows how little the Twickenham influences had done to settle him. Even when his purchase was quite recent he seems to have been generally thinking of something else. [Hammerton 150]
Nevertheless, this was Turner's only substantial foray into architecture, and its recent restoration has made it a unique and fascinating addition to his legacy, as well as offering new insights into this period of his life. It has been redecorated in a suitable style for the period, and, happily, is now open to the public (see offsite here for details).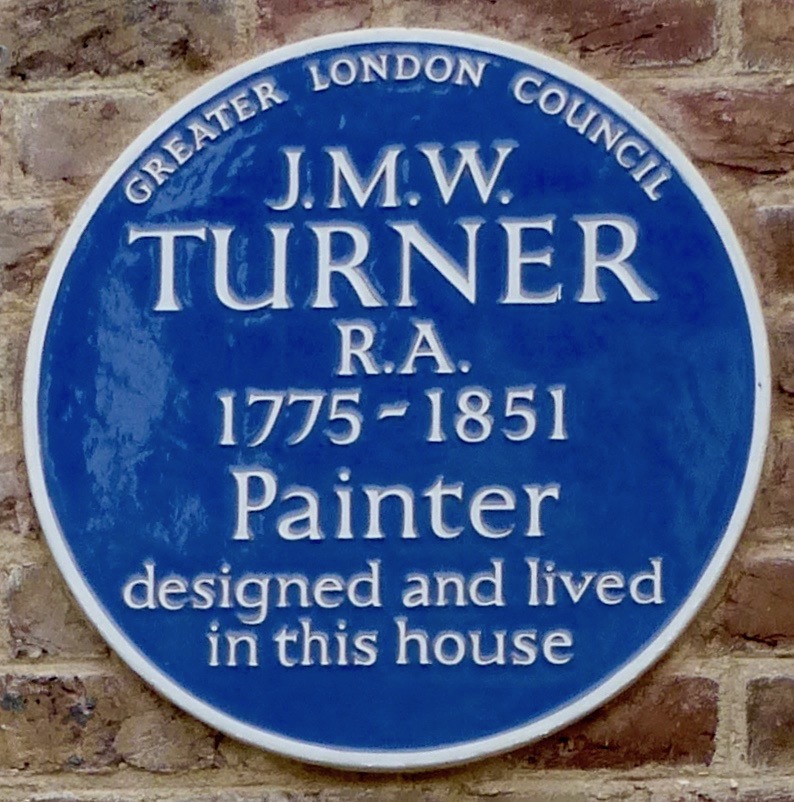 Bibliography
Hammerton, Philip Gilbert. The Life of J. M. W. Turner, R. A.; with 9 illus. London: Seeley, Jackson, & Halliday, 1879. Internet Archive. Contributed by Cornell University Library. Web. 16 September 2018.
Moyle, Franny. Turner: The Extraordinary Life and Momentous Times of J. M. W. Turner. London: Penguin, 2016.
Powell, Cecilia. Turner (Pitkin Guide). Andover, Hamps.: Jerrold, 2003.
"Sandycombe Lodge." Historic England. Web. 17 September 2018
"Turner's House, Twickenham." Leaflet available from the house.
Wyllie, W. M. J. M. W. Turner. London: George Bell & Sons, 1905. Internet Archive. Contributed by the Getty Research Institute. Web. 16 September 2018.
---
Last modified 8 October 2018