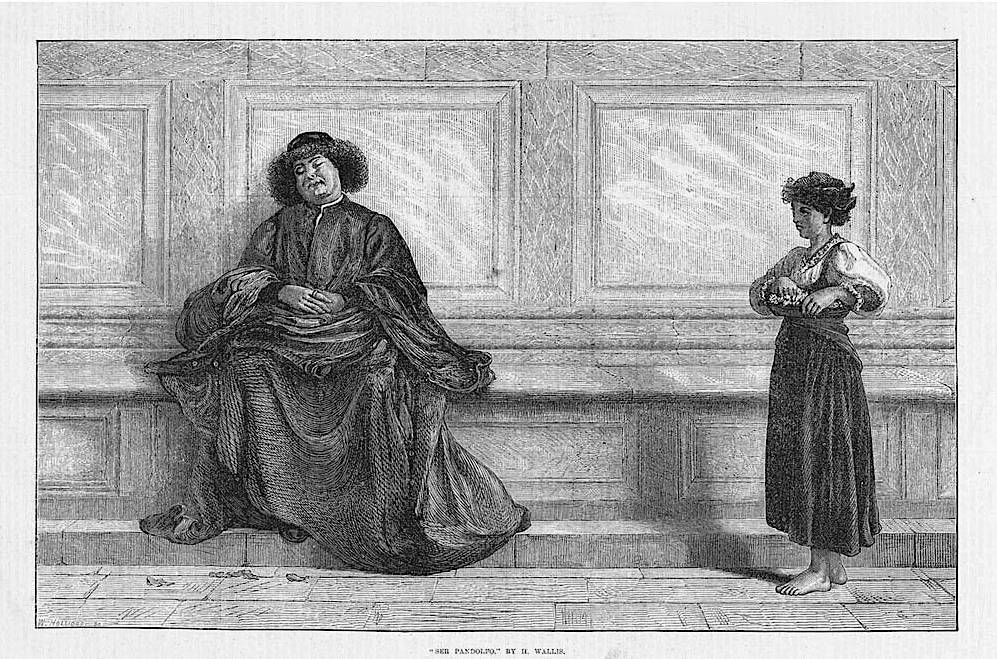 Ser Pandolfo. Henry Wallis. Exhibited at the British Institution 1871. Watercolor. Source of image: The 1871 Illustrated London News. [Click on image to enlarge it.]
Commentary
At first sight we imagined this drawing (which we have engraved from the current Exhibition of Water-Colour Paintings at the New British Institution) to be an illustration of some character of poetry or romance, or a representation of some specific historical personage. Higher praise is, however, due to the painter, for it is his own original conception. The artist who, in a recent oil picture, gave us capital realisations of Machiavelli and Caesar Borgia, typical Florentine characters of the early part of the sixteenth century, here introduces an equally typical, though fictitious, Venetian personage of about the same date; and — with a power of imaginative sympathy, which is not the less real because it is not vulgarly super- obvious — he gives us at the same time a glimpse, as it were, of everyday Venetian life. Venice was then the great mart of Europe and the East. Her opulent merchant princes enjoyed everything which could swell their pride or contribute to their luxury — the pride which induces indolent false security. the luxury which enervates and corrupts. This is one of those civic grandees of the palmy days of Venice, as we learn by the ample crimson silk robes which envelop his portly person. Magistrate and member of the Consiglio, he may be; but municipal duties sit light upon him, patriotic anxiety does not disturb his digestion or equanimity, "Ser," the familiar contraction of his title, suggests that he is not held in high esteem among the populace, even by the poor flower-girl who chances to recognise him. He is, in short, the very personation in features, expression, and figure of a Venetian aldermanic Dives, luxuriously pampered, self-indulgent, and indolent. He has strolled out to air himself; but the warm, soft, moist breath of the Adriatic has a relaxing, somniferous influence. So he sits down on the marble bench, against a richly-inlaid outside wall of his own palazzo, as we may suppose, and there for a while he amuses himself with discussing a fig, the fragments of which lie at his feet—a ripe fig, you may be sure, a fig full and fat, gclatinously soft and sweet and smooth, like the-eater. Then his head lolls back, his plump hands fold themselves over his round, "well-lined" stomach, and there he takes, al fresco, his siesta. And thus, in this undignified attitude of ease, he is found by a little flower-girl, whose charming figure presents the strongest contrast, in her slender litheness, her arch vivaeity of expression, her picturesque rags, and in every other respect. We suppose that these little witches of flower-girls were an institution in Messer Pandolfo's time, and then, as now, fiitted about, presenting their tiny bouquets to "swells" of the period, in the hope of a chance bajoccho or an occasional paulo. She pauses, smiling at the great man's incapable look: shall she dare to wake so great a personage? or shall she waste her posy by throwing it into the ample lap of the insensible sleeper?
Technically, this picture is of very unusual mterest. It 1s widely dissimilar in subject and treatment to the "Blue Bells," by the same artist, which was so much admiredwhen exhibited at the some gallery last spring; and it is, we believe, the first painting in water colours that Mr. Wallis has exhibited. Yet it is remarkable for perfect comman of the material, and it has apower and beauty of colour and richness of texture rarely found in water colours; indeed,long since we have seen a drawing, on the whole, so masterly. It is a considerable advance, in the higher artistic qualities, upon "The Death of Chatterton," the picture by which Mr. Wallis won his early fame. The celebrity of that picture was not undeserved; but it, perhaps, owed something of its renown to the rage for pre-Raphaelitism which prevailed about the time of its production. Since then, however, the artist has changed his style more than once, and his subjects have been extremely various. It is, probably, owing to these circumstances that some works of superior bmerit have not received due recog- nition from the public.
[You may use this image without prior permission for any scholarly or educational purpose as long as you (1) credit the Hathi Trust and The University of Chicago Library and (2) link your document to this URL in a web document or cite the Victorian Web in a print one. — George P. Landow]
Bibliography
"Ser Pandolfo." Illustrated London News 58 (7 January 1871): 16-18. Hathi Trust web version of a copy in The University of Chicago Library. Web. 5 January 2016.
---
Last modified 5 January 2016