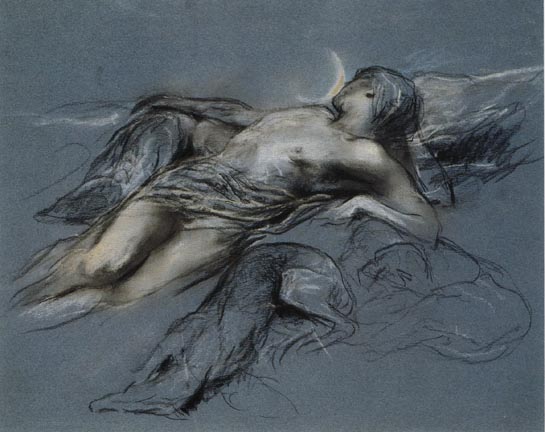 Moon Kissed — Endymion by Arthur Wardle RBI RBA, 1864-1949. Pastel and pencil on blue paper 10 x 12 1/2 inches, 25.5 x 32.5 centimetres.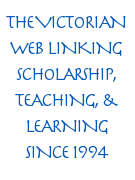 Commentary by Sally Burgess
Endymion was the son of Zeus and the nymph Calyce. According to Greek legend, Endymion was a beautiful young shepherd who slept in a cave on Mount Latmus in Caria. One night while Selene, the moon goddess, drove her chariot through the night sky, she caught sight of the sleeping youth and fell in love with him. Selene contrived that Endymion should sleep forever, so that every night she could descend to embrace him while he slept.
Together Endymion and Selene are reputed to have had fifty daughters, representing the fifty moons of the Olympian festal cycle. The story many meanings; some believe Endymion represents the sun, which sets opposite the rising moon, the Latmian cave representing the cave of forgetfuless into which the sun plunges beneath the sea, and others regard him as the personification of sleep or death. In the first two decades of the twentieth century, Arthur Wardle was one ofthe best known of living British animal painters. He exhibited a series of large mythological scenes at the Royal Academy, which combined figures, often loosely draped, with exotic beasts.
References
Nahum, Peter, and Sally Burgess. Pre-Raphaelite-Symbolist-Visionary. London: Peter Nahum at Leicester Galleries. Catalogue number 27.
Peter Nahum Ltd, London has most generously given its permission to use in the Victorian Web information, images, and text from its catalogues, and this generosity has led to the creation of hundreds of the site's most valuable documents on painting, drawing, and sculpture. The copyright on text and images from their catalogues remains, of course, with Peter Nahum Ltd.
Readers should consult the website of Peter Nahum at the Leicester Galleries to obtain information about recent exhibitions and to order their catalogues. [GPL]
---
Last modified 8 December 2004