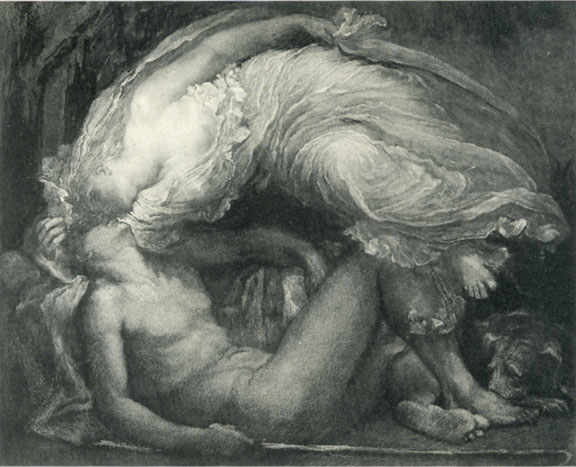 Endymion by George Frederic Watts RA (1817-1904). Mezzotint and etching on vellum made in 1892 by Sir Frank Short, signed in pencil 'Frank Short' and inscribed 'touched proof; after the painting of 1869-1872 now in a private collection. Artist's proof, signed by the artist and printmaker. Exhibited: A copy of this print was exhibited in the Royal Academy, 1892, Summer Exhibition, number 1477.
Commentary by Hilary Morgan
Watts treated the subject of 'Endymion' four times, and this print is of the first and most important version. The painting originally belonged to the Pre-Raphaelite patron William Graham. It represents the shepherd Endymion who was loved by the moon, and the classical sub ect is here given a strong and sculptural treatment in which both the nude male figure and the draperies of the moon goddess derive from the Elgin Marbles. The sculptural qualities are emphasised in the monochromatic print.
Sir Frank Short RA PRE (1857-1945) was one of the most important late Victorian exponents of the etching revival. He was both a reproductive and an original printmaker and also a noted teacher, holding the post of head of the engraving school at the Royal College of Art. His technical skill is clearly seen in the present print. Martin Hardie produced a two volume study of his prints (Print Collector's Club, volumes 18 and 19, London 1939 and 1940)
.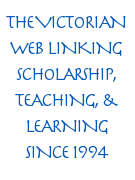 References
Morgan, Hilary and Nahum, Peter. Burne-Jones, The Pre-Raphaelites and Their Century. London: Peter Nahum, 1989. Catalogue number 118.
Peter Nahum Ltd, London has most generously given its permission to use in the Victorian Web information, images, and text from its catalogues, and this generosity has led to the creation of hundreds of the site's most valuable documents on painting, drawing, and sculpture. The copyright on text and images from their catalogues remains, of course, with Peter Nahum Ltd.
Readers should consult the website of Peter Nahum at the Leicester Galleries to obtain information about recent exhibitions and to order their catalogues. [GPL]
---
Last modified December 2001