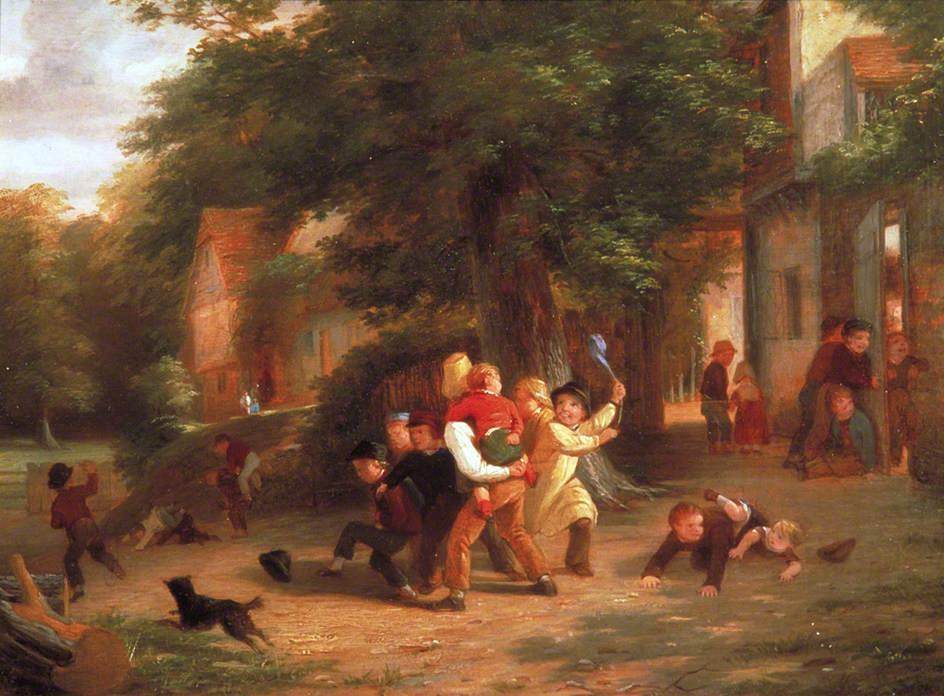 The Playground, by Thomas Webster, RA (1800-1886). 1849. Oil on canvas. 37 x 46.1 x 4.2 cm. Guildhall Art Gallery, London, permanent collection. Accession no. 744, bequeathed by George Gassiot in 1902. Image acquired by George Landow, reproduced here by kind permission of the City of London Corporation. Commentary by Jacqueline Banerjee. [Click on the image to enlarge it.]
This is a larger scene than usual for Webster, depicting the general rowdiness and interactions of children just set free from the classroom to play in the open air of the playground. Pranks and tumbles, piggy-back capering, flying caps, an excited dog, are all elements of the lively scene, bordered (one might say, held) so safely by the great tree and substantial buildings that give a sense of permanence to the setting. It certainly seems as if the artist's own memories served him in good stead here. As the Art-Journal commentator says,
we will venture to assert that in all the sports he has so aptly represented on his canvasses, he played his part, and from them stored his youthful mind with recollections that have answered the purpose of his after life, better than the "Commentaries" of Caesar, if he ever read them, or the distractions of duodecimals aud algebraic problems, if he ever worked them out on his oak-framed slate. ["British Artists," 293]
Related material
Bibliography
"British Artists, Their Style and Character, with Engraved illustrations: No. X, Thomas Webster, RA." Art-Journal (1855). Internet Archive. Contributed by the Getty Research Institute. 293-296. Web. 27 November 2018.
---
Created 27 November 2018