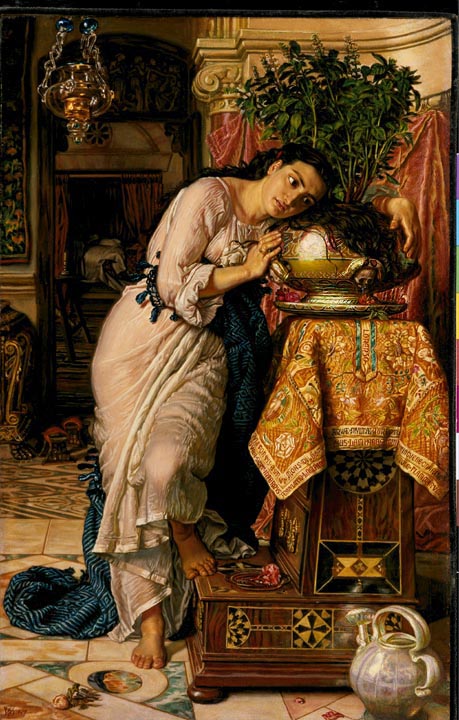 Isabella and the Pot of Basil
William Holman Hunt
1867
Oil on canvas
23 7/8 x 15 1/4 inches (60.7 x 38.7 cm.)
Lent by the Delaware Art Museum (ace. no. 47-9) Special Purchase Fund
Details
See commentary below
Other artists who painted versions of this subject
Commentary
Unlike the other essays in the Ladies of Shalott exhibition catalogue, this one appears anonymously. It has been more than two decades since I directed the graduate students, who put together and mounted a wonderful exhibition, but I seem to recall — and my wife who copy-edited the volume thinks I might be right — that after illness prevented the person assigned from completing the catalogue entry, I wrote it, but the students decided that, since this was a graduate student show, no identifying initials of a faculty member should appear with the entry. Fortunately, I am certain whom to credit for the lovely color image — Margaretta S. Frederick, Curator, Bancroft Collection, Delaware Art Museum — since the image arrived today (4 June 2007) via e-mail. — George P. Landow
Isabella and the Pot of Basil, one of two paintings by William Holman Hunt in the present exhibition, has many broad resemblances to The Lady of Shalott. Each, for example, marks the culmination of a phase of the painter's stylistic development — Isabella that of his first and The Lady of Shalott that of his second. Furthermore, each, like The Finding of the Saviour in the Temple, The Shadow of Death, and The Triumph of the Innocents, exists in more than one version. Hunt painted this smaller Isabella and the Pot of Basil, which is one-third the size of that in the Laing Art Gallery, Newcastle upon Tyne, while working on the larger one. [Mary Bennett presents evidence that Hunt did not complete the Wilmington version, which was begun by a copvist, before finishing the Laing version.] He usually made a small, highly finished oil sketch in the course of carrying out a major project, and although he began them before embarking upon larger canvases in order to solve formal problems, he often completed them only after finishing the larger ones. In their present form, therefore, they cannot be considered preparatory sketches — or even relied upon for information about the earlier state or development of a subject since Hunt reworked them to conform to the larger canvases. The Wilmington painting, which seems to have been completed for Auguste Blanchard, the reproductive engraver, to copy while the dealer Ernest Gambart exhibited the larger painting, is thus best regarded as an alternate version of Isabella rather than a sketch. (For more information on about Hunt's financial dealings and arrangements for reproducing his works by engraving, see Maas's Gambart and the 1973 V&A catalogue, Victorian Engraving.)
The care that Hunt characteristically lavished upon his works appears in such fully finished preparatory studies. It also led him to design or himself create elaborate furnishings, fittings, and models because he believed that nature's infinite variety demanded the painter work from life. For example, like the lantern in The Light of the World and both the two bas reliefs and the candlebrum in The Lady of Shalott, Isabella's elaborate majolica vase was created by Hunt as a model from which to paint (see Cracroft, Bennett, and Tate no. 138).
Like The Lady of Shalott, Isabella also took form many years after the artist first encountered the subject, and also like his last major work, it derives from an earlier PRB illustrative project—even though in this case it exemplifies a return, not to one of his own subjects, but to that of a Pre-Raphaelite brother. Although painted long after the dissolution of the PRB, Isabella and the Pot of Basil nonetheless embodies several important characteristics of early PRB work, one of which is that the young would-be art revolutionaries, who often worked cooperatively and even occasionally painted on one another's canvases, developed subjects together. Furthermore, like so many early Pre-Raphaelite and associated works, this one from Hunt's later career depicts tragic love. In illustrating the works of Dante, Shakespeare, Keats, Tennyson, Patmore, and others, as well as in creating their own subjects, the young artists produced a typology of romantic love that includes all its moments from first love to romantic despair and death.
Isabella and the Pot of Basil also reminds us how frequently Hunt and his Pre-Raphaelite associates conceived of their works as implied pairs and members of series. Such pairing and seriation, which occurs frequently throughout Hunt's career, appears variously in The Light of the World (1853) and The Awakening Conscience (1853), The Lady of Shalott and The Student of Nature (1893), and his Self-Portrait (1867-1875) and Fanny Holman Hunt (1867-1868), the memorial portrait of his first wife. (The three works by Landow in th ebibliography below discuss Hunt's self-conscious interrelating of his works). Isabella similarly exists in a relationship with another work, for it represents the tragic end to a lover's tale, whereas his earlier Keatsian subject, The Eve of Saint Agnes (1849), depicts a happy ending to one. At the same time, Isabella also represents the more complex case of Hunt's pairing his work with one by another artist, in this case one by his close friend Millais, for together Isabella and the Pot of Basil and Millais's Isabella (1850) illustrate the beginning and the end of the romantic tale of tragic love that Keats adapted from Boccaccio. In addition, Isabella and the Pot of Basil, which Hunt mistakenly believed would convince critics he could paint beautiful women, relates in yet another way to the works of Millais and Rossetti, for in it he attempted to rival his PreRaphaelite brothers, each of whom had won a reputation for paintings of beautiful women. Angered by contemporary critics who praised him for his painstaking realism and earnest themes but then denigrated his art. Hunt eagerly wished to show them that he had a taste for the beautiful and the skill to create it.
Both The Lady of Shalott and Isabella and the Pot of Basil illustrate works by nineteenth-century poets particularly important to the PRB, for Isabella illustrates a work by Keats while The Lady of Shalott illustrates one by Tennyson, that most Keatsian of Victorian poets. The PRB discovered Keats, who was almost unknown, and Hunt and Millais were among the first to paint subjects from his poems; but by the time Hunt executed Isabella, Keats had become a popular source for painters, and the artist may have been influenced by George Scharf's illustration to the 1854 Moxon edition of Keats (Tate, no. 138) or by earlier paintings of the subject, such as the Isabellas by William Gale (1852), W. F. D'Almaine (1853), and C. Earles (1854); see Art Journal 14 (1852): 138; 15 (1853): 172; 16 (1854): 128.
The Lady of Shalott and Isabella and the Pot of Basil each depicts a woman destroyed by love, and each represents her confined within a narrow interior space shortly before her death. Furthermore, although both paintings, like the poems from which they ultimately derive, take place in eras far removed from contemporary England — Isabella and the Pot of Basil in Renaissance Italy and The Lady of Shalott in Arthurian England — neither is escapist, for each portrays universal themes with contemporary relevance.
Hunt illustrates the climax of Keats's "Isabella; or, The Pot of Basil," which comes after the heroine's cruel brothers murder Lorenzo, the poor clerk whom she loves. Discovering in a vision where they have buried her beloved's body, Isabella removes Lorenzo's head from the corpse and hides it in a pot of basil, which thenbecomes a gruesome shrine of love. Puzzling why their sister "sat drooping by the basil green,/ And why it flourished, as by magic touch," the brothers steal the pot of basil and, after discovering Lorenzo's head, flee to avoid arrest for his murder. Deprived of her basil, the insane Isabella dies. Hunt's painting specifically illustrates the fifty-third stanza, which relates how the young woman withdraws from life and lives only to water the plant with her tears.
The Isabella, like The Lady of Shalott, embodies the artist's attitudes on social and political matters in a characteristically Victorian manner. A drive to make personal experience publicly relevant characterizes the major artists and writers of Victorian England. Tennyson, who specifically addressed the concerns of the artist and the aesthetic consciousness in "The Palace of Art" and "The Lady of Shalott," embodies the successful fusion of the personal and the public, the subjective and the objective, in myth, legend, and symbol. Hunt's painting of the Lady similarly presents his beliefs about the role and responsiblity of the artist, but his Isabella, which here closely follows its Keatsian source, suggests a political theme, for like Millais's Isabella and his own Awakening Conscience and Rienzi (1849), it shows the tragedy that results with an upper class that preys upon those lower in the social order. (F. G. Stephens [p. 32] asserts the political dimension of The Awakening Conscience in a work written under the artist's own supervision; for poltical readings of Keats's poem follow this link.)
Perhaps the most interesting similarity between the two works lies in the fact that each makes a personal, autobiographical statement. Hunt, who frequently made covert references to his own life in his major works, found that Isabella and the Pot of Basil, which he began before his wife's death in Florence, took on new meaning after she died, for he made it both a memorial to her and a presentation of his own isolated, hopeless state as a mourning lover. After his wife's death this work "became not only a celebration of the love Hunt had experienced during his year-long marriage, in the sensuality of the figure of Isabella, but also an expression of his bereavement" (Tate, no. 138). One may also add that since Fanny had died during the couple's interrupted voyage to the Middle East where Hunt was returning to paint, he understood his bereavement as another sacrifice for art. The Lady of Shalott, which embodies Hunt's personal credo as an artist, similarly presents the conviction, so often expressed in letters, that the artist suffers, often in isolation, to create major work.
Provenance: Ernest Gambart; L. Pocock; John Taylor Johnson; Mary Garrett; by descent to M. Cary Thomas; by descent to Bryn Mawr College; Delaware Art Museum.
References
Bennett, Mary. "Footnotes to the William Holman Hunt Exhibition," Liverpool Bulletin 13 (1968—1970): 38-41.
Cracroft, Bernard. "Mr. Holman Hunt's 'Isabel,'" Fortnightly Review 9 (June 1968): 648—57.
Landow, George P. "Shadows Cast by The Light of the World: William Holman Hunt's Religious Paintings, 1893-1905." The Art Bulletin, 64 (1982), 646-55.
Landow, George P. Replete with Meaning: William Holman Hunt and Typological Symbolism. New Haven and London: Yale University Press, 1979.
Landow, George P. "William Holman Hunt's 'Oriental Mania' and His Uffizi Self-Portrait"." The Art Bulletin 64 (1982), 646-55.
Maas, Jeremy. Gambart: Prince of the Victorian Art World. London: Barrie and Jenkins, 1975.
The Pre-Raphaelites. London: Tate Gallery/Allan Lane, 1984.
Stephens, F. G. William Holmnan Hunt and His Works. London: Gambart, 1860.
Victorian Engraving. London: Victoria and Albert Museum, 1973.
Wood, Christopher. The Pre-Raphaelites. London: Seven Dials, Cassell & Co, 2000.
---

Victorian
Web

Artists

W. Holman Hunt

Paintings
Last modified 4 June 2007