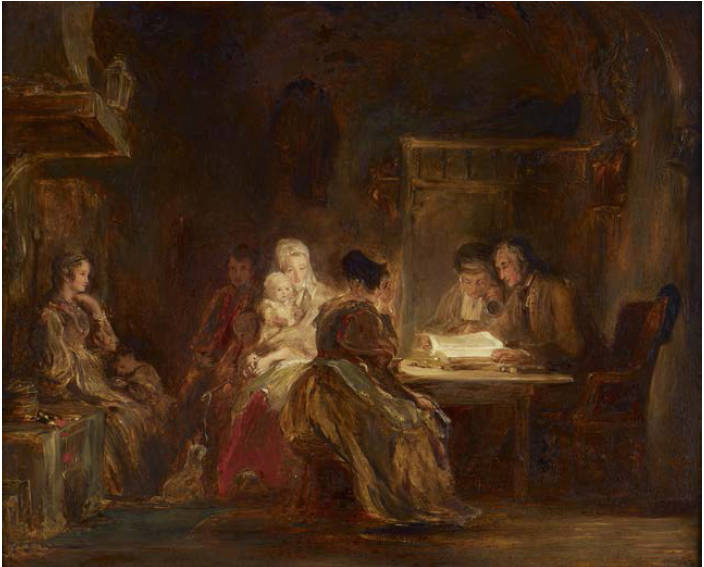 The Cotter's Saturday Night. Sir David Wilkie, 1785-1841. c.1837. Oil on panel, 19 x 24 inches (48.2 x 61 cm.) signed. [Click on image to enlarge it.]
This Rembrandtesque oil on panel is the sketch for the larger painting (exhibited in 1837) in the collection of Glasgow Museums. The Cotter's Saturday Night is one of a pair of paintings (the other being Grace Before Meat), inspired by one of Robert Burns's most patriotic poems, 'Address to a Haggis'. It remembers the culture of the cotters – a peasant given the use of a cottage by the property-owner in exchange for labour, as opposed to paying rent – a system which, due to agricultural reform, had all but vanished by the 1820s. It evokes the tradition of domestic worship, which was also fast disappearing. In 1836, the Church of Scotland distributed to all its ministers a pastoral letter instructing them to encourage this dying practice among their parishioners. At the heart of Presbyterianism lay the aspiration to place church governance in the care of heads of families rather than in that of local landowners as was, crudely speaking, understood to the Anglican way. This image, as with other pictures by Wilkie, conveys domestic virtue as a particular and special characteristic of the Scots.
Bibliography
The Fine Art Society 2014. Exhibition Catalogue. Edinburgh: Bourne Fine Art; London: The Fine Art Society, 2014. No. 48.
The Fine Art Society, London, has most generously given its permission to use information, images, and text from its catalogues in the Victorian Web. This generosity has led to the creation of hundreds and hundreds of the site's most valuable documents on painting, drawing, sculpture, furniture, textiles, ceramics, glass, metalwork, and the people who created them. The copyright on text and images from their catalogues remains, of course, with the Fine Art Society. [GPL]
---
Last modified 30 May 2014