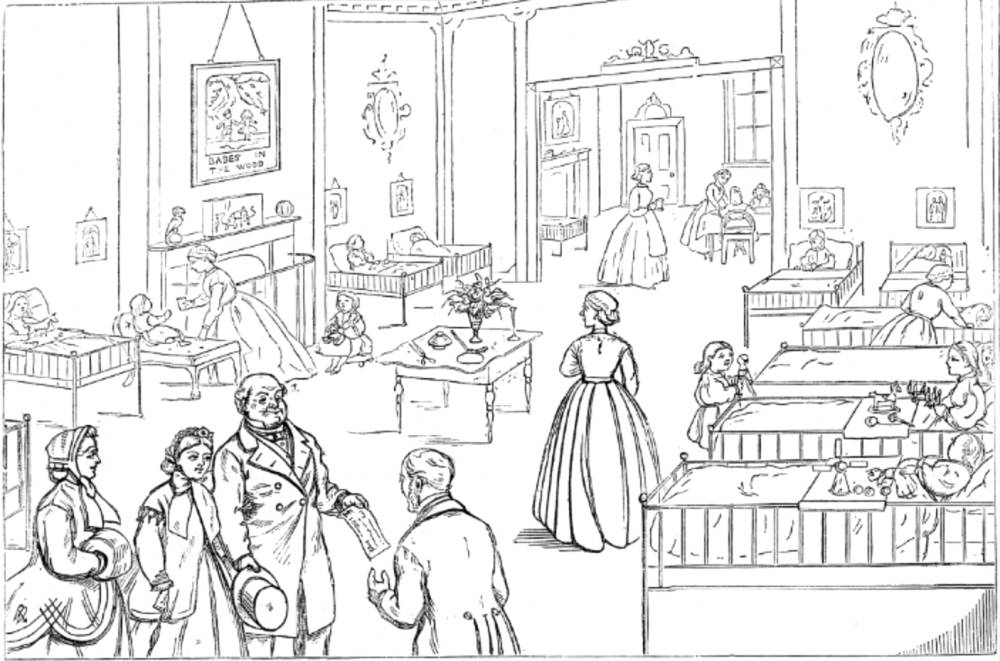 The Hospital for Sick Children. William S. Brunton (fl. 1859-71). Fun (23 December 1865): 148. Courtesy of the Suzy Covey Comic Book Collection in the George A. Smathers Libraries, University of Florida. Click on image to enlarge it.]
Years ago — let a jester beg permission, for a moment, to be serious at Christmas time — years ago, I remember how, being then a child, I was dangerously ill.
The memory of pain, no matter how acute, soon passes; that of pleasure lives longer. I can hardly recall the suffering; but I recollect, as though it had all happened a week ago, how, one day, tho darkened room grew lighter; how the vague forms that had been hovering round my bed. suddenly took distinct shapes; how the voices that had been sounding indistinctly in my ears were how the sounds of some dim, past trouble seemed still to weaken me, so that, half afraid I was dreaming and sh turned my face to the wall and closed my eyes. But it was not a dream, after all; the same shapes, the same voices, met me in the morning;..............as they will meet mo again, I believe, when a longer slumber is over! Then came the great tranquil pleasure of recovery; their was a sense that it was always Sunday; that there were no troublesome lessons to perplex one, no boyish [??] to resist; nothing to do but to rest, rest, rest, while the old dear story-books were read, and the summer light came in through the jessamine; and the nurse-mother already begun to talk of the time when her boy should he taken for a walk by the sea. For the sea was at hand, and the great sound of it filled the room at night, whenever the winds made wild work on the bar.
Yes, it is not so hard, after all. to suffer illness in comfortable house, with a sufficiency of relations, doctors, toys, jelley, wine, [/]-root, beef-tea.
. . . . [ellipsis in original] When tho old child-life by the sea was only a memory — dimmer to me then, in my first fights with the world, than it is this Christmas — I knew London, at late hours, tolerably well. City missionaries, viveurs, policemen, journalists, and medical students — these are the people who see the realities of London; and the sight is not pleasant — Little boy, three together, coiled and curled into a strange ragged cluster on a bench in the park, when the coldest wind blows in all the twenty-four hours of the day stirs restlessly in the branches, and ruffles the surface of the water, or stretched out where you hardly them as you pass — upon the cold white doorsteps shadowed by an archway — these are not pretty spectacles to behold. I can see them now; I can see a boy, roused from his sleep, staring at me with great, wide, bewildered eyes. Do you ask why, in those eyes there is a wild glitter; do you ask me why, on the thin, worn cheeks, for all their dirt, there is a red, red bud that will blossom in its time into a flower of death ? . . . Listen! Do you hear tho cough that tears the little lungs — that sounds so infinitely pitiful when it breaks tho great cold silence of the night? Do you hear the strange, hoarse, choked voice in which the youngster speaks to you? . . . You are happy, perchance, if you do not know their meaning; happy, but wonderfully ignorant.
It is a hard thing for a child to suffer illness here and thus! [The remaining paragraphs of the University of Florida page image, the last 40% of the piece, are too blurred to decipher. — George P. Landow]
[You may use the image above without prior permission for any scholarly or educational purpose as long as you (1) credit the University of Florida library and (2) link your document to this URL in a web document or cite the Victorian Web in a print one.]
---
Last modified 9 March 2016