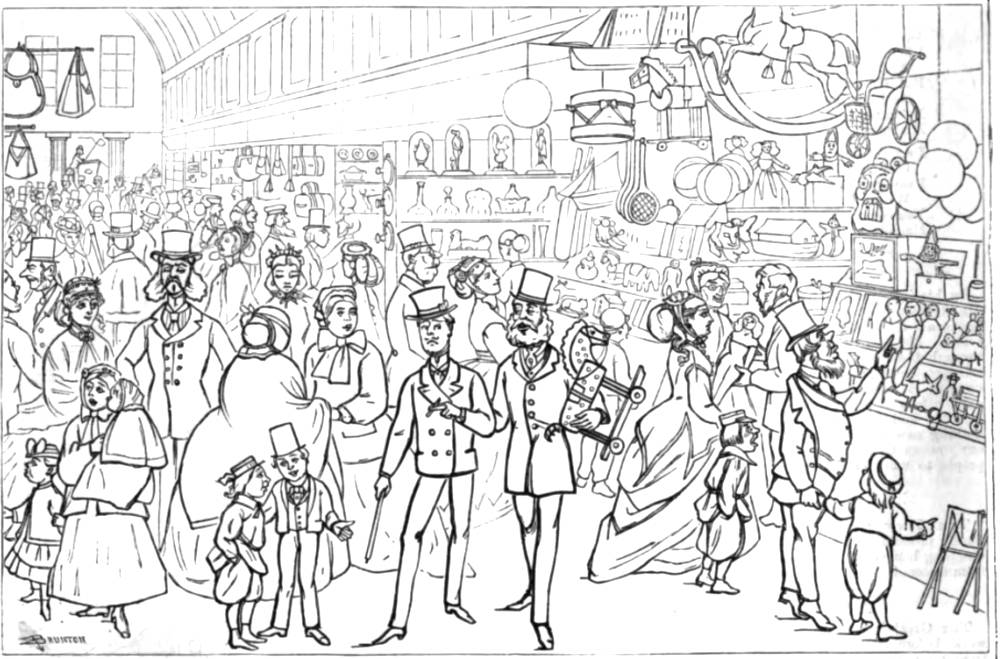 The Louther Arcade. William S. Brunton (fl. 1859-71), artist. Fun. Click on image to enlarge it.
I think the Lowther Arcade is the jolliest place in London. If there were only a pantomime there and a sweetstuff shop, with everything for nothing in it, I think it would be very like fairy-land. When I grow up if I get rich I shall often go there and spend a great deal of money — very likely quite ten shillings — in buying toys for all the little boys and girls I know.
When I went there last, I bought a kal — I don't know how to spell it — but it's like a spyglass that don't pull out, and you look in at one end and see all sorts of pretty patterns. But when the end came of there was nothing in it but crooked pins and bits of coloured glass. To! bought a pin, with a real glass greyhound on the top. He gave sixpence for it, and he is sixteen, and will be quite a man soon, so he will be able to wear it. MARY bought a doll that squeaks; and it didn't leave off squeaking when we brought it home, so the Lowther Arcade is a jolly place; because CHARLIE bought a whistling Jack-in-the-box of a man in the street for a penny, and when he brought it home it would not whistle at all, and when we tried to make him the spring came out at the back of his neck. Wasn't it a shame?
I don't know why it is called the Lowther Arcade except that they sell Noah's arks there. I have a Noah's ark that uncle bought me there, but the animals' legs will break so. I stick in pins instead when they come off. The elephant has four pins instead of legs and he stands up capitally if you lean him up against the mouse, or the pigeon, or any other beast that's about the same size. I've got Noah and Mrs. Noah, but I don't know which is which because BESSIE washed them one day in the bath, and all the paint has come off. Uncle says they must be ADAM and Eva now, but that's only his fun.
Did you ever have a glass peacock with a spun tail? I had once, but it fell into the nursery fire and got melted like MARY's wax doll's face when she held it to the fire to dry it after it tumbled into the water jug. There are glass peacocks and wax dolls at the Lowther Arcade, and drums and trumpets. There are boats there, but I don't care about boats. If I want them I make them myself, because I gave a shilling for one once in a toy-shop, and it wouldn't swim only bottom up most, and papa says vessels don't do that, so it couldn't be right. They were grenadiers. The captain had a blue sword, and the drummer had a yellow drum glued to his stomach. When they go out marching they have to stand upon pegs on a thing like a lot of pink wooden scizzars, and go backwards and forwards very fast. Papa took me to see the two sentries at the Horse Guards. They were not marching, and that was why they were not on a pink wooden stand I suppose.
I like the Lowther Arcade. When I am a man I shall walk there instead of in the park. I can't get nurse to walk in the Lowther Arcade because she likes the park. She sits on the seats there while I play about. Her cousin often passes by there. He has a red jacket and long legs — he is a very tall boy. Nurse says he is a soldier, but he has not got a sword.
Click on image to enlarge it. [You may use these images without prior permission for any scholarly or educational purpose as long as you (1) credit the Hathi Digital Library Trust and the University of Minnesota library and (2) link your document to this URL in a web document or cite the Victorian Web in a print one. —  George P. Landow]
Bibliography
"Our Youngest". "The Louther Arcade." Fun. 4 (13 October 1866): 56. Hathi Digital Library Trust version of a copy in the University of Minnesota library. Web. 31 January 2016.
---
Last modified 28 April 2016