[The following passage comes from an article in the September 1878 issue of the The Graphic. The photograph at left comes from Trinity College Library, the left from St. Patrick's Cathedral. I took them in 2016. — George P. Landow]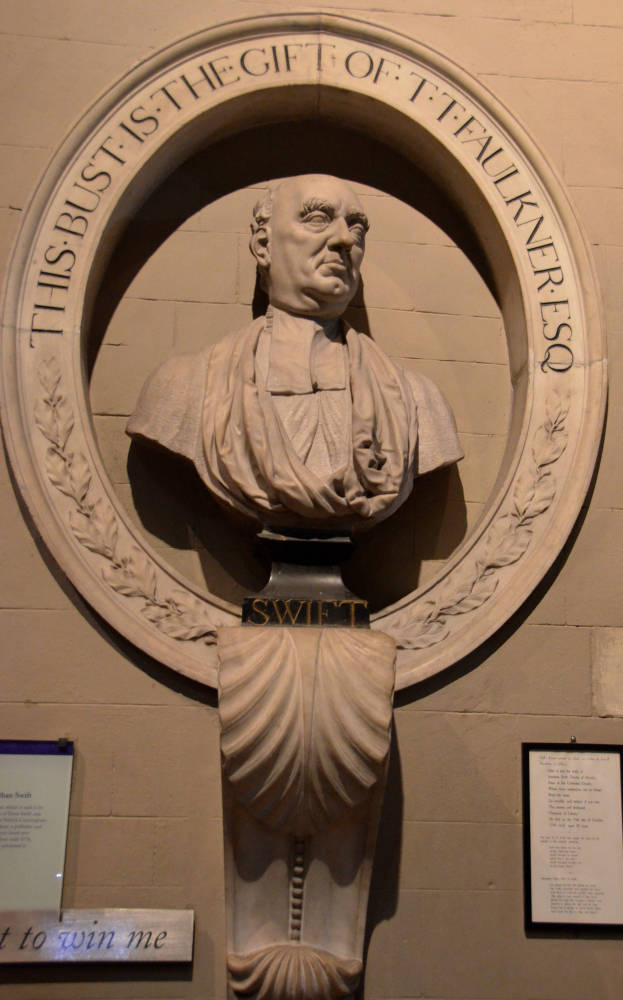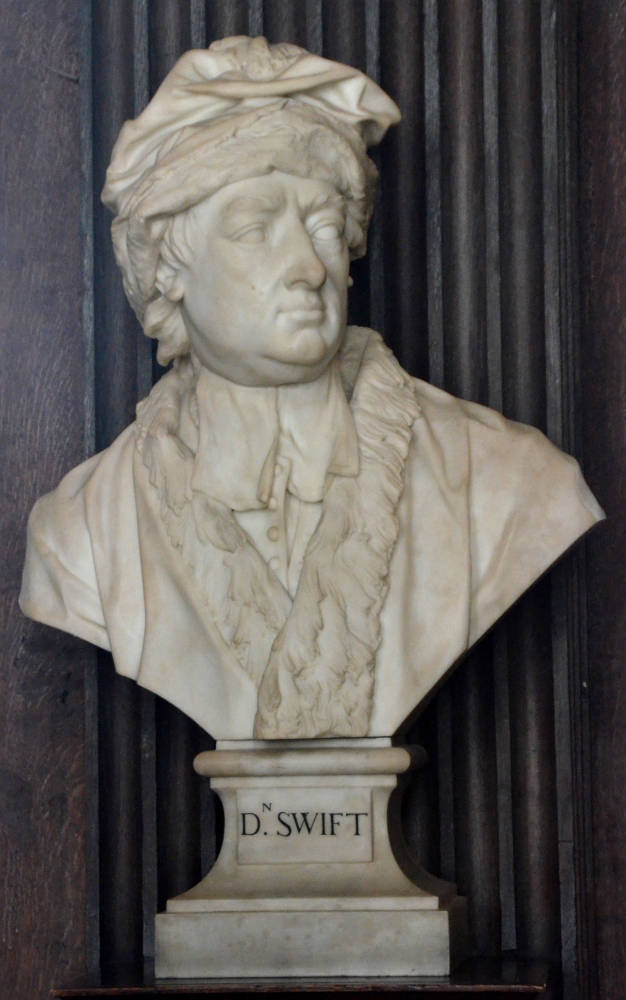 Dean Swift was born in Hoey's Court, off Werburgh Street, at the house of his uncle, a barrister. This court, which is no longer to be found in the directory, was the locale of eminent lawyers at this period. Mrs. Pilkington has, in the memoirs of the Dean, edited by her, stated that the early youth of this great genius did not promise the bright day of wit which afterwards enlightened the world, and that he was refused his College degree as a dunce. The early failures of Swift, whose words afterwards have by himself been attributed to poverty and the neglect of friends. The "Monarch of the Liberties and King of the Mob," as he styled himself, was kindly of heart as he was great in intellect. Although penurious in some things, and tenacious of spending money, he often lent to his poor parishioners round the Deanery of St. Patrick's 5l. out of his slender income of 600l. a year, taking it back as the poor could pay it in shilling instalments. He was blunt in conversation, and frequently felt surprise at his hearers' toleration of his unceremoniousness. His relations with "Stella" (Esther Johnson), whose studies he directed, and to whom he has borne so much testimony of her purity, cultured understanding, fidelity, and every quality desirable in a wife, have never been satisfactorily explained, nor can his later acquaintanceship and the early death of the unfortunate "Vanessa" leave him blameless. An early engagement to a sister of a college chum, which he cancelled by his coldness, conduct he afterwards regretted deeply, is said to have had something to do with his later great reluctance to enter the marriage state. He possessed almost every attribute to awaken sentiment in a woman's heart, a dignified person, an unfailing supply of jeux d'esprit, a nervous flow of language on every topic, but he had withal a coldness of temper and a mercenary cautiousness with regard to women, and these failings also may have contributed to keep him a bachelor.
Canon Leeper, who is about to publish a historical sketch of the National Cathedral of St. Patrick, has permitted me to copy a note or two of his in relation to this strangely gifted man. He writes that "to increase the annual Income of St. Patrick's was the Dean's favourite object, and with this in view he gave up all the fines which were tendered to him for the renewal of leases. The records of the Cathedral show with what ability, industry, and zeal he attended to its interests, carefully and formally appointing a Sub-Dean whenever he left home, and being most particular in seeing that the Cathedral officials scrupulously performed their respective duties. He expended considerable sums out of his own pocket for the garden near the Deanery, which he called "Naboth's Vineyard." Though he was no lover of music, he celebrated St. Cecilia's Day in the Cathedral with a concert, and in Carson's Weekly Journal, published in Dublin in 1731, it is stated that on the last Cecilia's Day, "Mr. Purcell's 'Te Deum' and Corelli's Concerto were performed." The Dean also towards the close of his life laid out a share of his fortune to found in Dublin a hospital for "fools, fanatics, and idiots." There was universal lamentation over him when he died in 1745, at the age of seventy-eight, and no Churchman in Ireland was ever so popular and beloved. When he was dead all classes of the people flocked into the Deanery House, and forced their way up to the very bedroom where he lay. "Happy were they," says Sir Walter Scott, "who first got into the chamber, and procured by bribes to the servants locks of his hair to be handed down as sacred relics to their posterity." [178]
Related material
Bibliography
"Dublin Illustrated." The Graphic (17 August 1878): 169-81. Internet Archive online version of a copy in the University of Illinois Library. Web. 14 August 2018.
---
Last modified 14 August 2018