"Amongst the recent arrivals from Nimroud, the most striking and important is a colossal Lion, the weight of which is upwards of ten tons. The Lion was once a guardian at the side of a door, and it will be located in a similar position in the British Museum, in the hall dedicated to the Nineveh Sculptures." — The Illustrated London News (8 February 1852): 184.

Lion God (or Bull God) from Nineveh. British Museum. Photograph by G. P. Landow. Click on thumbnail for larger image.
This massive sculpture, which inspired one of Dante Gabriel Rossetti's finest early poems, "The Burden of Nineveh," arrived at the London docks aboard the ship Apprentice. It was then transported to the Museum's main courtyard on a truck drawn by eleven horses, then hoisted from the carriage inside a wooden framework, and placed on runners in order to drag it up the main staircase and into the portico. The whole process of unloading and dragging took just an hour. The statue was then placed on rollers and shifted backwards into its final resting place. "It is the largest monolith which has reached England from the buried city of the East" (184). —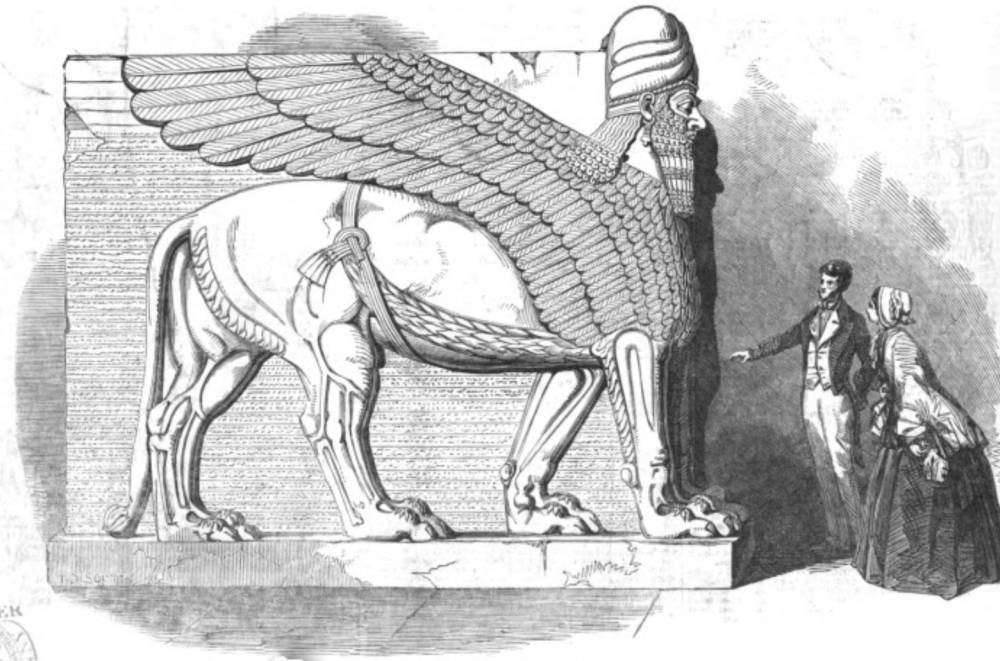 Human-Headed and Winged Lion. R. T. D. Scott, artist; Smith, engraver. Source: Illustrated London News. [Click on images to enlarge them.]
References
The Illustrated London News (8 February 1852): 184.
"Nimroud Sculptures just Received at the British Museum." The Illustrated London News (26 October 185[1 or 2]): 332. Internet Archive online version.
---
Last modified 31 August 2006

Images added 29 November 2017