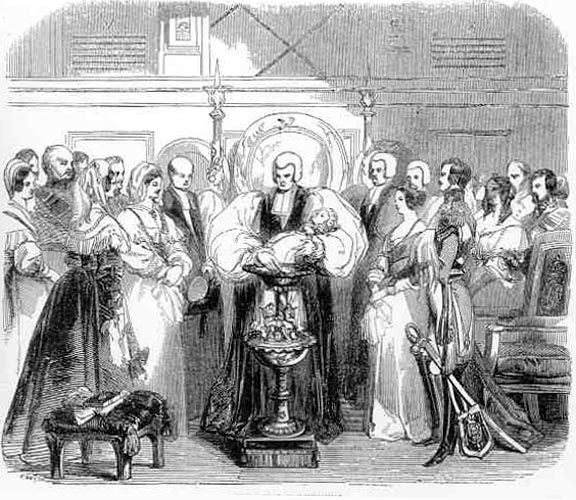 The Royal Christening. 1844. Illustrated London News. Scanned image, bibliographical information, and text by Philip V. Allingham.
"The ceremony of the baptism of her Royal Highness the Infant Princess, second daughter of her Majesty and Prince Albert, took place on Friday week [i. e., 2 June 1843] in the Chapel Royal, Buckingham Palace, the details of which we gave in our [previous] Saturday's edition, but . . . we are induced to give the particulars at greater length. . . . . Their Royal Highnesses made the customary responses. When the archbishop [of Canterbury, presiding in the presence of the Archbishops of York, London, and Norwich] came to the part of the service for naming the Princess, the Princess Sophia Matalida and the Hereditary Grand Duke of Mecklenburg-Strelitz named her Royal Highness 'Alice Maud Mary.'"
Related Material
References
The Illustrated London News. 1 (10 June 1843): 403.
---
Last modified 10 October 2006