Thee illustration of the infamous charge in the November Illustrated London News. [Click twice on these images for larger pictures.]
Now taken as the classic example of the disastrous effect of miscommunication, the charge of the British light cavalry at the Battle of Balaclava against a well-fortified Russian gun emplacement on 25 October 1854 resulted in massive losses and few gains. Aristocratic arrogance and administrative mismanagement, as typified by the conduct of the commander, Lord Raglan, resulted ultimately in the fall of the Aberdeen administration. The frontal assault, originally intended against a retreating Russian artillery battery, led the six hundred horsemen into a death trap, from which miraculously over 400 returned. The double-page spread in The Illustrated London News for 23 December 1854 suggests that the action was something of an allied victory as the Light Brigade, despite heavy losses, are scattering the Russian gunners as they overrun the emplacement. Both Dickens's "The Tale of Richard Doubledick" in Household Words (Extra Christmas Supplement, 1854) and Lord Tennyson's elegiac poem "The Charge of the Light Brigade" (published in the Examiner for 9 December 1854) are responses to the first autumn of the Crimean War, but whereas Dickens underscores the need for an entente cordiale between the former adversaries at Waterloo, Tennyson laments the utter waste of human life even as he celebrates the unquestionable valour of the light cavalry in carrying out their duty in an impossible situation. — Philip V. Allingham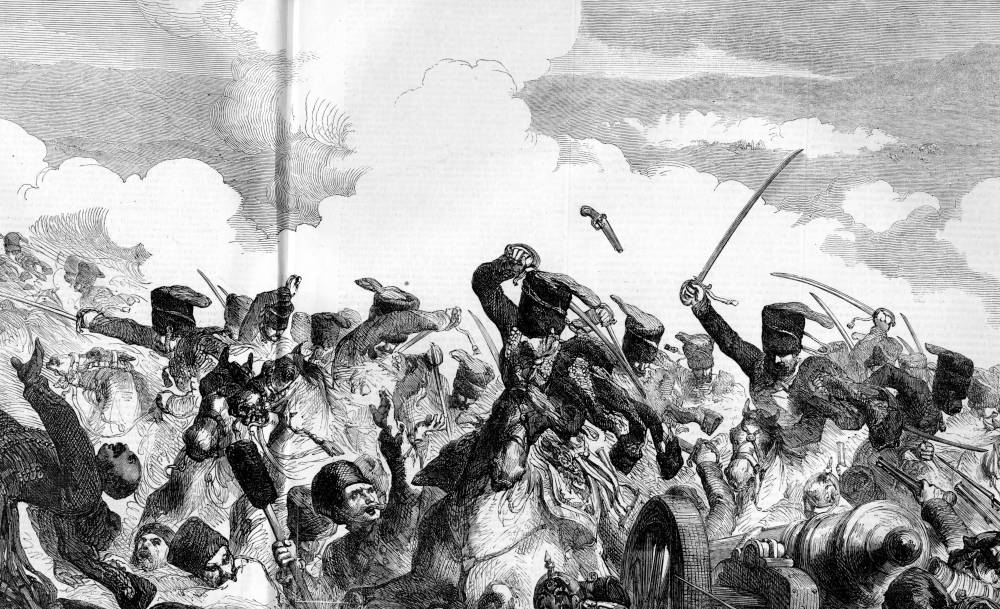 Two details from the two-page illustration in Illustrated London News. [Click twice on these images for larger pictures.]
The Battle of Balaclava
Each horseman drew his battle blade, And furious every charger neighed, To join the dreadful revelry. Then shook the hills with thunder riven, Then reared the steed to battle driven, And louder than the bolts of heaven Far-flashed the red artillery.
The combat deepens. On, ye brave, Who rush to glory, or the grave:
* * * *
Few, few shall part where many meet! The snow shall be their winding sheet, And every turf beneath their feet, Shall be a soldier's sepulchre.
Had CAMPBELL stood upon the heights, watching the fearful tournament, when, in the face of an army of infantry, artillery, and cavalry, our gallant Light Brigade, knowing their doom, charged to certain death, determined to die hard, he could not better have described the fatal combat of Balaclava. There, ranking up, steady as on parade, rode beardless boys, "mothers' curled darlings," side by side with brown bearded heroes of Indian warfare — Moodkee, Aliwal, and Sobraon; and, though the shell and shot of cross batteries tore huge gaps in their files, and a hailstorm of rifle bullets emptied many a saddle, no unwounded man — private soldier or officer — checked his rapid, steady pace, or swerved to right or left. On straight they rode, a handful of heroes, and sabred all before them. Lord Cardigan leaped the parapets before the Russian guns as coolly as he would an ex fence in Northamptonshire. Then followed the moment of the fearful melée, which our Artist has seized — the gunners were cut down at their guns — the opposing lines "broken, beaten, driven all adrift." But there is a limit to everything — horses blown, men are tired out, squadrons scattered. Then was the moment for reserves to have fallen on the discomfitted enemy; but, alas! We had no reserves. An Hussar writes — "I turned to look for reserves, my heart sank — there was nothing but our thin second line."
Then, hot and bleeding, and covered with the blood of enemies, the remnant, keeping close to their officers, fought their way back, only saved from annihilation by the desperate charge upon one of the Russian batteries made by the Chasseurs d'Afriques.
And so, in a purposeless attack, our Light Cavalry Brigade was destroyed, thus affording one more instance of the mistake to which English cavalry officers have always been prone — attempting too much.
To attack an enemy of superior force, in three arms, unbroken by previous fire of artillery, is against the first rules of cavalry sorties, to attempt such a charge without sufficient reserves, in the presence of an enemy superior in cavalry — sheer folly.
Related Material
Scanned image, text. and formatting by Philip V. Allingham. Image courtesy of the Irving K. Barber Learning Centre, University of British Columbia, Vancouver. [You may use this image without prior permission for any scholarly or educational purpose as long as you (1) credit the person who scanned the image and (2) link your document to this URL in a web document or cite the Victorian Web in a print one.]
Bibliography
["Charge of the Light Cavalry"]. Illustrated London News: 25 (23 Dec. 1854): 676-78.
"The Light Cavalry Charge at Balaclava." Illustrated London News: 25 (November 1854): 501.
---
Last modified 8 May 2014