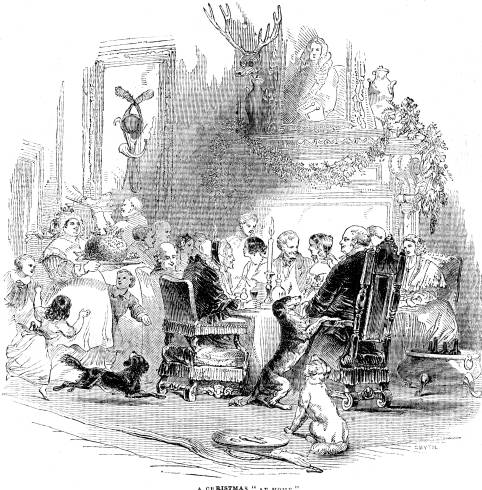 Christmas at Home
Illustrated London News
23 December 1843 (p. 416)
15.6 cm high
Scanned image and text by Philip V. Allingham from a copy in the Robarts Library, University of Toronto.
Formatting and image correction by George P. Landow
You may use these images without prior permission for any scholarly or educational purpose as long as you (1) credit the photographer and (2) link your document to this URL in a web document or cite the Victorian Web in a print one.
In "A Christmas 'At Home'" (23 December 1843), the illustrator details the culinary joys of a traditional English Christmas dinner presided over by the portrait of an eighteenth-century progenitor in a wig (rear, centre, above the mantel). In a hall surmounted by a stag's head and festooned with holly, from off left (presumably the location of the kitchen) a corpulent, uniformed maid brings in an enormous, decorated Christmas pudding. Celebrating the arrival of the traditional dessert, three children and an equally excited dog whirl about her feet, while the dog's fellows have remained content to beg from the master at the table (right). As she enters in full sail, another servant carries off a carved roast (rear left), and an elderly female is about to consume a glass of port or sherry (if one may judge from the cut-glass decanter before her). The other diners will shortly enjoy wine (presumably to be served by another servant, centre rear) is about to be tasted — four wine bottles are cooling in a large silver tureen, down right. A round twelve diners make up the company, there being apparently an equal number of men and women. Large, sturdy, padded armchairs are suitable for so well-fed a middle-aged group seated before a blazing fire and about to enjoy a sizable portion of brandied pudding after a dinner of roast beef, the now-traditional turkey not having displaced "prize beef" until the next decade.
The Yule-Block *
A Christmas Carol.
"A cross-grain'd block of elm we'll take
And by his light hold merry wake!" — Old Ballad.
When holly leaves and ivy green,
With berries bright and dark between,
Around the cottage room are seen,
The simple place adorning —
What joy before the cheerful blaze,
The almost conscious fire displays,
To sit in Christmas' merry days
Ay! sit up till the morning!
And hear the early carillon
Of village bells — while old and young
Are mingled in that festal throng,
Through Life we aye remember!
To feel the heat of Summer's glow,
In frosty depth of Winter's snow
And think we're Maying it, although
'Tis flowerless December!
To join the hearty laugh around,
When some coy damsel's feet are found
To thoughtless tread the fairy-ground
The Mistletoe that's under; —
And see some longing lover steal
A kiss from cheeks that ill conceal
The secret joy they inward feel,
'Neath frowns and blushing wonder!
What face with summer's sun embrown'd
Was ever half so joyous found
As those in ruddy gladness 'round
The YULE-BLOCK's cheerful gleaming!
Romance may seek wild solitudes,
By waterfalls in lonely woods —
But Mirth and Love, with happier moods,
O'er Christmas hearth are beaming!
W.
* Yule, from the Saxon yeol or yehul, the Christmas time.
In many parts of the country it was a practice to preserve a portion of the yule block to the next year in order to light the new Christmas log. [23 December 1843: page 416]
References
"Pantomimes and Christmas Pieces." Illustrated London News. (28 December 1844): 409.
---

Victorian
Web

Periodicals

Illustrated
London
News

Christmas

Next
Last modified 18 July 2011