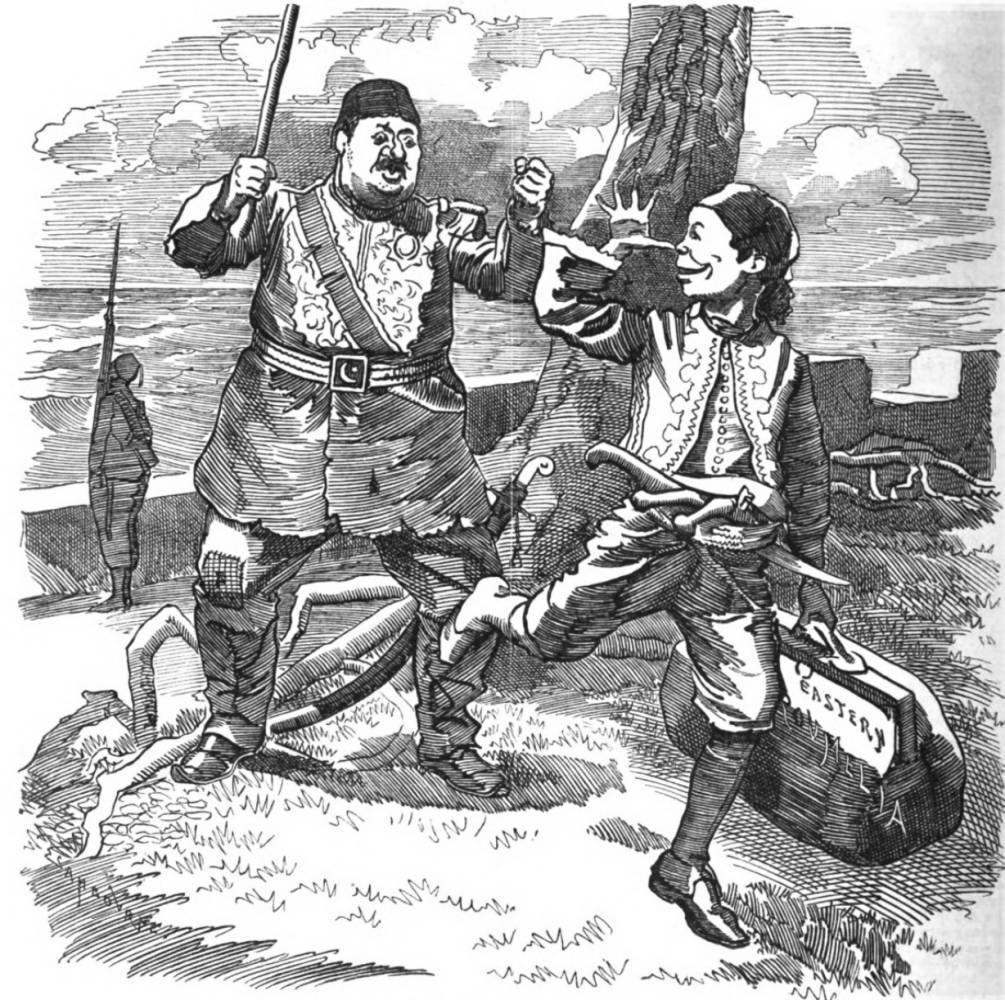 The Little Bulgar Boy. A Woeful Ballad of the Balkans. Linley Sambourne, artist. "With acknowledgements of Mr. Simkinson of the 'Ingoldsby Legends'." Punch. (17 October 1885): 182.
Sorrowful Suzerain loquitur:—
It was at Philippolis, in August of this year,
I saw a little Bulgar Boy.—I said, "What do you here?"
The glow upon his youthful cheek bespake exceeding joy.
I said, "what is your little game, you little Bulgar Boy?"
He snified, that little Bulgar Boy, he seemed inclined to scoff;
My heart has been so often bruised, a little sets it off.
He put his finger to his— Well, my haughty bosom rose,
And I applied my—hem!—my handkerchief unto my nose.
"Hark! don't you hear, my little man, your Suzerain speaks!" I said
"How would you like a sack, a cord, the Bosphorus for a bed?
Run home to your Bulgarian home, or I shall scold. Oh, fie!
This is a most improper game for Bulgar Boys to try."
The mocker in his little eye began again to spring -
His bosom shock with giggling strong,—he laughed like anything!
I stoopped, and, 'midst his chortling low, I heard him murmur, 'Bosh!'
I haven't got no Suzerain, so that kibosh will not wash!
"If you into your Bosphorus, to your exceeding joy,
Can and me right, then blow me tight!" (A vulgar Bulgar Boy!)
"And now I 'm here, old Pint 0' Beer, it is my fixed intent
To raise to diplomatic rot a lasting monument."
"Tut! tut! my little man—tut! tut!" I genially said.
"You are a naughty boy to take such things into your head.
If you go breaking Treaties thus, as though they were but eggs,
Either we'll have to stretch your neck, or you to stretch your legs!
Related material Including Other
Punch

Editorial Cartoons about Turkey's Loss of Territory

[This image may be used without prior permission for any scholarly or educational purpose without prior permission as long as you credit (a) the Hathi Digital Library Trust and the University of California Library and (b) Link to this page in a web document or cite it in a print one. — George P. Landow]
---
Last modified 11 August 2020