This review is reproduced here by kind permission of the online inter-disciplinary journal Cercles, where it was first published. The original text can be seen here. It has been reformatted and illustrated for the Victorian Web by the author, who would especially like to thank Hampshire Cultural Trust for allowing us to reproduce pictures of the pellise exhibited recently at the Discovery Centre, Winchester. Click on the images for larger pictures and more information where available.
Jane Austen: Writer in the World is a collection of nine essays published to accompany two exhibitions — one at the Weston Library, Oxford (part of the Bodleian), and the other at Discovery Centre, Winchester — which were held this year (2017) to mark the bicentenary of Austen's death. The editor, Kathryn Sutherland, has contributed two of the essays herself, and she and another of the contributors, Hilary Davidson, have both given talks at the Weston Library during the exhibition period. Inspired by the display format, then, these essays concentrate on illuminating the novelist's life and work through "a world of things" (12).
As Sutherland points out in her introduction, the approach has earlier roots in Marilyn Butler's ground-breaking Jane Austen and the War of Ideas (1987), which first brought the novelist out of the drawing room and into the larger context of her times. More recently, Janet Todd's edition of forty short essays, Jane Austen in Context (2005), which includes brief pieces by some of the same contributors, has also teased out numerous ways in which its subject related to her age. The focus on individual objects is in keeping, too, with a recent tendency to throw light on the whole through a close study of its parts. What marks the present book out from these, and promises it a life beyond the exhibition period, is the full development of each distinct topic, and also the presentation of these in-depth studies in glossy art-book format. Illustrations, often in colour, face or appear on almost all the pages, making the reading of the essays an enjoyably immersive experience.
Notebooks and other manuscripts filled with Austen's high-spirited teenage "effusions" are the first exhibits in the opening section, "Georgian Life." Held up for our attention and entertainment by Thomas Keymer, they reveal a fertile inventiveness spilling over into all sorts of extravagances of style and content, even to the point of being nonsensical. The mature author would abandon the excesses, but not the wit: the humour would only become quieter and subtler. As in the case of the Brontë children's juvenilia, it is touching to see the manuscript volumes. Particularly quaint are Cassandra Austen's little medallion portraits of kings inserted into the pages of her sister's History of England. Like the Austen family's musical scrapbook, examined by Jeanice Brooks in the next essay, "Making Music," such mementoes bring back a lost age when families entertained themselves and their friends while honing their own accomplishments. They also give useful entries to the cultural world of Austen's characters. For instance, it might seem odd now that Robert Martin in Emma should pop his marriage proposal to Harriet Smith into a parcel of songs being returned to her by his sister — but Brooks shows that the strategy would have been quite natural at the time, and indeed had its origins in something that really happened. Is it helpful to know this? Ask any Janeite!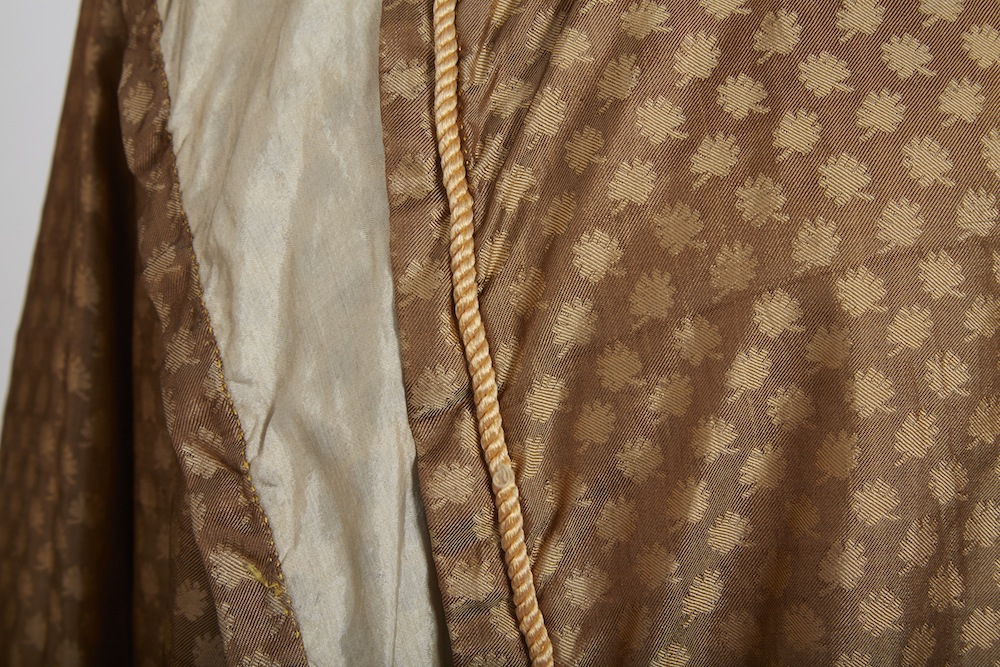 The pelisse thought to have belonged to Jane Austen. (a) The whole garment. (b) Close-up of the collar. (c) Close-up of the oak-leaf design of the fabric. The photographs are reproduced with kind permission of Hampshire Cultural Trust.
Perhaps nothing will please the committed Janeite more than one of the highlights of the Winchester exhibition: the silk pelisse coat thought to have once enveloped the rather tall, spare figure of the beloved author. In Davidson's essay, "Jane Austen's Pelisse Coat," this is cunningly used to throw light on the whole process of women's choosing and purchasing fabrics, and, in the case of such complex and costly outer garments, having them made up. Inevitably, fashion comes in here, but perhaps not fashion as we know it now. Davidson, a dress historian, suggests that clothing was altogether less of an individual enterprise then, with new styles spreading from person to person rather than through printed sources, and being held up to family members for approval. The end product might bear the imprint of the larger world as well. A full-page close-up of the pelisse fabric clearly shows its pattern of tiny oak leaves, which Davidson has found to be an unusually popular design at the time and one associated with Britain's naval success in the Napoleonic wars. The point does not need labouring: Austen's patriotism is also evident in the "Mamalouc cap" that she mentions in her letter of 8 January 1799, celebrating Nelson's victory in the Battle of the Nile. Like the oak-leaf pattern, it shows how external events impinged on every aspect of Austen's and other women's lives in Regency England.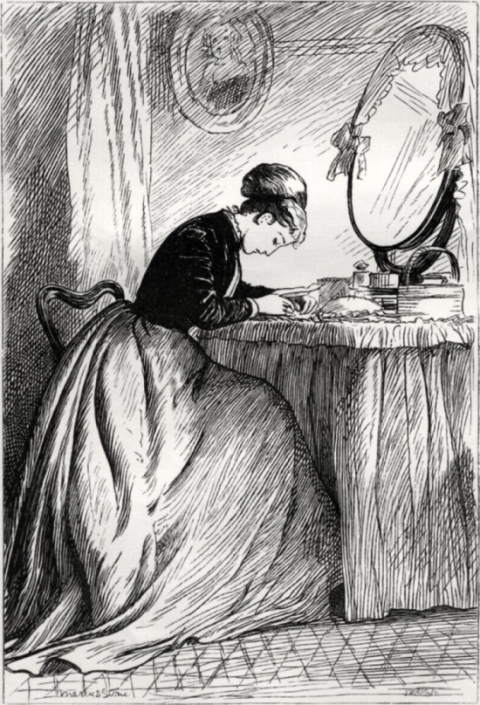 An illustration by Marcus Stone for He Knew He was Right, by Anthony Trollope.
As Deirdre Lynch indicates in the first of her two contributions to the book, "The Art of the Letter," there was another, more direct way, in which the women of the day interacted with affairs beyond the drawing-room. Here we come to the whole business of writing—the cost of the paper and postage, the challenges represented by nibs and inconsistent ink, for instance, and, most interestingly, the patchwork style of the communications themselves. Much of the correspondence of this period (as indeed, of our own) may have been deficient in subject, as Henry Tilney notes in Sense and Sensibility, but, by stitching together apparently inconsequential scraps, women conveyed the very texture of daily life, and in so doing strengthened family relationships. Lynch argues that the practice of passing round correspondence could even strengthen ties in the larger community—an example of how women's influence could spread beyond the home, even in those days.
In certain circumstances, too, the actual content of women's correspondence could become far less inconsequential. One of the most telling objects illustrated in the next section of the book, "Novelist in the World," comes in Sutherland's own essay, "Women Writing in Time of War." This is a wooden letter-case intricately carved by Austen's brother Frank during his long and dangerous days at sea. It speaks volumes about the family's closeness to events abroad—and about how the family kept in touch with them. We are reminded that Austen had another brother, Charles, serving in the navy; she also had a cousin Eliza, whose first husband, a French captain, was guillotined in 1794. Eliza married Austen's brother Henry. The couple moved in émigré circles, introducing Austen to them too. In fraught times like these, letters had a special role to play. Sutherland explains, for instance, how news of the sea-going Frank filtered through to his anxious family: "I will copy Charles' account of his conjectures about Frank," writes Austen to her sister, while away from home (104). These days, Mansfield Park is often cited for its acknowledgment of the larger world, especially in view of Sir Thomas Bertram's interests in the West Indies, but Sutherland casts her net wider, and finds that war "provides the rhythm to which all Austen's novels unfold" (106). She gives a particularly moving reading of Persuasion as Austen's "most subtle domestic mediation on war's cost" (112).
The few Austen manuscripts that survive yield more direct information about this precious oeuvre. The remaining essays in this section, "Making Books: How Jane Austen Wrote," by Sutherland again, and "The Novel in 1817," by Freya Johnson, deal respectively with the processes of Austen's writing and her entry into print. The detail here is amazing: Sutherland's excitement is contagious as she examines the manuscript of The Watsons, for example, tracing "its first and second thoughts, its deletions and revision" (126); while Johnson sets the novels in the contemporary market-place, with some amusing reflections on the reading and reviewing habits of the time, and concludes that while Sir Walter Scott was the runaway best-seller of the day, Jane Austen had the last laugh — or, as Johnson puts it herself, in a witty understatement, "has not been left on the shelf" (160).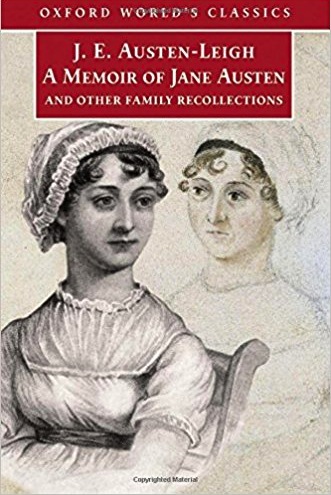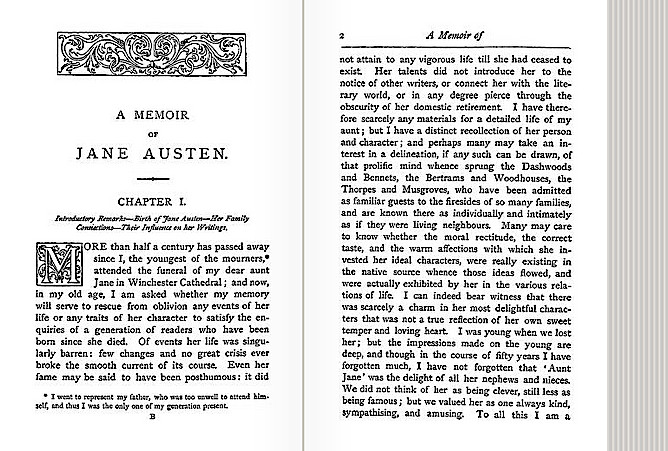 Left: Current Oxford University Press edition of the biography, showing Cassandra Austen's original portrait of her sister to the right of the engraving of the enhanced one. Right: Opening page of the 6th edition of James Edward Austen-Leigh's biography of his aunt, in which he states, "her fame can be said to have been posthumous" (1).
Reviewers of Austen's times were apt, says Johnson, simply to give a short summary of the book accompanied by long extracts from it to show it at its best or worst—often, its worst, because they could be horribly scathing. But there is nothing in this book to be scathing about. On the contrary, it holds our attention to the end. Susan Owens opens the last section with "Jane Austen Imagined," a look at the challenge presented by the absence of a single professional portrait of the novelist. What bad luck, when she lived in an age when portraiture was fashionable! Of the several likenesses of her that do exist, the only fully authentic ones are Cassandra's: a half-length drawing of her, apparently unfinished, and a view of her outside, resting under a tree, with her face inconveniently hidden by her bonnet. Owens is not convinced by other possibilities, such as the silhouette of "L'aimiable Jane" found pasted in a copy of Mansfield Park — any more than Margaret Kirkham was in Janet Todd's earlier collection, Jane Austen in Context. But Owens writes interestingly about them, and, later, about the way the novelist's image has improved over the years. What appears now on our new £10.00 note is not directly taken from Cassandra's drawing, in which Owens finds "a quiet sincerity" (180). Rather, it comes from the enhanced version of it that was originally engraved for the frontispiece of James Austen's memoir of his sister. The equivalent process today would be airbrushing. Does this matter? Janeites, pleased as Punch that even a distant likeness of her face has become common currency now, would probably say "no."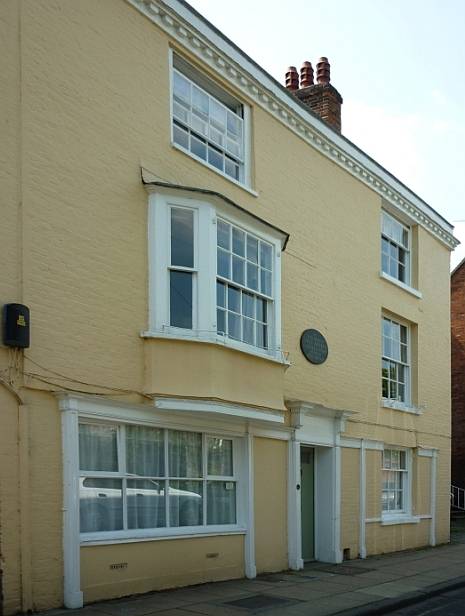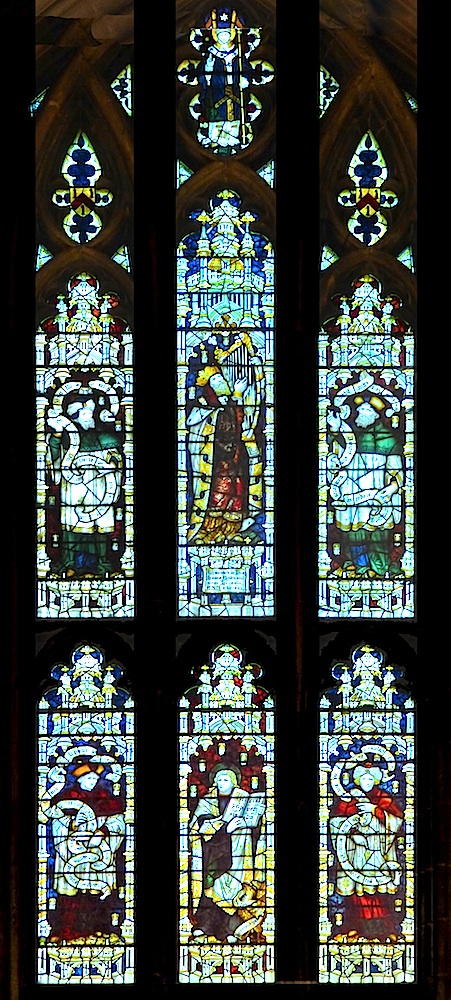 Left to right: (a) 3, College Street, Winchester, where Austen died. (b) Austen's tombstone in Winchester Cathedral. (c) The Jane Austen Memorial window above it in the cathedral, by Charles Eamer Kempe, not installed until 1890.
It is only left for Lynch to confirm in the last essay, "Jane Austen at 200," what we all know about the novelist's present standing. After rather a slow start in the earlier Victorian period, the 1870 publication of her nephew James Edward Austen-Leigh's biography, which was widely reviewed, gave an enormous fillip to her reputation—though Lynch rightly notes that its publisher Richard Bentley must have expected it to find a healthy readership. Now, of course, far from being "left on the shelf," her books are flying off it, and it is hard to imagine that their sales were once insignificant compared to the sales of Scott's works. In her earlier essay, "Cult of Jane Austen" in Jane Austen in Context, Lynch had also examined the process by which Austen came to be as popular, respected — and revered — as she is. But there is new and sometimes amusing material here, in honour of the 200th anniversary theme. Two comic strips about her fan-base enliven the endnotes to the essay, one showing an eager Janeite prodding her idol to come up with some more "hunky dreamboats" (like Colin Frith's Mr Darcy in the screen version of Pride and Prejudice, presumably).
The fact is that Austen's works are now so embedded in every level of our culture that we do need reminding they are not upmarket Mills and Boon products, any more than they are sacred relics of some dear, peaceful Olde England that never existed. This handsome and informative book should send us back to the novels with a better idea of all that went into them, helping us to appreciate the way Austen explored human nature through the material conditions of her age — without, however, being limited by them.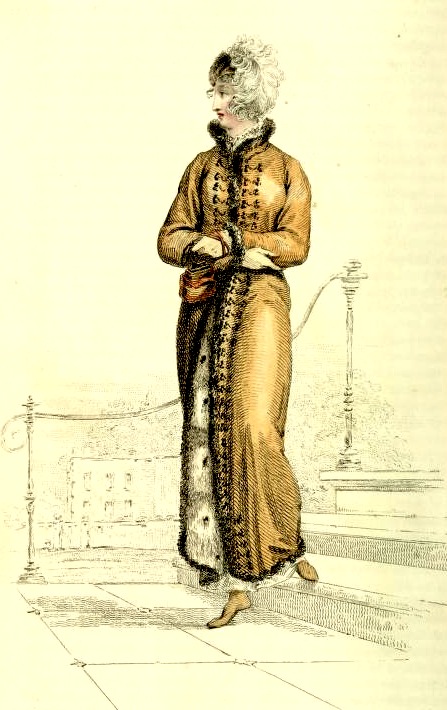 A more showy pelisse, with braided fastening and "skin" lining and trimming, than the one thought to have belonged to Jane Austen ("Arbiter Elegantiarum," following p. 302). The contrast gives an idea of Austen's own taste in clothes.
Bibliography
[Book under review] Sutherland, Kathryn, ed. Jane Austen: Writer in the World. Oxford: Bodleian Library, 2017. Hardback. 208 pp. ISBN 9 781851 244638. £30.00.
[Illustration source] "Arbiter Elegantiarum." "Fashions for Ladies." The Repository of arts, literature, commerce, manufactures, fashions and politics. Ed. Rudolph Ackermann. Vol. 6 (1811): 302-03. Internet Archive. Contributed by the Philadelphia Museum of Art, Library. Web. 1 November 2017.
[Illustration source] Austen-Leigh, James Edward. A Memoir of Jane Austen, together with "Lady Susan: A Novel" &c.. 6th ed. London: Richard Bentley & Son, 1886. Internet Archive. Contributed by the Rashtrapati Bhavan Library, New Delhi. Web. 1 November 2017.
---
Created 1 November 2017