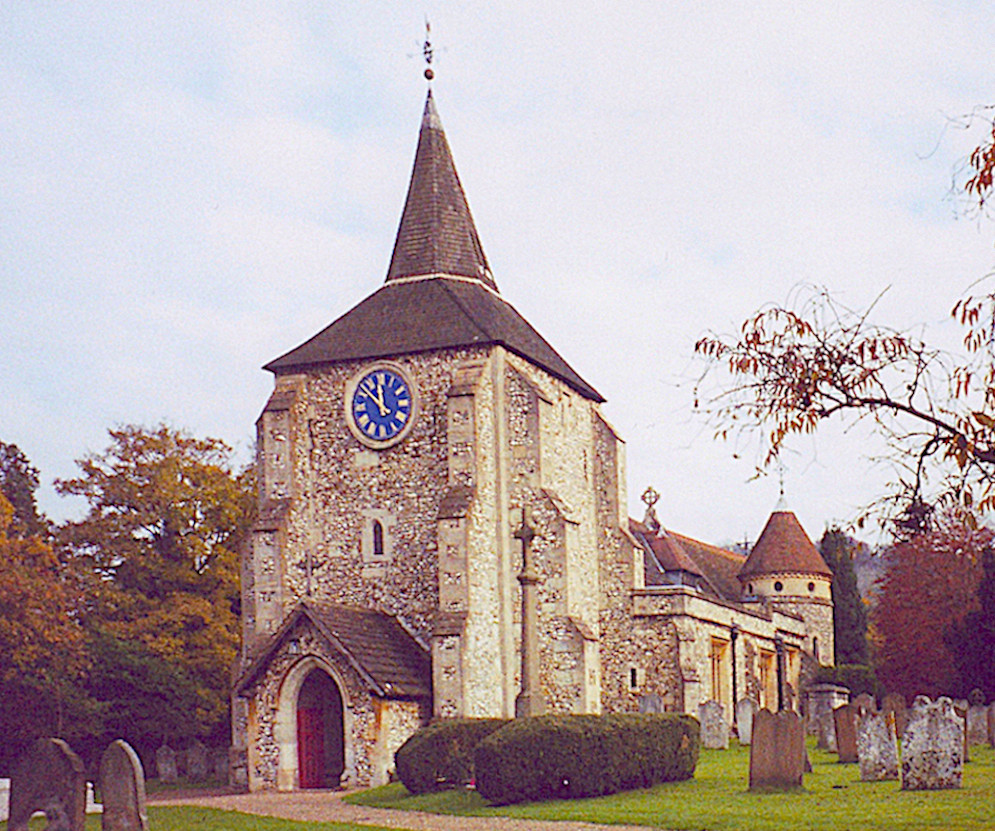 Church of St Michael, Mickleham, today. This Grade II* listed building would have been much simpler when Frances Burney married the exiled Alexandre d'Arblay there. The man she loved for his "spotless honour, ... stainless character, and ... singularly amiable disposition" became her husband on 28 July 1793 (qtd. in Hill 160).
Less than a century later, the little mainly Norman church would have a north aisle added by Joseph Peacock (1821-1893). In 1872 Peacock also "duffed up the chancel arch, and put in a vey fancy E end and a round tower on the S side which parodies the W tower" (Nairn et al. 365). The result is rather quaint. Not unexpectedly, Peacock was viewed as a very individualistic architect.
The church has another literary association, this time dating from the Victorian period. George Meredith married his second wife, Marie Vulliamy here, on 20 September 1864. [Click on the image to enlarge it.]
Photograph, text and formatting by Jacqueline Banerjee. You may use the image without prior permission for any scholarly or educational purpose as long as you (1) credit the photographer and (2) link your document to this URL or cite it in a text document.
Related Material
Bibliography
Banerjee, Jacqueline. Literary Surrey. Corrected ed. Headley Down, Hampshire: John Owen Smith, 2011.
Hill, Constance. Juniper Hall, A Rendezvous of Certain Illustrious Personages during the French Revolution, including Alexandre d'Arblay and Fanny Burney. Illustrations by Ellen G. Hill and reproductions of photogravure, etc. London: John Lane, The Bodley Head, 1904. Internet Archive. Contributed by Robarts Library, University of Toronto. Web. 2 August 2020.
Church of St Michael, Mickleham. Historic England. Web. 2 August 2020.
Joseph Peacock. DSA (Dictionary of Scottish Architects). Web. 2 August 2020.
Nairn, Ian, and Nikolaus Pevsner, revised by Bridget Cherry. Surrey. Buildings of England. 2nd ed. London: Penguin, 1971.
---
Created 2 August 2020