These letters graciously have been shared with the Victorian Web by Eunice and Ron Shanahan; they have been taken from their website. The letters give an insight into the daily lives and concerns of 'ordinary' people without whom history would not exist. The letters are a wonderful example of how much history may be gleaned from such sources.
Click on thumbnails for larger images.
Any comments by readers with any information about the places or businesses mentioned in this letter would be most welcome.
This 'letter from the past", dated August 20, 1814 has intrigued me since I first bought it, as it is not an ordinary commercial inland letter. The address side is covered with-red and black postal markings.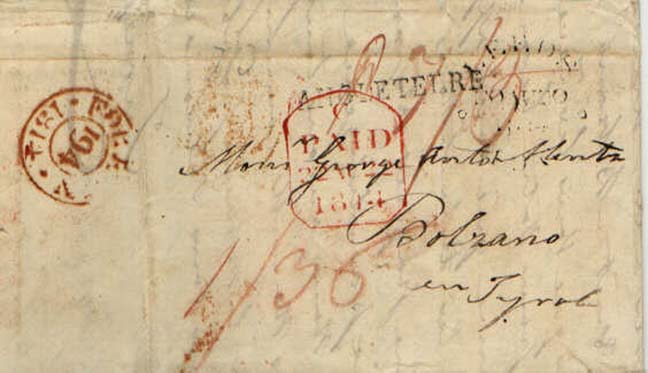 It is a business letter from Turner Bent & Co of Mitholm nr Halifax in England, to Messrs George Anton Hentz of Bolzano in Tyrol. Bolzano is now in Italy, but in 1814 that part of northern Italy was occupied by Austria (they were not driven out until 1859). So, as far as the postal rates were concerned, this would have been a letter to Austria.
There are six postal markings on the letter:
a black circular datestamp of LEEDS 20 AU 1814. (1 wonder why Leeds and not Halifax, as the address on the letter is "Mitholm Nr Halifax"). Both were post towns in the same charging rate of 1ld for a distance between 170 and 230 miles from London — Leeds 191 miles and Halifax 195 miles
a red manuscript P 7/3 to show prepayment of postage of 7/3d. There is a faint pencilled 7/3 in the top left corner as if someone has worked out the cost first and pencilled it in. The rates to Europe are very complicated, as it depended on which route was used, but at this time the cost would have included the inland postage to London- in this case 1ld — plus the shipping cost across the channel, — 1/8d — plus a sum of 2d less than the inland rate to London — another 9d, — then the inland cost to the destination. This adds up to 3/4d for the English part which leaves 3/11d for the foreign component to make up the total of 7/3d.
the red London "tombstone" single frame datestamp 22 AU 1814. This had the code letter C at the top, and has the day before and after the month, showing that it was a morning duty stamp in use from 1810-1841
a red FOREIGN double-circle stamp of 1814 with the numbers194 in the centre. This is an outward datestamp in use from 1806-1816 and would have been applied in London at the Foreign Section of the General Post Office. Willcocks & Jay note in their book of London Postal History that the significance of the numbers in the centre of these stamps is not known
the word ANGLETERRE (the French word for England), in black — presumably applied somewhere on the Continent en-route to Bolzano. This may indicate that the letter was routed through France
a red manuscript 2/36 which looks as though it was put on with a red crayon, rather than red ink. I assume this is the foreign component of the postage rate, and would have been written on by either the forwarding or receiving office in Europe.
Most of the markings are in red, denoting prepayment of postage, which was compulsory at that time for foreign mail from England. There are no transit or arrival datestamps on the letter. Other foreign letters in my collection have a postmark showing the appropriate arrival date
And now for the contents of the letter: It is in two parts, the first is written — obviously by a clerk — on a printed invoice in the form of a Bill of Lading.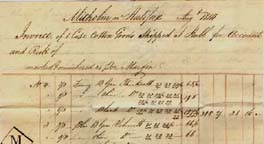 This gives details of quantity and charges for thicksett (a stout fustian cloth), velveret and velveteen (which are both types of velvet), in different colours and quality. It ends with charges for : the case; freight toHull and shipping costs; Insurance at two guineas per cent and a Policy Duty and Commission.
The inside of the letter is written by another hand, and in French.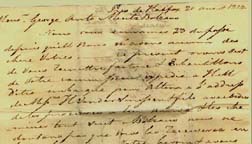 I knew that the 'nobility' travelled through Europe, and naturally spoke French, but I had the impression that the English thought everyone should speak their language if they wanted to do business, so I was surprised to find this business letter written in French at that time.
Pres de Halifax 20 Aout 1814
Monsr. George Anton Mentz, Bolzano
Nous vous escrivones 23 du passe depuis qu'ell nous n'avons aucune des chere votres. Ce present nous sont de vous remettre faiture & Echantillons de votre commission expedie a Hull d'etre imbarque pour Altona a l'address de Messrs H. Vander Smissen & Fils avec ordres de les procurer a bien arrive & les cheminer tout suit a Bolzano nous ne doutons pas que vous les receiverez en bon terns pour votre besoin & avons tout confiance que vous approverez leur qualities, les Echantillons en grand vont en une paquet separe pour etre expedie par diligence de Altona a Bolzano.
Nous aurons toutjours plaisir de recevoir vos nouvelle commissions & de vous servir le meilleur possible.
Nous vous saluons cordialement.
Turner Bent & Co."
My interpretation is that the letter is advising the buyers that the bale of goods and the samples will be shipped from Hull to Altona (near Hamburg, Germany), and that the samples were in a separate parcel to expedite their journey by stagecoach to Bolzano. Looking at the map that is a long and very mountainous journey. The writer is sure they will get the items in good time and will be satisfied with their quality.
There is always something more to be learned when you collect postal history. My particular area of concentrated interest is London postmarks, but a letter like this is irresistible to me. To try to make sense of it I have had to use an Atlas, English and French dictionaries, plus nearly all of my postal history reference books. And after all that, I still don't know if I have got everything right.
---
3 December 2002